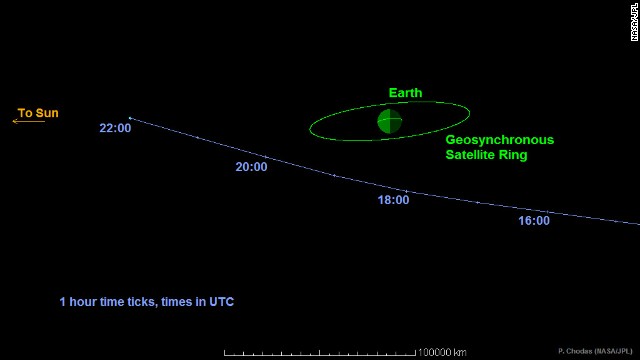 This graphic shows the path Asteroid 2014 RC will take as it passes Earth on Sunday, September 7. The space rock will come within one-tenth the distance from Earth to the moon, but it is not expected to threaten the planet.
"2014 HQ124"
on June 8. NASA called the images "most detailed radar images of a near-Earth asteroid ever obtained."
NASA scientists used Earth-based radar to produce these sharp views of the asteroid designated
A diagram shows the orbit of an asteroid named 2013 TV135 (in blue), which made headlines in September 2013 when it passed close by Earth. The probability of it striking Earth one day stands at 1 in 63,000, and even those odds are fading fast as scientists find out more about the asteroid. It will most likely swing past our planet again in 2032, according to NASA.
Asteroid 1998 QE2 is about 3.75 million miles from Earth. The white dot is the moon, or satellite, orbiting the asteroid.
Asteroid 2012 DA14 made a record-close pass -- 17,100 miles -- by Earth on February 15, 2013. Most asteroids are made of rocks, but some are metal. They orbit mostly between Jupiter and Mars in the main asteroid belt. Scientists estimate there are tens of thousands of asteroids and when they get close to our planet, they are called near-Earth objects.
Another asteroid, Apophis, got a lot of attention from space scientists and the media when initial calculations indicated a small chance it could hit Earth in 2029 or 2036. NASA scientists have since ruled out an impact, but on April 13, 2029, Apophis, which is about the size of 3½ football fields, will make a close visit -- flying about 19,400 miles (31,300 kilometers) above Earth's surface. The images above were taken by the European Space Agency's Herschel Space Observatory in January 2013.
If you really want to know about asteroids, you need to see one up close. NASA did just that. A spacecraft called NEAR-Shoemaker, named in honor of planetary scientist Gene Shoemaker, was the first probe to touch down on an asteroid, landing on the asteroid Eros on February 12, 2001. This image was taken on February 14, 2000, just after the probe began orbiting Eros.
The first asteroid to be identified, 1 Ceres, was discovered January 1, 1801, by Giuseppe Piazzi in Palermo, Sicily. But is Ceres just another asteroid? Observations by NASA's Hubble Space Telescope show that Ceres has a lot in common with planets like Earth. It's almost round and it may have a lot of pure water ice beneath its surface. Ceres is about 606 by 565 miles (975 by 909 kilometers) in size and scientists say it may be more accurate to call it a mini-planet. NASA's Dawn spacecraft is on its way to Ceres to investigate. The spacecraft is 35 million miles (57 million kilometers) from Ceres and 179 million miles (288 million kilometers) from Earth. The photo on the left was taken by Keck Observatory, Mauna Kea, Hawaii. The image on the right was taken by the Hubble Space Telescope.
One big space rock got upgraded recently. This image of Vesta was taken by the Dawn spacecraft, which is on its way to Ceres. In 2012, scientists said data from the spacecraft show Vesta is more like a planet than an asteroid and so Vesta is now considered a protoplanet.
Asteroids have hit Earth many times. It's hard to get an exact count because erosion has wiped away much of the evidence. The mile-wide Meteor Crater in Arizona, seen above, was created by a small asteroid that hit about 50,000 years ago, NASA says. Other famous impact craters on Earth include Manicouagan in Quebec, Canada; Sudbury in Ontario, Canada; Ries Crater in Germany, and Chicxulub on the Yucatan coast in Mexico.
NASA scientists say the impact of an asteroid or comet several hundred million years ago created the Aorounga crater in the Sahara Desert of northern Chad. The crater has a diameter of about 10.5 miles (17 kilometers). This image was taken by the Space Shuttle Endeavour in 1994.
In 1908 in Tunguska, Siberia, scientists theorize an asteroid flattened about 750 square miles (1,200 square kilometers) of forest in and around the Podkamennaya Tunguska River in what is now Krasnoyarsk Krai, Russia.
Near-Earth Object Program
is trying to track down all asteroids and comets that could threaten Earth. NASA says 9,672 near-Earth objects have been discovered as of February 5, 2013. Of these, 1,374 have been classified as Potentially Hazardous Asteroids, or objects that could one day threaten Earth.
What else is up there? Is anyone watching? NASA's
One of the top asteroid-tracking scientists is Don Yeomans at the Jet Propulsion Laboratory, which is managed by the California Institute of Technology. Yeomans says every day, "Earth is pummeled by more than 100 tons of material that spewed off asteroids and comets." Fortunately, most of the asteroid trash is tiny and it burns up when it hits the atmosphere, creating meteors, or shooting stars. Yeomans says it's very rare for big chunks of space litter to hit Earth's surface. Those chunks are called meteorites.
Asteroids and comets are popular fodder for Earth-ending science fiction movies. Two of the biggest blockbusters came out in 1998: "Deep Impact" and "Armageddon." (Walt Disney Studios) Others include "Meteorites!" (1998), "Doomsday Rock" (1997), "Asteroid" (1997), "Meteor" (1979), and "A Fire in the Sky" (1978). Can you name others?
All about asteroids
All about asteroids
All about asteroids
All about asteroids
All about asteroids
All about asteroids
All about asteroids
All about asteroids
All about asteroids
All about asteroids
All about asteroids
All about asteroids
All about asteroids
All about asteroids
All about asteroids
All about asteroids
All about asteroids
STORY HIGHLIGHTS
An asteroid flies by Earth in the closest recorded approach of an object of its size
NASA: 9,697 objects have been classified as near-Earth objects
The OSIRIS-REx mission will take a sample from a different asteroid and bring it back
(CNN) -- It came closer ... closer ... and then it started heading away. But you may not have noticed at all.
An asteroid passed relatively close to Earth around 2:24 p.m. ET Friday. As scientists had been predicting all week, it did not hit.
An unrelated meteor entered the atmosphere over Russia on Friday, hours before the much larger asteroid's fly-by, injuring about 1,000 people. Scientists say that incident was a pure coincidence.
The larger asteroid, called 2012 DA14, never got closer than 17,100 miles to our planet's surface.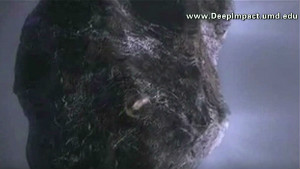 Could we stop an asteroid?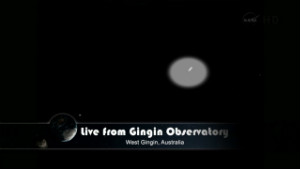 Asteroid reaches closest point to Earth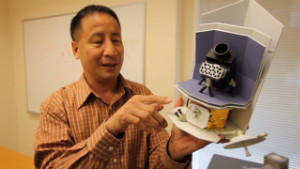 An asteroid scanning telescope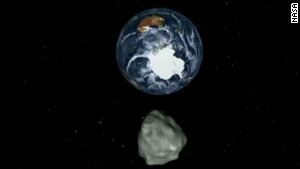 Bill Nye: Most asteroids are undetected
Stargazers in Australia, Asia and Eastern Europe could see the asteroid with the aid of a telescope or binoculars. At the Gingin Observatory in Australia, the asteroid appeared as a bright white streak as viewers watched a live NASA video feed.
Scientists are studying this asteroid so extensively that they can already predict its path for most of the 21st century, said Paul Chodas of NASA's Near Earth Object team.
But it is only one of thousands of objects that are destined to one day enter our neighborhood in space.
"There are lots of asteroids that we're watching that we haven't yet ruled out an Earth impact (for), but all of them have an impact probability that is very, very low," Don Yeomans, manager of the Near-Earth Object Program Office at NASA's Jet Propulsion Laboratory, said at a press briefing.
5 things to know about meteors and asteroids
The long and short of it
The asteroid is thought to be 45 meters -- about half a football field -- long. Current estimates suggest that the Russian meteor -- which was a tiny asteroid before it hit the Earth's atmosphere -- was only 15 meters wide, making it much harder to detect.
An object the size of asteroid 2012 DA14 appears to hit Earth about once every 1,200 years, Yeomans said.
"There really hasn't been a close approach that we know about for an object of this size," he added.
The Science Seat: Yeomans talks about his work
On its close approach to Earth, it was predicted the asteroid would be traveling at 7.8 kilometers per second, roughly eight times the speed of a bullet from a high-speed rifle, he said.
If it had hit our planet -- which was impossible -- it would have done so with the energy of 2.4 megatons of TNT, Yeomans said. This is comparable to the event in Tunguska, Russia, in 1908. That asteroid entered the atmosphere and exploded, leveling trees over an area of 820 square miles -- about two-thirds the size of Rhode Island. Like that rock, 2012 DA14 would likely not have left a crater.
What else is out there?
So, we knew that this particular asteroid wasn't going to hit us, but how about all of those other giant rocks floating nearby beyond our atmosphere?
NASA says 9,697 objects have been classified as near-Earth objects, or NEOs, as of February 12. Near-Earth objects are comets or asteroids in orbits that allow them to enter Earth's neighborhood.
There's an important distinction between these two types of objects: Comets are mostly water, ice and dust, while asteroids are mostly rock or metal. Both comets and asteroids have hit Earth in the past.
What would happen if the asteroid hit
More than 1,300 near-Earth objects have been classified as potentially hazardous to Earth, meaning that someday they may come close or hit our home planet. NASA is monitoring these objects and updating their locations as new information comes in. Right now, scientists aren't warning of any imminent threats.
Yeomans and colleagues are using telescopes on the ground and in space to nail down the precise orbit of objects that might threaten Earth and predict whether the planet could be hit.
Observatories around the world send their findings to the NASA-funded Minor Planet Center, which keeps a database of all known asteroids and comets in our solar system.
NASA also has a space probe tracking asteroids to learn more about them. The Dawn probe was launched in 2007 and has already sent back dramatic pictures from the giant asteroid Vesta.
The spacecraft is now heading to the dwarf planet Ceres. Vesta and Ceres are the two most massive objects in the main asteroid belt.
Although scientists know a lot about the path of 2012 DA14, there are many undiscovered near-Earth objects still out there. It's possible that a flash of light and shaking of the ground would be the first indications that something happened. With the Russian meteor, for example, there was no warning.
Many teams of astronomers are using electronic cameras to find these near-Earth objects, but according to NASA, the entire effort consists of fewer than 100 people.
New asteroid adventure in 2016
A mission that's scheduled to launch in 2016 will teach scientists even more about asteroids.
OSIRIS-REx will visit an asteroid called 1999 RQ36, take a sample of at least 2.1 ounces and bring it back to Earth.
"This is going to be the largest sample of an extraterrestrial object returned to Earth since end of the Apollo missions over 40 years ago," said Edward Beshore, deputy principal investigator for the mission, who is based at the University of Arizona, Tucson.
The probe will arrive at the asteroid in 2018, study it, and then bring back the sample in 2023.
1999 RQ36 is made of materials "almost identical to those that were present when the solar system was formed about 4.5 billion years ago," Beshore said. That means studying this asteroid could yield greater understanding about the sources of organic molecules and water that gave rise to life.
Because the asteroid is among those cataloged as a near-Earth object, the mission would further clarify the threat that this particular object poses, and better predict the orbits of other near-Earth asteroids, Beshore said.
Scientists at the University of Arizona are collaborating with NASA and Lockheed Martin Space Systems on this mission.
To better predict the orbits of hazardous objects, the group is looking at the Yarkovsky effect, a force created when the asteroid absorbs sunlight and re-radiates it as heat.
The effect is, at first glance, quite small -- Beshore cited his colleague Steven Chesley's comparison of this effect to the force a person feels when holding grapes in a hand. But over time, it's an important consideration when trying to understand where an asteroid is headed.
"That force, applied over millions of years, can literally move mountains of rock around," Beshore said.
But -- and we can't say this enough: Don't panic over it.
More space and science news on CNN's Light Years blog
CNN's Amanda Barnett and Ben Brumfield contributed to this story