Publicis CEO: Europe 'world's sick child'
updated 12:10 AM EST, Fri February 15, 2013
STORY HIGHLIGHTS
Publicis CEO: 2012 ad revenue growth not great, 2013 may be harder
French ad firm to focus more on digital, emerging markets for revenue
CEO Maurice Levy: 'Europe is sick child of world'
Levy: 'Good growth only to come in 2015'
(CNN) -- The London Summer Olympics may have been the most-watched event in television history but advertising revenue from the 2012 Games surprisingly disappointed French advertising group Publicis, as did revenue from last year's highly-watched European football championships.
But the lackluster revenues from such sporting events' ad purchases illustrate a disturbingly larger trend -- last year's revenue was worse than expected. And Publicis expects this year to be even harder.
In 2012, the European advertising network saw its "organic revenue" -- a key measure of growth and a barometer in the advertising industry -- grow less than 3%. Matching, let alone surpassing, that number in 2013 will be even tougher, said Maurice Levy, Publicis' CEO to CNN's Nina dos Santos. To push back, he says his company will shift toward "fast-growing markets" in digital and emerging economies while its home base of Europe recovers from its problems.
"I call Europe the sick child of the world nowadays because there are so many issues that have to be addressed -- starting with budget deficits (and) public spending -- that need to be addressed quite seriously," said Levy. "And this will probably lead to very little growth, if any."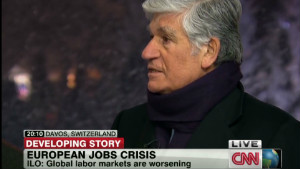 Solving the European jobs crisis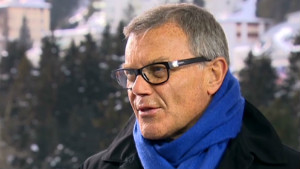 Sorrell on UK economy, referendum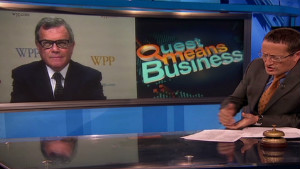 Sorrell: Europe in decade of slow growth
Publicis' pivot to digital and emerging markets echoes a similar strategy that WPP's CEO Martin Sorrell outlined in 2011. He said his firm's focus would include new markets and new media for better revenues over the next decade.
"I think there are three things," said Sorrell. "Our strategy is new markets, which are the BRICs and next 11 (emerging economies); new media, which is running from PC, through mobile to video content, to social networking and then...consumer insight, which is about data analytics and application of technology."
But while the euro recently hit a 13-month high, which makes eurozone exports more expensive and less competitive when sold overseas, Publicis' Levy said the currency exchange issue is not as big a concern as the operating challenges that European companies face.
"When you look at the current situation, we are loaded with a lot of costs, charges, taxes, which are making the competitiveness of this company much more difficult. We have to take this down if we want to solve our problem for the long term."
"I don't see the European market growing in 2013," said Levy. "I believe that it will start to recover a little bit in 2014, and the good growth will come only in 2015."

Part of complete coverage on
updated 2:47 AM EDT, Mon April 22, 2013

Twitter resumes -- or "twesumes" -- have been touted as the best way for social media-savvy types to snag a dream job.
updated 4:00 AM EDT, Wed April 17, 2013

We live in a three-speed economic world, according to the International Monetary Fund.
updated 12:27 PM EDT, Wed April 17, 2013

Women have long dominated the heated discussion around gender equality. But men need to too, says Facebook's Sheryl Sandberg.
updated 6:53 AM EDT, Fri April 19, 2013

Security threats from mobile malware are on the rise and nearly 95% of targets operate on the Android operating system, according to a new report from NQ Mobile.
updated 4:06 PM EDT, Mon April 15, 2013

Microsoft is working on a touch-enabled smartwatch, The Wall Street Journal says, reporting that the company asked Asian suppliers to ship components for the device.
updated 2:47 AM EDT, Fri April 19, 2013

Give your anxious, negative colleagues a chance, and they just might surprise you.
updated 6:46 AM EDT, Wed April 17, 2013

In Europe, high-speed rail has come to stand for ease and efficiency where journeys of four hours or less trump airplanes and the hassle of airport security.
updated 2:12 PM EDT, Fri April 19, 2013

Infographic: Singapore may be tiny but it is also one of East Asia's most powerful trading hubs.
updated 8:27 PM EDT, Sun April 21, 2013

In Hong Kong urban lore, an apartment where a violent death took place can often be bought for as much as 10-30 per cent off the market price.
updated 12:05 PM EDT, Tue April 16, 2013

With gold prices officially in a bear market, investors must ask themselves if this is the time to buy?