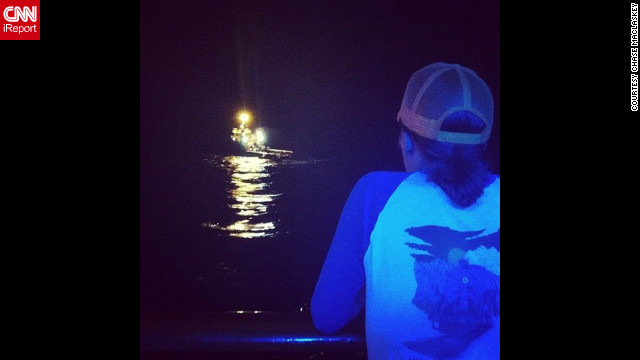 "Mike watching the first tugboat setting up to pull us," writes Chase Maclaskey on Instagram. The 4,229 passengers and crew aboard the Carnival Triumph have been stuck on the ship since fire disabled the vessel on Sunday, February 10. Click through to see passengers' photos from on board.
"One of two tugboats pulling us through the channel to Mobile, Alabama, along with a channel guide boat," writes Maclaskey. The ship is being towed slowly to Mobile, Alabama, and is expected to port late February 14.
Passengers set up makeshift beds on a deck of the ship.
Passengers fill the deck of the ship and look up toward the sky.
Passengers lie on beds in a hallway aboard the Carnival Triumph.
iReporter Robin Goebel says passengers dubbed an area "tent city" where many had chosen to set up temporary shelters on the deck of the disabled Carnival Triumph. Many slept on the decks of the ship because the rooms were too hot.
Passengers aboard the disabled Carnival Triumph cruise ship wave to a helicopter overhead as it approaches the vessel on February 14.
"This was one of the discovered only working outlets so people put their power strips together and we made a huge charging station," wrote passenger Kaitlyn Robertson.
Passengers lie on mattresses in a hallway aboard the Carnival Triumph.
According to passenger Megan Clemons-Foxall these "buckets of sewage" rest in stairwell aboard the ship.
Passengers help themselves to food aboard the ship.
Instagram user Jacob Combs shot this photo of his balcony on the ship with the caption, "Excited for working toilets!"
Moments from aboard the ship
Moments from aboard the ship
Moments from aboard the ship
Moments from aboard the ship
Moments from aboard the ship
Moments from aboard the ship
Moments from aboard the ship
Moments from aboard the ship
Moments from aboard the ship
Moments from aboard the ship
Moments from aboard the ship
Moments from aboard the ship