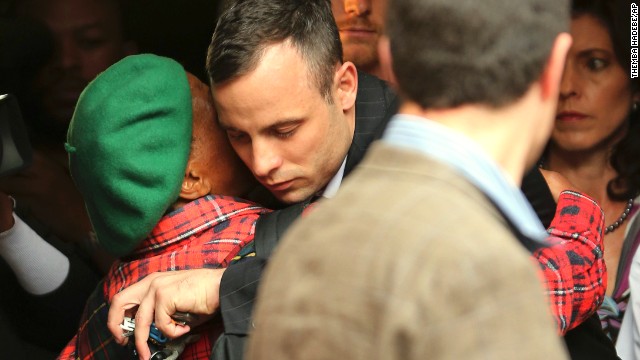 Oscar Pistorius is hugged by a woman as he leaves court in Pretoria, South Africa, on Wednesday, April 16. Pistorius, the first double amputee runner to compete in the Olympics, is accused of intentionally killing his girlfriend, Reeva Steenkamp, in February 2013. Pistorius has pleaded not guilty to murder and three weapons charges.
Pistorius rubs his eye Tuesday, April 15, after testifying during his murder trial.
Pistorius arrives at the court in Pretoria on Monday, April 14.
Pistorius' sister, Aimee, cries in court as she listens to her brother's testimony on Tuesday, April 8.
June Steenkamp, Reeva Steenkamp's mother, reacts as she listens to Pistorius' testimony on April 8.
Pistorius is hugged by his aunt Lois Pistorius in court on Monday, April 7.
Pistorius sits inside the courtroom as members of his defense team talk in the foreground Friday, March 28.
Pistorius leaves court on March 28. The trial was delayed until April 7 because one of the legal experts who will assist the judge in reaching a verdict was sick.
Steenkamp's mother, right, and family friend Jenny Strydom react in court Tuesday, March 25, during cross-questioning.
Cell phone analyst Francois Moller testifies during the trial on March 25. Questioned by the prosecution, Moller listed in order the calls made and received by Pistorius after he shot Steenkamp.
Pistorius cries as he sits in the dock during his trial on Monday, March 24.
Pistorius talks to defense attorney Barry Roux on March 24.
Pistorius holds his head while members of his family talk behind him on Tuesday, March 18.
Steenkamp's mother, wearing the white collared shirt, looks on while a police officer takes notes in court March 18.
Pistorius is hugged by his aunt Lois on March 18.
Pistorius takes notes Monday, March 17, as his murder trial enters its third week.
Pistorius covers his head as he listens to forensic evidence Thursday, March 13.
Forensic investigator Johannes Vermeulen, left, is questioned during the trial March 13.
Pistorius listens to questions during his trial on Wednesday, March 12.
A police officer takes part in a court reconstruction March 12. A police forensic expert said Pistorius was on the stumps of his amputated legs when he knocked down a locked toilet door with a cricket bat to reach his shot girlfriend. That counters the track star's assertion he was wearing his prosthetic legs at the time. Defense attorney Barry Roux countered by suggesting that even with his prosthetic legs on, Pistorius would not be swinging a bat at the same height as an able-bodied person.
Pistorius listens to cross-questioning on Monday, March 10.
Friends of Steenkamp's family watch Pistorius during his trial on March 7.
Pistorius covers his ears on Thursday, March 6, as a witness speaks about the morning Steenkamp was killed.
Pistorius' sister, Aimee, right, speaks with members of Steenkamp's family on March 6.
Pistorius sits in court on the third day of his trial Wednesday, March 5.
Pistorius appears on the second day of his trial Tuesday, March 4.
Members of the media work during a break in proceedings March 4.
Pistorius talks with Roux inside the court on March 4.
Pistorius speaks with his legal representatives on March 4.
Pistorius is escorted out of the court Monday, March 3, after the first day of his murder trial.
People try to get a glimpse of Pistorius as he leaves the court building on March 3.
Pistorius is seen shortly after arriving for his trial on March 3.
Pistorius walks into the courtroom on March 3.
Pistorius takes a drink of water March 3 during his trial.
The case has captivated South Africa. Here, Lauren Wentzel watches the proceedings from her home outside Cape Town on March 3.
June Steenkamp arrives at the court building for the start of the trial.
Pistorius' relatives wait inside the courtroom on March 3.
People at the court building wait for Pistorius' arrival on March 3.
Oscar Pistorius murder trial
Oscar Pistorius murder trial
Oscar Pistorius murder trial
Oscar Pistorius murder trial
Oscar Pistorius murder trial
Oscar Pistorius murder trial
Oscar Pistorius murder trial
Oscar Pistorius murder trial
Oscar Pistorius murder trial
Oscar Pistorius murder trial
Oscar Pistorius murder trial
Oscar Pistorius murder trial
Oscar Pistorius murder trial
Oscar Pistorius murder trial
Oscar Pistorius murder trial
Oscar Pistorius murder trial
Oscar Pistorius murder trial
Oscar Pistorius murder trial
Oscar Pistorius murder trial
Oscar Pistorius murder trial
Oscar Pistorius murder trial
Oscar Pistorius murder trial
Oscar Pistorius murder trial
Oscar Pistorius murder trial
Oscar Pistorius murder trial
Oscar Pistorius murder trial
Oscar Pistorius murder trial
Oscar Pistorius murder trial
Oscar Pistorius murder trial
Oscar Pistorius murder trial
Oscar Pistorius murder trial
Oscar Pistorius murder trial
Oscar Pistorius murder trial
Oscar Pistorius murder trial
Oscar Pistorius murder trial
Oscar Pistorius murder trial
Oscar Pistorius murder trial
Oscar Pistorius murder trial