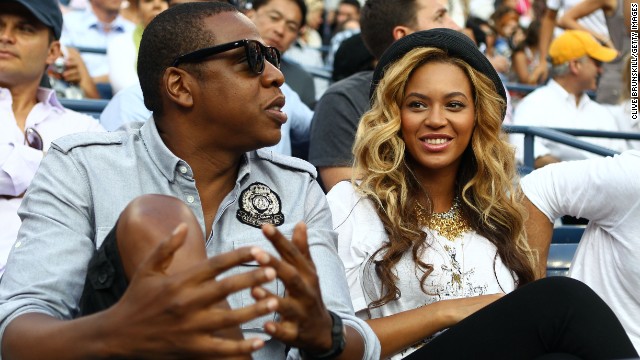 With a combined annual income of $78 million, Jay-Z and Beyonce surpassed Tom Brady and Gisele Bundchen as the highest-paid celebrity couple in 2012,
according to Forbes
.
From Gisele Bundchen's modeling, endorsement deals and independent licensing ventures to Tom Brady's generous contract with the New England Patriots, this power couple has a total income of $72 million. They have two children together.
Kim Kardashian and Kanye West will soon be parents of one lucky bundle of joy. The reality star pulls $18 million annually while the musician/director/artist rakes in $35 million.
Miranda Lambert and Blake Shelton are country music's newest power couple. With Lambert's fourth studio album, "For the Record," debuting at No. 3 on the Billboard 200, and Shelton's judgeship on NBC's "The Voice," the pair are a musical force.
Together, Angelina Jolie and Brad Pitt have six children, five Oscar nominations, one Academy Award and $45 million a year.
With Calista Flockhart focusing on TV and Harrison Ford starring on the big screen, the couple, who wed in 2010, have been power players for years.
Will Smith and Jada Pinkett Smith rake in $40 million annually. They're even more of a power couple -- or family -- when you factor in their famous offspring, Jaden and Willow.
Speaking of powerful families, Judd Apatow and Leslie Mann's children, Maude and Iris, have appeared alongside their mom in three Apatow comedies. It seems the couple that works together on hilarious movies stays together.
Together, soccer player David Beckham and his wife Victoria (the fashion designer formerly known as Posh Spice) earn $54 million a year.
While Jennifer Aniston brings in $11 million annually, her writer/director/actor fiancé Justin Theroux certainly carries his weight.
Soccer star Gerard Pique and singer Shakira welcomed their first child in January.
David Bowie and Iman married in 1992. His musical legacy coupled with her modeling career and cosmetics company makes this pair a force to be reckoned with -- not to mention that Bowie's 24th studio album is set to debut in March.
As long as "American Idol" judge Mariah Carey continues making music and Nick Cannon keeps acting and writing/producing/directing TV programs, this power couple isn't going anywhere.
Ellen DeGeneres has gained even more regular fans for her show, with "The Oprah Winfrey Show" off the air. Alone, DeGeneres rakes in $53 million annually. Add in what her wife, actress Portia de Rossi, earns from "Ally McBeal" and "Arrested Development" and you've got yourself a power couple.
With an annual income of $59 million, Ryan Seacrest could be his own power couple. His girlfriend, Julianne Hough, has starring roles in movies such as "Rock of Ages" and "Safe Haven," which comes out on Valentine's Day, for bonus power couple points.
Jay-Z and Beyonce
Tom Brady and Gisele Bundchen
Kim Kardashian and Kanye West
Blake Shelton and Miranda Lambert
Angelina Jolie and Brad Pitt
Calista Flockhart and Harrison Ford
Will Smith and Jada Pinkett Smith
Leslie Mann and Judd Apatow
David and Victoria Beckham
Justin Theroux and Jennifer Aniston
Gerard Pique and Shakira
David Bowie and Iman
Mariah Carey and Nick Cannon
Ellen DeGeneres and Portia De Rossi
Ryan Seacrest and Julianne Hough