New arrests in News of the World phone-hacking probe
updated 9:12 AM EST, Wed February 13, 2013
STORY HIGHLIGHTS
NEW: Six current or former journalists are arrested in connection with alleged phone hacking
Police say the alleged phone-hacking conspiracy is separate from one already being probed
London's Metropolitan Police is running three investigations into alleged wrongdoing
Rupert Murdoch shut down the News of the World after the scandal broke in 2011
London (CNN) -- Six people were arrested Wednesday in what London's Metropolitan Police is calling a separate phone-hacking conspiracy at Rupert Murdoch's defunct News of the World newspaper.
All of them are journalists or former journalists, police said.
Tabloid hacking report: Who won? Who lost?
Dozens of people, including Murdoch protégé Rebekah Brooks and Andy Coulson, a former adviser to prime Minister David Cameron, already have been arrested and several have been charged with phone hacking and related crimes.
Police say Wednesday's arrests are part of a separate conspiracy to hack phones, primarily from 2005 to 2006, at the News of the World.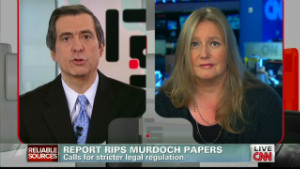 Report rips Murdoch papers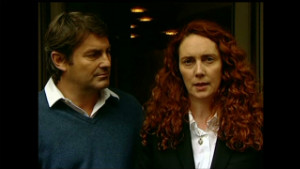 Inside the UK phone hacking scandal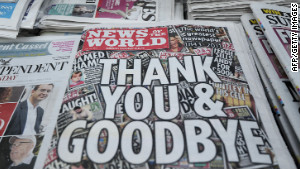 Explain it to me: UK tabloid scandal
How Murdoch bounced back from his 'most humble day'
Three men and two women were arrested in London and one woman in Cheshire, in northern England.
Searches are being carried out at several addresses, police said.
"In due course officers will be making contact with people they believe have been victims of the suspected voicemail interceptions," a police statement said.
Murdoch closed the Sunday tabloid, one of the world's best-selling English-language newspapers, in 2011 over the phone-hacking scandal.
Three police investigations were created to look into allegations of phone hacking, bribery of public officials and computer hacking.
Rupert Murdoch: The last press baron
Brooks and Coulson are both former News of the World editors. Brooks later became chief executive of News International, a UK subsidiary of Murdoch's News Corp. empire. Coulson went on to become Cameron's director of communications before resigning early in 2011.
The hacking scandal prompted Cameron to set up an independent, judge-led inquiry -- named for Lord Justice Leveson, its chairman -- to make recommendations on journalistic ethics and examine the relationship of the press with the public, police and politicians.

Part of complete coverage on
updated 7:46 AM EST, Fri November 30, 2012

In the wake of the scandal, a high court judge has urged the government to order Britain's press to behave. What will the report mean?

The Leveson inquiry is a British government-backed inquiry into illegal eavesdropping and bribery by journalists. Read the final report by Lord Leveson.
updated 6:30 AM EST, Fri November 30, 2012

Could the phone-hacking scandal prove to be a blessing in disguise for Murdoch? He claimed to have been "humbled" by the scandal.
updated 11:40 AM EST, Thu November 29, 2012

Months passed since some of the key players in the Leveson inquiry gave their statements. Here's a reminder of the best quotes.

Phone-hacking scandal revealed the dark side of tabloid journalism. Should it lead to a stricter press regulation? Share your views with CNN.
updated 7:34 AM EST, Thu November 29, 2012

Revelations that murdered UK schoolgirl Milly Dowler 's phone was hacked sparked outrage. But who was the girl at the center of the scandal?
updated 7:22 AM EST, Thu November 29, 2012

Jacqui Hames says she was a victim of surveillance by News of the World -- causing her stress that eventually led to the breakdown of her marriage.
updated 1:21 PM EST, Wed November 28, 2012

Media expert Brian Cathcart says Fleet St. has grabbed its megaphone and started bellowing out its usual message: leave us alone.
updated 12:42 PM EST, Mon November 19, 2012

How did phone hacking grow into a scandal that threatened Rupert Murdoch's hold on his global media business? Track all the major events.
updated 6:38 AM EST, Tue November 20, 2012

Rebekah Brooks was once feted as one of the rising stars of the British media. Now she is at the center of the phone-hacking scandal.
updated 7:53 AM EST, Thu November 29, 2012

Rupert Murdoch is the last of a dying breed: An old-fashioned press baron with ink running through his veins, a hefty checkbook, and a hunger for the next big story.
updated 6:33 AM EST, Thu November 29, 2012

James Murdoch was widely regarded as heir-apparent to his father global media empire. All that changed when the hacking scandal broke.
updated 8:43 AM EDT, Wed April 25, 2012

On his Twitter feed Rupert Murdoch reveals a love of nature, a hatred of windfarms and a desire to put the boot into the UK government.