Tibetan sets himself on fire in front of shrine in Nepal
updated 9:44 PM EST, Wed February 13, 2013
STORY HIGHLIGHTS
"The whole of his body is burnt," a police spokesman says
The man doused himself in petrol and set himself on fire near a shrine
Dozens of Tibetans have self-immolated in recent years to protest Chinese rule
Kathmandu, Nepal (CNN) -- A Tibetan man set himself on fire in front of a famous Buddhist shrine in the Nepalese capital on Wednesday, police said, becoming the latest Tibetan to adopt this harrowing form of protest over Chinese rule.
Read more: The politics of Tibetan self-immolations
The man, believed to be in his early 20s, came out of a nearby restaurant doused in petrol and set himself alight in front of the revered Boudhanath Stupa in Kathmandu, said Keshav Adhikari, a police spokesman.
"The whole of his body is burnt," Adhikari said, adding that the Tibetan was not able to communicate when he was taken to a hospital for treatment. Authorities are still trying to identify the man.
Read more: China sentences 2 Tibetans over self-immolations
Self-immolation has become a dramatic and desperate form of protest in recent years for ethnic Tibetans unhappy with Chinese rule.
Tibetan advocacy groups say the number of self-immolations by Tibetans inside China since February 2009 stood at 99 at the end of January. Several others have set themselves on fire in other countries, including India.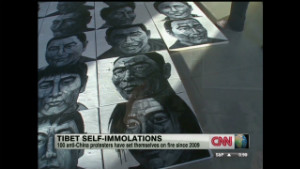 Chinese artist portrays Tibetan woes
Opinion: Tibetans reject Chinese rule with one voice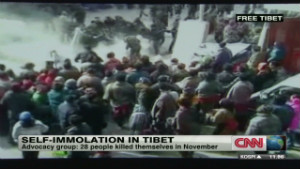 Tibetan self-immolations on the rise
Self-immolation began as a form of protest among Tibetans in China in February 2009, when a young monk set himself ablaze. In March 2011, another young monk followed in his footsteps, becoming the first to die. Scores of others have since followed suit.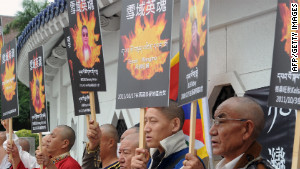 Should Dalai Lama condemn immolations?
Independently verifying the reported self-immolations inside China is often difficult because of restrictions on reporting from the restive areas and the reluctance of local officials to comment on the accounts provided by foreign-based Tibetan advocacy groups.
Beijing has taken a tough line on the protesters and their associates, accusing the Dalai Lama, the exiled Tibetan spiritual leader, of fomenting unrest inside Chinese borders.
Read more: How many more Tibetans will sacrifice themselves?
Last month, a court in southwestern China gave heavy sentences to two ethnic Tibetans convicted of murder for "inciting" people to set themselves of fire.
The Dalai Lama, who fled to India in 1959 after a failed uprising, has long denied China's assertion that he's seeking Tibetan independence. He says he wants only enough autonomy to protect their traditional Buddhist culture.
Beijing rejects accusations of oppression, saying that under its rule, living standards have greatly improved for the Tibetan people. It makes centuries-old historical claims on the region.

Part of complete coverage on
updated 3:14 PM EDT, Thu May 16, 2013

Boxing legend Manny Pacquiao is using his hero status to fight human trafficking in the Philippines, pushing for an anti-trafficking law.
updated 6:25 PM EDT, Thu May 16, 2013

The U.N. says 70% of rapes committed in Somalia are carried out by men in military uniform. CNN's Nima Elbagir reports.
updated 8:38 AM EDT, Fri May 17, 2013

Christiane Amanpour writes an open letter to girls of the world, saying it is time to end the discrimination against girls in education.
updated 3:12 PM EDT, Fri May 17, 2013

Fans gasped when David Beckham wore a sarong. Then there was the nail polish and tattoos. But his masculinity was never in doubt.
updated 10:54 AM EDT, Fri May 17, 2013

Albinos in Tanzania have been attacked and killed because some people believe their body parts bring good luck. But one albino is fighting back.
updated 8:50 AM EDT, Fri May 17, 2013

Terrible results for Dell mean the future seems anything but bright for the PC industry despite a flurry of attempted innovations.
updated 12:00 PM EDT, Fri May 17, 2013

Mario Balotelli has delivered his verdict on his time in the English Premier League -- the AC Milan striker couldn't be happier to have left England.
updated 7:04 AM EDT, Fri May 17, 2013

If you thought Preakness was the poor sister to Kentucky Derby, think again. CNN brings you top five facts from the prestigious horse race.
updated 7:45 PM EDT, Wed May 15, 2013

Natasha Kampusch was held for eight years in an Austrian man's basement. She talks about her road to recovery, exclusively to CNN.
updated 5:36 PM EDT, Wed May 15, 2013

From her hospital bed, Reshma tells CNN about the 17 days she spent trapped under nine stories of rubble in Bangladesh.
updated 6:12 PM EDT, Thu May 16, 2013

A room full of partygoers in San Francisco were given power over a cocktail-making robot controlled by their smartphones.
updated 11:57 AM EDT, Thu May 16, 2013

The cast of "Star Trek Into Darkness" take a break from fighting space villains to answer questions from CNN iReporters.
updated 7:48 AM EDT, Thu May 16, 2013

CNN brings you images capturing moments to remember. Look ahead to the future and chronicle our changing world.