STORY HIGHLIGHTS
Phil McGraw speaks with mother of former Alabama child hostage
She tells him she worried about trying to put him back on a school bus
Ethan told her the Army killed the 'bad man'
The 6-year-old tells his mom that 'My bus driver is dead'
(CNN) -- Jennifer Kirkland says she caught her 6-year-old son Ethan just staring at a school bus the other day.
He was mesmerized, his eyes locked on the yellow vehicle. He didn't say a thing, and she didn't know what to say to him.
The last time he was on a bus, he was sitting just behind the driver -- as he always did -- waiting for his stop so he could go home.
But the "bad man" got on, and killed the driver, his buddy Mr. Poland.
Appearing on the "Dr. Phil" show, Kirkland told Phil McGraw she was worried how her little boy was going to react the next time she tried to put him on the bus to school.
After being kidnapped, the recovery ahead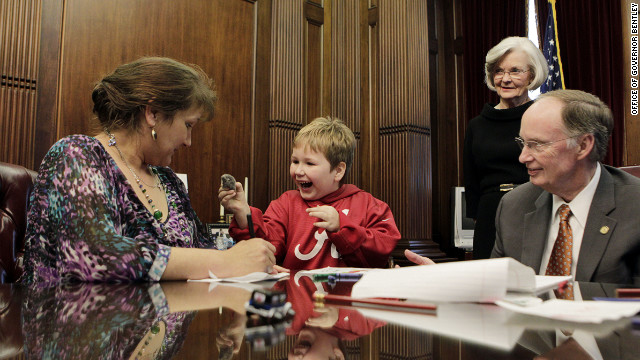 Five-year-old Ethan, who was held captive in an underground bunker for nearly a week by Jimmy Lee Dykes, and his mother Jennifer Kirkland visit with Alabama Gov. Robert Bentley in the governor's office on Wednesday, February 13.
Ethan draws with Gov. Bentley in his office on Feb. 13.
A white PVC pipe used by FBI agents and Dale County, Alabama, negotiators to communicate with Dykes protrudes out of the ground on Monday, February 4. For almost a week, Dykes held a 5-year-old boy hostage in a bunker after taking the boy from his school bus and killing its driver.
Dale County Sheriff Wally Olson speaks to reporters about the hostage situation in Midland City, Alabama, on Monday, February 4.
Reporter Ashley Thompson, left, and Marcus Effinger work on a report for Alabama News Network from their vehicle at the site of the standoff on February 4.
Law enforcement officers walk down a dirt road to the bunker to process the crime scene on Tuesday, February 5, after the standoff ended.
A tent covers the bunker where the standoff took place. An FBI team rescued the child and killed Dykes during the operation on February 4.
A sign celebrating Ethan's rescue stands in front of the Mary Berry Brown Memorial Library in Midland City on February 5.
Dale County Schools Superintendent Donny Bynum hugs Dale County Sheriff Wally Olson and an unidentified woman after the standoff.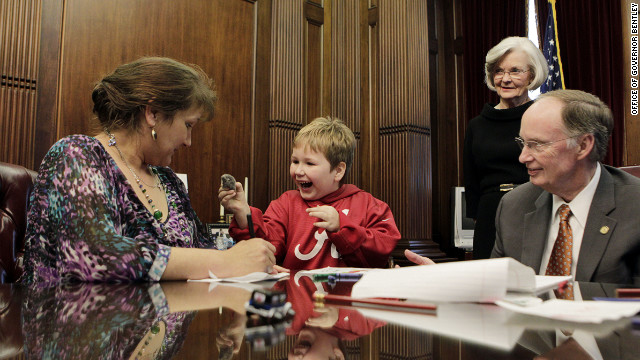 Alabama bunker standoff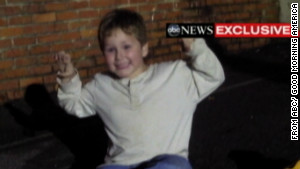 Former hostage Ethan celebrates birthday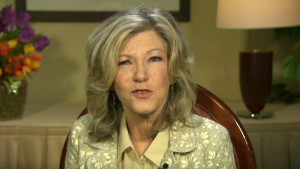 Terry Probyn's advice to Ethan's family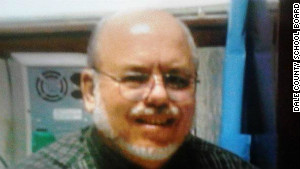 Heroic last stand on Alabama school bus
Ethan has been having a hard time sleeping, she told the psychologist turned syndicated daytime talk show host.
He thrashes his arms, tosses and turns and sometimes he calls out.
It has only been almost 10 days since the FBI sent a rescue team into the bunker in Midland City, Alabama, where Ethan was held hostage for nearly a week by Jimmy Lee Dykes.
His mother hasn't asked Ethan what happened when he was there.
"I have not talked to Ethan about it," she said in an interview aired Wednesday. "I don't know how to. As a mother I want him to know that I'm there if he needs to talk. I don't know how to respond because I have never been through this."
Inside the bunker: From storm shelter to boy's prison
Ethan has seen two people shot to death. Dykes shot bus driver Charles Poland several times before he carried Ethan, who had fainted, off the bus and into an underground bunker Dykes had built on his property.
Then the FBI killed Dykes when negotiations broke down and authorities felt they had to rescue the boy before Dykes, who had a handgun, did something rash.
"The Army came in and shot the bad man," Kirkland said Ethan told her.
Kirkland said she had hoped Dykes wouldn't be harmed.
"From the very beginning, I had already forgiven Mr. Dykes even though he had my child," she said. "I could not be angry through this. My job was to be the mother."
She thinks Dykes had a soft spot for Ethan because he has disabilities. Dykes took care of her boy as best he could, she said.
He even fried chicken for the boy.
Still, as the crisis continued, she worried that Dykes might be spooked by something her child did -- or that he had enough supplies to stay down there for months. She worried her boy would think she had abandoned him.
She asked authorities to let her speak to Dykes.
"That's my baby. He's my world. He's my everything," she said. "Everything I do I do for him. And I was afraid I wasn't going to get him back."
When she did get him back, he was in the hospital, putting stickers on everyone in sight.
"Hey, bug, I sure have missed you," she recounted.
"I missed you, too," he answered.
FBI: Bombs found in Alabama kidnapper's bunker
Now she worries that even though he seems like the same playful little boy, there is an emotional storm ahead.
McGraw told her to talk to Ethan about his feelings, not what happened to him in the bunker.
"Let that decay in his young mind," he said.
McGraw asked Ethan a few questions, but as 6-year-olds are apt to do, he answered most with a "Yes" or a "No."
But when the doctor asked him how he got to school, Ethan said, "On my bus, but my ..."
Then he walked over to his mother and as if telling a secret, whispered in her ear, "But my bus driver is dead."
Kirkland told McGraw that it was Poland who helped Ethan conquer his fear of descending the steep school bus steps. Poland would cheer Ethan on and one day when the child hesitated and the mother went to help, the driver said, "Let him do it."
Since then, Ethan has had no problem.
But now his cheerleader won't be there, and Kirkland is anguished about her boy.
"Mr. Poland put him behind him so he could keep a good eye on him," she said.
Ethan hasn't been back to school yet. He's been busy opening birthday presents and playing with his favorite toys. On Wednesday, he made a new friend in Gov. Robert Bentley.
There's a picture from the event where little Ethan is sitting underneath the governor's desk. The child is beaming.
"Ethan is a loving, forgiving child," Kirkland said. "He is easy to go up to a perfect stranger and say, 'Can I have a hug?'"
That was the boy who went into that bunker. She is concerned it's not the child who came out.