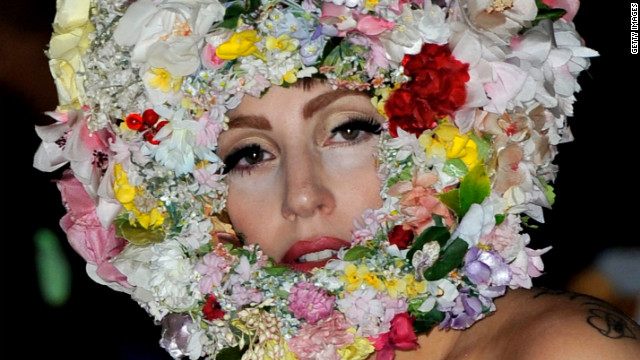 The singer is in bloom wearing this creation during 2013 London Fashion Week. Here are a few more of Lady Gaga's memorable outfits through the years:
Lady Gaga posts images to her littlemonsters.com blog, saying she was joining the "Body Revolution."
The recent images are not the first of the singer scantily clad. Here, she performs at the Staples Center in Los Angeles wearing a two-piece ensemble in 2010.
Lady Gaga drapes herself in pink on the catwalk at the Philip Treacy fashion show.
At the Lady Gaga "Fame" perfume launch, the artist embraces her futuristic side.
Lady Gaga prepares to kick off the Times Square ball drop at New Year's Eve 2012 in New York City.
The singer shows she was "Born This Way" as she emerges from an egg at the 53rd annual Grammy Awards.
Lady Gaga dons the infamous meat dress at the 2010 MTV Video Music Awards.
With pearls scattered among her outfit and face, Lady Gaga attends the Fall 2010 Fashion Week.
Lady Gaga arrives at the 52nd annual Grammy Awards in a hula hoop inspired creation.
While performing in Paris in 2010, Lady Gaga's green and white attire resembled that of a character from the Muppets.
Lady Gaga surprised many at the 2011 MTV Video Music Awards as she channeled her foul-mouthed, whisky-drinking, chain-smoking male alter-ago, Jo Calderone.
Lady Gaga's outfits through the years
Lady Gaga's outfits through the years
Lady Gaga's outfits through the years
Lady Gaga's outfits through the years
Lady Gaga's outfits through the years
Lady Gaga's outfits through the years
Lady Gaga's outfits through the years
Lady Gaga's outfits through the years
Lady Gaga's outfits through the years
Lady Gaga's outfits through the years
Lady Gaga's outfits through the years
Lady Gaga's outfits through the years