STORY HIGHLIGHTS
Dental records are the go-to method for identifying burned bodies, experts say
Fingerprints are sometimes not a viable option because of charring
DNA testing is used if dental or other X-rays cannot be found
Anderson Cooper 360º devotes the entire hour to the frenzied manhunt, the final shootout, and the people allegedly killed by an ex-LA cop. Watch "9 Days of Terror: The Hunt for Christopher Dorner" Wednesday at 8 p.m. ET on CNN.
(CNN) -- A charred body, such as that found in a California cabin amid a manhunt for an ex-police officer, can be relatively easy to identify, experts said, especially if authorities have an idea of whose it is.
Officials are working to determine whether the body, discovered after a shootout that left one deputy dead and a second wounded, is that of Christopher Dorner.
Suspected in the deaths of three others, Dorner, a former Los Angeles police officer, has been the subject of a six-day manhunt. He apparently vowed to kill police officers to avenge what he said was an unfair termination.
"We do cases like this all the time," said Dr. Mark Bernstein, a Louisville, Kentucky, dentist who is a forensic dental consultant for the state's chief medical examiner.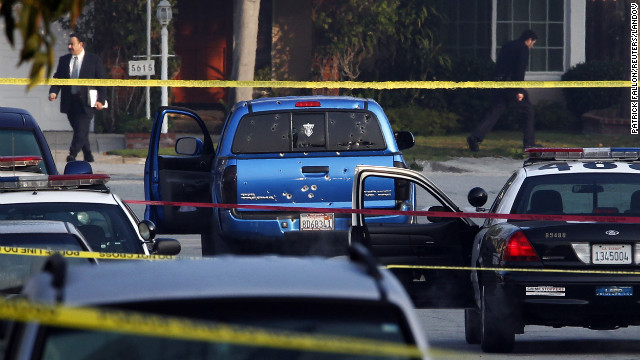 Detectives investigate the scene where officers fired on a vehicle they believed was Christopher Dorner's on February 7, in Torrance, California. Two people in the truck were wounded.
An employee of Southern California Edison surveys the damage at the burned-out cabin where the remains of multiple-murder suspect and former Los Angeles Police Department officer Christopher Dorner were found on Friday, February 15, in Big Bear, California.
A statue of an angel stands on a wood column in front of the burned cabin on February 15.
An evidence flag placed by San Bernardino County Sheriff's crime scene investigators sits on pile of rubble in the burned cabin on February 15.
Cindy Bachman, public information officer for the San Bernardino Sheriff's Department, updates the media after a standoff and a shootout with Dorner on Tuesday, February 12.
Police search cars at a blockade as they come down off the mountain during a manhunt for Dorner on February 12.
Cindy Bachman, information officers for the San Bernardino County Sheriff's Department, speaks to reporters at a roadblock near Big Bear Lake, California, on Tuesday, February 12. Christopher Jordan Dorner has been the subject of a massive manhunt and is accused of killing one police officer and wounding two others, as well as killing the daughter of his police union representative and her fiance on Sunday.
Authorities take positions during the manhunt for former LAPD officer Christopher Jordan Dorner near the town of Angelus Oaks, California, on Tuesday.
San Bernardino County Sheriff SWAT team members return to the command post at Bear Mountain in Big Bear Lake, California, on Friday, February 8, after heavy snow hindered the manhunt for ex-LAPD cop Christopher Jordan Dorner.
Officers keep watch outside of the Twin Towers Jail in response to an unconfirmed sighting of Dorner in Los Angeles.
Officers investigate the burned out truck of Christopher Jordan Dorner that was discovered at the base of Bear Mountain Ski Resort in Big Bear Lake, California, on Thursday, February 7.
Department of Homeland Security officers search vehicles at the San Ysidro Port of Entry in San Diego on February 7 as they search for former LAPD officer Christopher Dorner.
Los Angeles Police Chief Charlie Beck speaks at a press conference about the manhunt for Dorner as photos of the suspect stand in the background on February 7.
An illuminated sign at San Diego State University along Interstate 8 displays information about Dorner's last known vehicle on February 7.
San Diego Harbor Police officers near Naval Base Point Loma armed with high-powered firearms walk along a street on February 7 in San Diego.
Investigators inspect a bullet-ridden squad car where a police officer was shot on Magnolia Avenue in Corona, California on February 7.
Police stand guard near a LAPD car where a police officer was shot on Magnolia Avenue as officers across the state remain on high alert.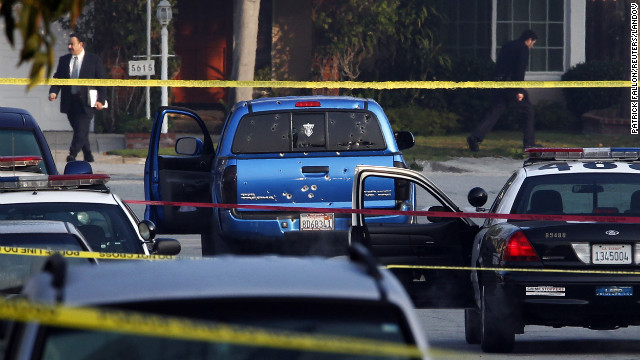 Ex-cop at center of California manhunt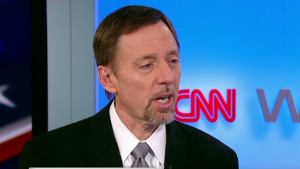 Shootout with ex-cop ends in flames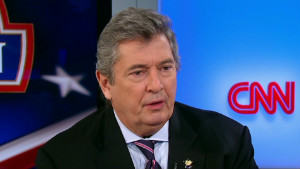 Next steps in Chris Dorner case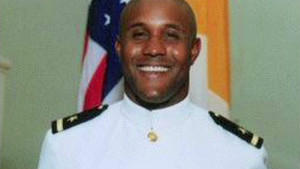 Track the events leading up to manhunt
Frequently, when a body has been burned, fingerprints are not a viable option for identification, as the skin has burned, he said. But it's rare, even in the most severe burning, that "some fragments of dental evidence" wouldn't exist.
Typically, medical examiners or other forensic experts would start with a person's family, asking relatives if they know the person's dentist, Bernstein said.
If a dentist remains unknown, other sources for dental X-rays can be checked. Those might include the military, if a person was in the armed forces, or even jail, where an inmate might have been treated for a dental condition.
Dorner, for instance, retired from the Navy Reserve on February 1 as a lieutenant.
Although Bernstein is not involved in the Dorner case, "I think that all the elements are there for a possible identification," he said. "Dental identifications are so much quicker and so much less expensive than DNA."
If dental records cannot be found, authorities can also check with hospitals for any other X-rays that might have been taken, said Dr. Daniel Spitz, medical examiner in Macomb County, Michigan. Chest or orthopedic X-rays can be particularly useful for comparisons, he said.
If no X-rays can be found, experts said the next step would be DNA testing. In spite of the fire damage, there are a number of ways DNA can be located on a body, Bernstein and Spitz said.
"The charring is only on the surface," unless an accelerant was used or unless the body was subjected to "crematory-like temperatures," causing it to disintegrate, Spitz said.
DNA can be extracted from the center of a tooth or from bone marrow, Bernstein said.
In addition, "the skull almost always stays, for the most part, intact, leaving the brain in relatively good shape," Spitz said. Internal organs sometimes are also present, and blood can be drawn from them.
Timeline in manhunt for ex-L.A. cop turned fugitive
If a person's DNA is not found in national DNA databases, a source for comparison must be found, he said. Authorities may obtain a sample from a person's toothbrush or hairbrush, for instance, and tests may also be done comparing blood samples from family members, although those are more labor-intensive and time-consuming.
But in most cases, dental records are all that's needed, Bernstein said. "It's typical that we can do that."
In this case, he said, "They're going to do everything they can to identify this individual. It's critical."