Waste or worth? $10,000 smartphone
updated 4:30 AM EST, Wed February 13, 2013
STORY HIGHLIGHTS
Vertu Ti boasts sapphire-crystal screen, titanium casing
$10,000 price tag includes personal concierge service, voice encrypted calls
CEO Oosting: "We're not after market share"
CNN's dos Santos: Only 320,000 Vertu smartphones have been sold
Hong Kong (CNN) -- If new is a necessity, tech is your god and money no object then a $10,000 Vertu smartphone will probably catch your eye.
The British-based luxury mobile phone maker unveiled the Vertu Ti this week. Its sapphire-crystal screen is virtually scratchproof, says the company, while a titanium casing helps keep data safe and sound.
But in this 21st century mobile phone paradigm in which consumers buy a new phone every few years -- and where new products roll out every year (or even less) -- does it make sense to splurge on a swank smartphone with a price tag closer to that of a small car or several months' apartment rent?
"If you are interested in something which is different, unique" then this device might be for you, said Vertu CEO Perry Oosting to CNN's Nina dos Santos.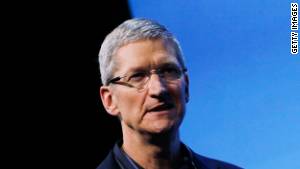 Apple under fire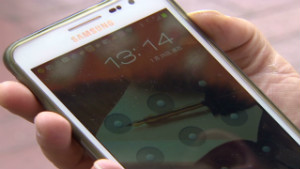 Samsung takes a bite out of Apple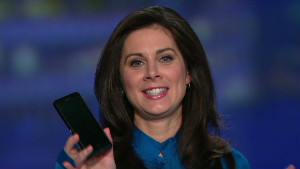 Erin Burnett test drives BlackBerry 10
The Vertu Ti (pronounced "tee-eye") emphasizes the value of "durable" over "disposable" materials that a consumer might expect from the luxury category, added Oosting. "More the touch and the feel and the sensory experience."
And with the sensory experience comes luxury services that go beyond that of a mainstream smartphone including a concierge service at the push of a button and encrypted voice calls to protect your company trade secrets.
Yet another selling point is the software that powers the Ti.
Former Vertu phones ran on the now-passé Symbian software. The Vertu Ti, meanwhile, runs on an Android operating system in a sign of its separation from former parent company Nokia. The flailing Finnish mobile giant lost $2.7 billion in the first nine months of 2012 and announced last June that it would sell Vertu to private equity group EQT VI.
"We live in a world where there's open operating systems that are quite open to use," explained Oosting on the new angle to Android. "Android is just delivering great software. It's very democratic."
But while the operating system is open to all, the costly Vertu clearly is not.
Around the world, only about 320,000 Vertu smartphones have been sold, said CNN's dos Santos, a number that pales in comparison to Samsung and Apple, the global smartphone market leaders.
For all of 2012, Samsung sold more than 215 million smartphones for a 30.3% global market share and top ranking, according to IDC Worldwide. Apple sold nearly 136 million smartphones in 2012 for a 19.1% slice of global market share. Even Vertu's former parent company Nokia sold more than 35 million smartphones last year.
But Vertu's CEO simply says he does not envisage the masses talking and texting on a Ti.
"Absolutely not. That's never our drive. We're not after market share. We're not after high quantities," said Oosting. "We want to deliver an authentic, made in Hampshire, made by one person, a unique proposition that is a true sensory experience in terms of the experience of the device."
And consumers who buy the Ti will surely want to avoid losing their pricy purchase.
Then again, if they can afford one, they might be well-positioned to afford a replacement.

Part of complete coverage on
updated 2:47 AM EDT, Mon April 22, 2013

Twitter resumes -- or "twesumes" -- have been touted as the best way for social media-savvy types to snag a dream job.
updated 4:00 AM EDT, Wed April 17, 2013

We live in a three-speed economic world, according to the International Monetary Fund.
updated 12:27 PM EDT, Wed April 17, 2013

Women have long dominated the heated discussion around gender equality. But men need to too, says Facebook's Sheryl Sandberg.
updated 6:53 AM EDT, Fri April 19, 2013

Security threats from mobile malware are on the rise and nearly 95% of targets operate on the Android operating system, according to a new report from NQ Mobile.
updated 4:06 PM EDT, Mon April 15, 2013

Microsoft is working on a touch-enabled smartwatch, The Wall Street Journal says, reporting that the company asked Asian suppliers to ship components for the device.
updated 2:47 AM EDT, Fri April 19, 2013

Give your anxious, negative colleagues a chance, and they just might surprise you.
updated 6:46 AM EDT, Wed April 17, 2013

In Europe, high-speed rail has come to stand for ease and efficiency where journeys of four hours or less trump airplanes and the hassle of airport security.
updated 2:12 PM EDT, Fri April 19, 2013

Infographic: Singapore may be tiny but it is also one of East Asia's most powerful trading hubs.
updated 8:27 PM EDT, Sun April 21, 2013

In Hong Kong urban lore, an apartment where a violent death took place can often be bought for as much as 10-30 per cent off the market price.
updated 12:05 PM EDT, Tue April 16, 2013

With gold prices officially in a bear market, investors must ask themselves if this is the time to buy?