Banks holding over $200 million in Sandy payments
updated 7:46 PM EST, Mon February 18, 2013
STORY HIGHLIGHTS
Cuomo administration says it delivered letters to banks and mortgage service providers
Thousands of storm-battered residents are still awaiting $208 million in insurance checks
The banks were not immediately available for comment
Banks have said they were socked with many payouts that require processing
New York (CNN) -- Banks are holding more than $200 million in insurance payments meant for victims of Superstorm Sandy, nearly four months after the storm made landfall, New York Gov. Andrew Cuomo said Tuesday.
The Cuomo administration said it has delivered letters to various banks and mortgage service providers asking they "use maximum discretion and effort to speed the release of funds."
"Families need to be able to return to their homes and the state economy, which took a hit from Superstorm Sandy, needs the boost from spending on repairs," Cuomo said in a written statement. "After insurance companies have sent homeowners checks to pay for repairs, the money should not be sitting with the bank because of red tape."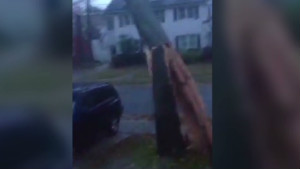 Watch trees fall, fire start in storm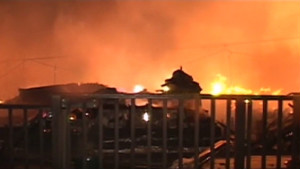 Breezy Point resident: 'It was hell'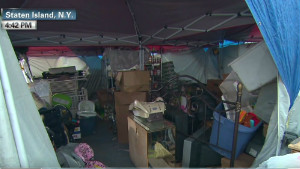 Sandy victims suffer through cold snap
A month of outrage later, Senate passes Sandy relief
The state's Department of Financial Services found that four of the biggest U.S. banks -- Wells Fargo, Bank of America, Citibank and JP Morgan Chase -- are holding more than 4,100 checks worth more $130 million. The banks were not immediately available for comment, though have maintained that they were socked with a massive amount in payouts that require processing in the wake of the storm.
Thousands of storm-battered residents are still awaiting a total of $208 million in insurance checks.
Cuomo said the payouts are often issued jointly to the homeowner and their bank or mortgage servicer, which then requires the "bank's endorsement of the check before the homeowner may access the funds."
Delays can follow when banks request proof of repairs or servicing required by federal mortgage agencies. But many residents have complained that they haven't received the funds they need to start the repairs.
Superstorm Sandy left 132 people dead in the United States and contributed to tens of billions of dollars worth of damages, especially along shoreline communities in New York, New Jersey and parts of Connecticut.
Widow tells of HMS Bounty's last moments

Part of complete coverage on
updated 12:39 PM EDT, Mon May 20, 2013

No solutions to the violence and total confusion is no longer just news, but a terrifying daily reality. Has Nigeria descended into civil war?
updated 4:17 AM EDT, Mon May 20, 2013

On the eve of the French Open, attention turns to the illness that has struck down several players. Why is it hitting tennis so hard?
updated 10:09 AM EDT, Mon May 20, 2013

Daycare, hour-long lunch breaks, free medicine? Not all of Bangladesh's factories are sweatshops, but many fear the crisis will hit them hard.
updated 9:14 AM EDT, Mon May 20, 2013

A group of bright minds at California Institute of Technology invented the 'toilet of the future,' a solar-powered wc that could save lives.
updated 9:15 AM EDT, Mon May 20, 2013

Chinese Premier is meeting India's leaders just weeks after raising the stakes in one of Asia's least understood and longest running disputes.
updated 7:15 AM EDT, Mon May 20, 2013

Despite unemployment being close to 12%, Italians are snubbing traditional jobs no longer viewed as attractive -- like pizza-making.
updated 11:07 AM EDT, Mon May 20, 2013

The woman behind the Chelsea Flower Show talks with CNN about the preparations and the 100th anniversary of the iconic horticultural gathering.
updated 7:38 PM EDT, Sun May 19, 2013

CNN's Dan Rivers reports on the influx of companies into Myanmar after the country opened up to foreign business.
updated 3:14 PM EDT, Thu May 16, 2013

Boxing legend Manny Pacquiao is using his hero status to fight human trafficking in the Philippines, pushing for an anti-trafficking law.
updated 11:22 AM EDT, Mon May 20, 2013

On Wednesday, NASA officials announced a serious problem with the Kepler satellite, the world's most successful planet-finding machine.
updated 9:54 AM EDT, Fri May 17, 2013

Anthony Bourdain discovers a American style, fast-food chicken restaurant that opened in Libya after the revolution -- and became a hit instantly.
updated 2:22 PM EDT, Mon May 20, 2013

As we mark 140 years since blue jeans were invented, we want to see the best and worst ways you've worn denim through the years.