Banks holding over $200 million in Sandy payments
updated 7:46 PM EST, Mon February 18, 2013
STORY HIGHLIGHTS
Cuomo administration says it delivered letters to banks and mortgage service providers
Thousands of storm-battered residents are still awaiting $208 million in insurance checks
The banks were not immediately available for comment
Banks have said they were socked with many payouts that require processing
New York (CNN) -- Banks are holding more than $200 million in insurance payments meant for victims of Superstorm Sandy, nearly four months after the storm made landfall, New York Gov. Andrew Cuomo said Tuesday.
The Cuomo administration said it has delivered letters to various banks and mortgage service providers asking they "use maximum discretion and effort to speed the release of funds."
"Families need to be able to return to their homes and the state economy, which took a hit from Superstorm Sandy, needs the boost from spending on repairs," Cuomo said in a written statement. "After insurance companies have sent homeowners checks to pay for repairs, the money should not be sitting with the bank because of red tape."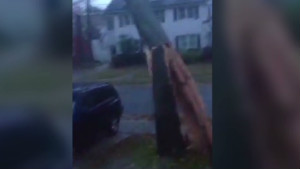 Watch trees fall, fire start in storm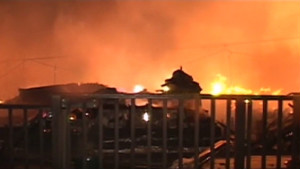 Breezy Point resident: 'It was hell'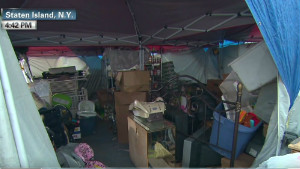 Sandy victims suffer through cold snap
A month of outrage later, Senate passes Sandy relief
The state's Department of Financial Services found that four of the biggest U.S. banks -- Wells Fargo, Bank of America, Citibank and JP Morgan Chase -- are holding more than 4,100 checks worth more $130 million. The banks were not immediately available for comment, though have maintained that they were socked with a massive amount in payouts that require processing in the wake of the storm.
Thousands of storm-battered residents are still awaiting a total of $208 million in insurance checks.
Cuomo said the payouts are often issued jointly to the homeowner and their bank or mortgage servicer, which then requires the "bank's endorsement of the check before the homeowner may access the funds."
Delays can follow when banks request proof of repairs or servicing required by federal mortgage agencies. But many residents have complained that they haven't received the funds they need to start the repairs.
Superstorm Sandy left 132 people dead in the United States and contributed to tens of billions of dollars worth of damages, especially along shoreline communities in New York, New Jersey and parts of Connecticut.
Widow tells of HMS Bounty's last moments

Part of complete coverage on
updated 10:27 PM EDT, Wed May 22, 2013

The nature of the London attack is not unprecedented, says one terror analyst. There's a track record of Islamist extremists targeting soldiers in the West.
updated 6:17 PM EDT, Tue May 21, 2013

The image of the Gaza boy and his father under a hail of Israeli bullets became a powerful symbol. Now Israel insists its military is not to blame.
updated 2:31 PM EDT, Wed May 22, 2013

The tornado that ripped through Oklahoma saw teachers rise to be surrogate parents, protectors and heroes, according to LZ Granderson.
updated 1:14 PM EDT, Tue May 21, 2013

Did you know that hurricanes can also produce tornadoes? Read facts you didn't know about destructive twisters.
updated 9:01 AM EDT, Wed May 22, 2013

The petite frame of 19-year-old Zoe Smith should fool nobody -- she's a weightlifting warrior who has fought stereotypes and broken a British record.
updated 12:41 AM EDT, Wed May 22, 2013

Prime Minister Shinzo Abe calls women "Japan's most underutilized resource," yet traditions have been hard to overcome.
updated 10:55 AM EDT, Wed May 22, 2013

According to the United Nations' mission in Iraq, 712 Iraqis were violently killed in April 2013. This is both normal and extraordinary.
updated 7:21 AM EDT, Wed May 22, 2013

Myanmar's Muslims have generally coexisted with the Buddhist majority. But ethnic fault lines are exposed as it emerges from military rule.
updated 10:21 PM EDT, Wed May 22, 2013

A quarter century after his death, American pop artist Andy Warhol has popped up in China again after his first and only trip to the country in 1982.
updated 10:39 AM EDT, Wed May 22, 2013

Revolutionary bionic exoskeletons like the metal suit worn by comic book hero Tony Stark may be closer than you think.