Banks holding over $200 million in Sandy payments
updated 7:46 PM EST, Mon February 18, 2013
STORY HIGHLIGHTS
Cuomo administration says it delivered letters to banks and mortgage service providers
Thousands of storm-battered residents are still awaiting $208 million in insurance checks
The banks were not immediately available for comment
Banks have said they were socked with many payouts that require processing
New York (CNN) -- Banks are holding more than $200 million in insurance payments meant for victims of Superstorm Sandy, nearly four months after the storm made landfall, New York Gov. Andrew Cuomo said Tuesday.
The Cuomo administration said it has delivered letters to various banks and mortgage service providers asking they "use maximum discretion and effort to speed the release of funds."
"Families need to be able to return to their homes and the state economy, which took a hit from Superstorm Sandy, needs the boost from spending on repairs," Cuomo said in a written statement. "After insurance companies have sent homeowners checks to pay for repairs, the money should not be sitting with the bank because of red tape."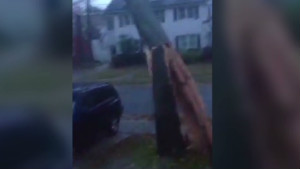 Watch trees fall, fire start in storm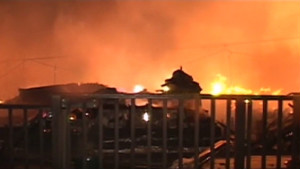 Breezy Point resident: 'It was hell'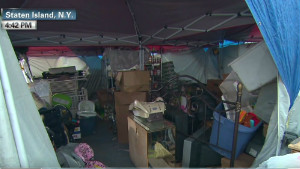 Sandy victims suffer through cold snap
A month of outrage later, Senate passes Sandy relief
The state's Department of Financial Services found that four of the biggest U.S. banks -- Wells Fargo, Bank of America, Citibank and JP Morgan Chase -- are holding more than 4,100 checks worth more $130 million. The banks were not immediately available for comment, though have maintained that they were socked with a massive amount in payouts that require processing in the wake of the storm.
Thousands of storm-battered residents are still awaiting a total of $208 million in insurance checks.
Cuomo said the payouts are often issued jointly to the homeowner and their bank or mortgage servicer, which then requires the "bank's endorsement of the check before the homeowner may access the funds."
Delays can follow when banks request proof of repairs or servicing required by federal mortgage agencies. But many residents have complained that they haven't received the funds they need to start the repairs.
Superstorm Sandy left 132 people dead in the United States and contributed to tens of billions of dollars worth of damages, especially along shoreline communities in New York, New Jersey and parts of Connecticut.
Widow tells of HMS Bounty's last moments

Part of complete coverage on
updated 3:14 PM EDT, Thu May 16, 2013

Boxing legend Manny Pacquiao is using his hero status to fight human trafficking in the Philippines, pushing for an anti-trafficking law.
updated 6:25 PM EDT, Thu May 16, 2013

The U.N. says 70% of rapes committed in Somalia are carried out by men in military uniform. CNN's Nima Elbagir reports.
updated 8:38 AM EDT, Fri May 17, 2013

Christiane Amanpour writes an open letter to girls of the world, saying it is time to end the discrimination against girls in education.
updated 3:12 PM EDT, Fri May 17, 2013

Fans gasped when David Beckham wore a sarong. Then there was the nail polish and tattoos. But his masculinity was never in doubt.
updated 10:54 AM EDT, Fri May 17, 2013

Albinos in Tanzania have been attacked and killed because some people believe their body parts bring good luck. But one albino is fighting back.
updated 8:50 AM EDT, Fri May 17, 2013

Terrible results for Dell mean the future seems anything but bright for the PC industry despite a flurry of attempted innovations.
updated 12:00 PM EDT, Fri May 17, 2013

Mario Balotelli has delivered his verdict on his time in the English Premier League -- the AC Milan striker couldn't be happier to have left England.
updated 7:04 AM EDT, Fri May 17, 2013

If you thought Preakness was the poor sister to Kentucky Derby, think again. CNN brings you top five facts from the prestigious horse race.
updated 7:45 PM EDT, Wed May 15, 2013

Natasha Kampusch was held for eight years in an Austrian man's basement. She talks about her road to recovery, exclusively to CNN.
updated 5:36 PM EDT, Wed May 15, 2013

From her hospital bed, Reshma tells CNN about the 17 days she spent trapped under nine stories of rubble in Bangladesh.
updated 6:12 PM EDT, Thu May 16, 2013

A room full of partygoers in San Francisco were given power over a cocktail-making robot controlled by their smartphones.
updated 11:57 AM EDT, Thu May 16, 2013

The cast of "Star Trek Into Darkness" take a break from fighting space villains to answer questions from CNN iReporters.
updated 7:48 AM EDT, Thu May 16, 2013

CNN brings you images capturing moments to remember. Look ahead to the future and chronicle our changing world.