STORY HIGHLIGHTS
NEW: San Bernardino sheriff's spokeswoman says smoldering cabin too hot to enter
Sources earlier tell CNN that LAPD reported body found, ID'd as suspect Dorner
One sheriff's deputy in gun battle has died, other expected to survive
Dorner is accused of killing an officer and the daughter and fiance of another cop last week
Follow the story here and at CNN affiliates KCBS/KCAL, KABC, and KTLA. Also, Anderson Cooper 360º devotes the entire hour to the frenzied manhunt, the final shootout, and the people allegedly killed by an ex-LA cop. Watch "9 Days of Terror: The Hunt for Christopher Dorner" Wednesday at 8 p.m. ET on CNN.
Near Big Bear Lake, California (CNN) -- Los Angeles police and the San Bernardino County Sheriff's Office moved Tuesday night to counter widespread reports that a body believed to be that of renegade ex-Los Angeles police officer Christopher Jordan Dorner had been recovered from a burning cabin near Big Bear Lake, California.
"No body has been pulled out," LAPD Cmdr. Andrew Smith said at a news conference. "No reports of a body being ID'd are true."
The cabin area was "too hot to make entry," Smith added.
Cindy Bachman, a spokeswoman for the lead agency in the case, the San Bernardino Sheriff's Department echoed that, saying at a separate news conference that authorities believe whoever was in the cabin never left.
"They believe that there is a body in there, but it is not safe to go inside," she told reporters. She added that officials believed there was still live ammunition in the cabin, which was still smoldering.
CNN and other media quoted numerous sources earlier in the evening as saying authorities had removed a body from the rubble of the fire and identified it as Dorner.
The intense fire, which burned for hours as authorities waited at a distance, began after a SWAT team stormed a cabin near Big Bear Lake where a suspect -- who authorities said matched Dorner's description -- had holed up after a fatal shootout with San Bernadino County sheriff's deputies.
The cabin caught fire after police detonated smoke devices inside the cabin, a law enforcement source told CNN.
One of two San Bernadino County sheriff's deputies wounded earlier Tuesday in the shootout with the suspect died, San Bernardino County Sheriff John McMahon told reporters at California's Loma Linda University Medical Center. The other deputy was in surgery "but he should be fine," McMahon said.
The wounded officers were taken to the Loma Linda facility after shots were exchanged with a man at a police roadblock near Big Bear Lake, the sheriff's office said earlier in a statement.
Tuesday's confrontations began when a California Fish and Wildlife officer was driving down a highway near Big Bear and recognized a man fitting the description of Dorner driving a vehicle in the other direction. The wildlife officer chased the vehicle and the driver opened fire on the officer before abandoning the truck, a statement from the agency said.
The officer's vehicle was hit numerous times, the statement said. While not specifically referring to the officer involved in the shootout, the statement said the agency's officers "are all safe and accounted for."
Cindy Bachman, a spokeswoman for the San Bernardino Sheriff's Department, said the suspect fled into the woods then into the cabin where he fired at the approaching deputies and holed up though the afternoon, still exchanging gunfire with authorities.
Later as the fire burned, with authorities staying back, she said authorities weren't 100% sure the suspect was still in the cabin.
Authorities have been searching for Dorner since he was named as the suspect in the shooting deaths February 3 of the daughter of his police union representative and her fiance. Police also say he killed one officer in Riverside, California, and wounded two others last Thursday.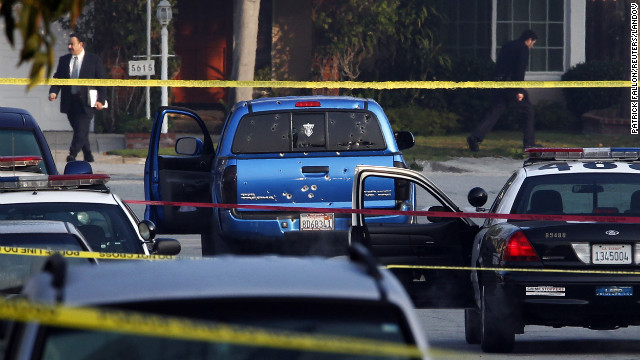 Detectives investigate the scene where officers fired on a vehicle they believed was Christopher Dorner's on February 7, in Torrance, California. Two people in the truck were wounded.
An employee of Southern California Edison surveys the damage at the burned-out cabin where the remains of multiple-murder suspect and former Los Angeles Police Department officer Christopher Dorner were found on Friday, February 15, in Big Bear, California.
A statue of an angel stands on a wood column in front of the burned cabin on February 15.
An evidence flag placed by San Bernardino County Sheriff's crime scene investigators sits on pile of rubble in the burned cabin on February 15.
Cindy Bachman, public information officer for the San Bernardino Sheriff's Department, updates the media after a standoff and a shootout with Dorner on Tuesday, February 12.
Police search cars at a blockade as they come down off the mountain during a manhunt for Dorner on February 12.
Cindy Bachman, information officers for the San Bernardino County Sheriff's Department, speaks to reporters at a roadblock near Big Bear Lake, California, on Tuesday, February 12. Christopher Jordan Dorner has been the subject of a massive manhunt and is accused of killing one police officer and wounding two others, as well as killing the daughter of his police union representative and her fiance on Sunday.
Authorities take positions during the manhunt for former LAPD officer Christopher Jordan Dorner near the town of Angelus Oaks, California, on Tuesday.
San Bernardino County Sheriff SWAT team members return to the command post at Bear Mountain in Big Bear Lake, California, on Friday, February 8, after heavy snow hindered the manhunt for ex-LAPD cop Christopher Jordan Dorner.
Officers keep watch outside of the Twin Towers Jail in response to an unconfirmed sighting of Dorner in Los Angeles.
Officers investigate the burned out truck of Christopher Jordan Dorner that was discovered at the base of Bear Mountain Ski Resort in Big Bear Lake, California, on Thursday, February 7.
Department of Homeland Security officers search vehicles at the San Ysidro Port of Entry in San Diego on February 7 as they search for former LAPD officer Christopher Dorner.
Los Angeles Police Chief Charlie Beck speaks at a press conference about the manhunt for Dorner as photos of the suspect stand in the background on February 7.
An illuminated sign at San Diego State University along Interstate 8 displays information about Dorner's last known vehicle on February 7.
San Diego Harbor Police officers near Naval Base Point Loma armed with high-powered firearms walk along a street on February 7 in San Diego.
Investigators inspect a bullet-ridden squad car where a police officer was shot on Magnolia Avenue in Corona, California on February 7.
Police stand guard near a LAPD car where a police officer was shot on Magnolia Avenue as officers across the state remain on high alert.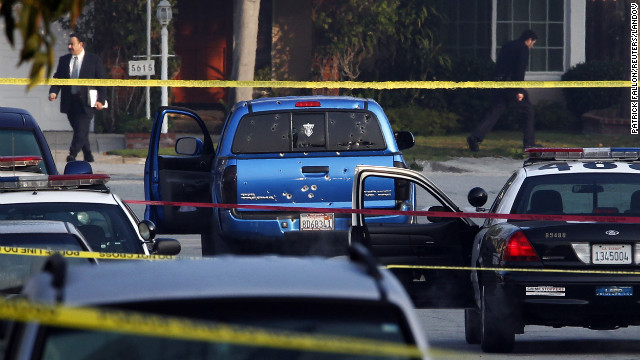 Ex-cop at center of California manhunt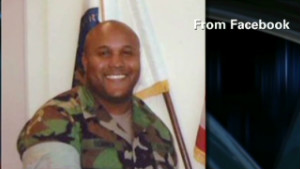 Could Dorner attack via airplane?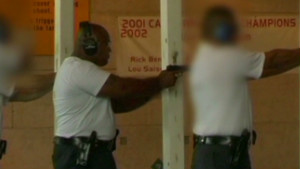 Accused killer's military skills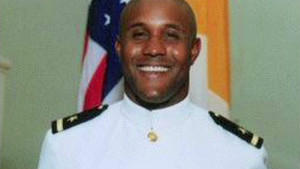 Track the events leading up to manhunt
The violent spree, authorities say, was part of Dorner's campaign of vigilante justice for what he believes was his unfair termination.
Los Angeles police spokesman Lt. Andy Neiman said Tuesday that the department had received more than 1,000 tips on Dorner's whereabouts. Some of the calls have come from Dorner's acquaintances or people who think they have spotted the fugitive.
The pace of tips being given to investigators increased by 400% after the city of Los Angeles put up a $1 million reward on Sunday for information leading to Dorner's arrest and conviction, Neiman said.
The search for the 270-pound, 6-foot Dorner has focused on the Big Bear Lake area, where authorities say his burning truck was discovered last week.
Talk Back: Why do some see Chistopher Dorner as a vigilante hero?
Over the past two weeks, the search, considered one of the largest in the history of Southern California, has taken authorities from Orange County to the border of Mexico and from Los Angeles to Big Bear Lake.
"Big Bear's still where we're looking right now," Neiman said Tuesday. The search area surrounds where Dorner's burning truck was discovered last Thursday .
"Until we can confirm that he's either there or he's not there, this investigation has to stick with what we know and what we know is that we found evidence that he was there," Neiman said.
While the LAPD spokesman told reporters he was "not ready to confirm" that a man seen in security camera video from a Southern California sporting goods store was Dorner, the Los Angeles Times quoted unnamed law enforcement sources saying it was him.
The video, published Monday by the celebrity news website TMZ.com, shows the man carrying what appears to be scuba equipment at the Sports Chalet store in Torrance, California, on February 1, two days before the killings of Monica Quan, the daughter of the police union rep, and her fiancé, Keith Lawrence.
A "no bail" arrest warrant was issued for Dorner after the Riverside County district attorney filed a murder charge Monday against him in the killing of Riverside Police Officer Michael Crain.
"That allows him to be apprehended anywhere within California, out of state or out of the country," District Attorney Paul Zellerbach told reporters Monday.
The murder charge is accompanied by two "special circumstances," including killing a police officer on duty and firing a weapon from a vehicle.
Dorner was also charged with the attempted murder of three other police officers, including another Riverside officer who was wounded when Crain was killed. That officer, whose name has not been released, is in a lot of pain and faces "many surgeries," Riverside Police Chief Sergio Diaz said.
Dorner is also accused of opening fire on two LAPD police officers, wounding one, in the suburb of Corona.
There has been speculation, based in part on an arrest warrant affidavit filed last week, that Dorner could have crossed state lines into Nevada or made his way to Mexico.
LAPD reopens case that led to Dorner's dismissal
Over the weekend, LAPD said it was reopening the case that resulted in his termination.
Dorner accused his training officer of kicking a mentally ill man during an arrest in 2007. The LAPD ruled the complaint unfounded and kicked Dorner off the force for filing a false complaint.
Dorner challenged his firing in court and lost.
Suspect's grudge dates back to 2007 complaint
In a manifesto released last week, Dorner blamed racism and corruption in the LAPD for his termination and vowed to wage "unconventional and asymmetrical warfare" against LAPD officers and their families. He called it a "last resort" to clear his name and strike back at a department he says mistreated him.
LAPD Chief Charlie Beck had a different term for it Sunday.
"This is an act -- and make no mistake about it -- of domestic terrorism," he told reporters Sunday. "This is a man who has targeted those that we entrust to protect the public. His actions cannot go unanswered."
Targeting police
Authorities say Dorner began making good on his threats on February 3 when he allegedly killed Quan, 27, and Lawrence in an Irvine parking lot, south of Los Angeles.
According to the manifesto, Randal Quan, Monica Quan's father, bungled Dorner's LAPD termination appeal.
Randal Quan represented Dorner during the disciplinary hearing that resulted in his firing. The officer was among dozens named in the manifesto.
The retired officer told investigators he received a call from someone identifying himself as Dorner who told him he "should have done a better job of protecting his daughter," according to a federal arrest warrant affidavit.
Investigators traced the call to Vancouver, Washington, but based on the timing of other sightings, they don't believe Dorner was in Vancouver at the time, the affidavit states.
Days later, early Thursday morning, Dorner allegedly opened fire on two LAPD police officers, wounding one, in the suburban city of Corona.
Roughly 20 minutes later, Dorner allegedly fired on two officers in the nearby city of Riverside, killing Crain and wounding another.
Since then, the LAPD has provided security and surveillance details for more than 50 police officers and their families -- many of whom were named in the manifesto.
Additionally, the LAPD is no longer releasing the police chief's schedule to the public or the media.
'Ghosts' of the LAPD's past
It was Dorner's allegations of racism at the LAPD that led Beck over the weekend to reopen the investigation into his claims.
Beck said he was not doing it to "appease a murderer" but out of concern that Dorner's allegations will resurrect a painful part of the department's history.
For years, the LAPD was dogged by complaints of racism and corruption. In 1965 and 1992, the city was rocked by racial riots that were sparked, in part, by claims of police racism and brutality.
"I hear the same things you hear: The ghosts of the past of the Los Angeles Police Department," Beck said Sunday. "I hear that people think maybe there is something to what he says, and I want to put that to rest."
Despite numerous reviews of Dorner's case, he said it has "never been reviewed by me."
"If there is anything new, we will deal with it, and we will deal with it in a public way," Beck said.
CNN's Paul Vercammen, Stan Wilson, Casey Wian, Kathleen Johnston, Alan Duke, Matt Smith, Chelsea J. Carter, Michael Martinez and Holly Yan contributed to this report.