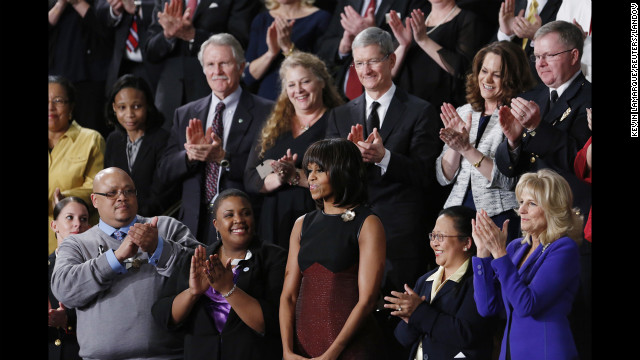 First lady Michelle Obama, center, is recognized by the audience and special guests surrounding her before President Barack Obama's 2013 State of the Union speech. Front row, left to right: Marine Sgt. Sheena Adams, Nathaniel and Cleopatra Pendelton, Michelle Obama, Menchu de Luna Sanchez and Jill Biden. Second row, left to right: Oregon Gov. John Kitzhaber, Deb Carey, Apple CEO Tim Cook, Amanda McMillan and Oak Creek Police Lt. Brian Murphy.
San Antonio Mayor Julian Castro, right, was also Obama's guest at the 2012 SOTU.
Warren Buffett's secretary, Debbie Bosanek, left, was one of President Barack Obama's guests at the 2012 SOTU.
Left right, John, Dallas and Roxanna Green, family of the late Christina Taylor Green -- killed in Tucson by the gunman who shot then-Rep. Gabby Giffords -- were Obama's guests at the 2011 SOTU.
Wesley Autrey, who risked his life to save a man who had fallen onto the tracks of a New York City subway, was Bush's guest at the 2007 SOTU.
Afghanistan's current President Hamid Karzai, was President George W. Bush's guest at the 2002 SOTU.
Hank Aaron was honored at Clinton's 2000 SOTU.
Sammy Sosa was also honored at Clinton's 1999 SOTU.
Rosa Parks was honored at Bill Clinton's 1999 State of the Union address.
Trevor Ferrell, Richard Cavioli, Shelby Butler and Tyrone Ford were the special guests at Reagan's 1986 SOTU. Reagan honored Ferrell, who was barely a teenager, for working with the homeless; Butler, also in his early teens, for saving a fellow student; and Ford for his musical accomplishments.
Lenny Skutnik was recognized during Ronald Reagan's 1982 State of the Union speech. Skutnik risked his life to save a passenger after an airplane crashed into the icy Potomac River.
Past presidential guests at State of the Union
Past presidential guests at State of the Union
Past presidential guests at State of the Union
Past presidential guests at State of the Union
Past presidential guests at State of the Union
Past presidential guests at State of the Union
Past presidential guests at State of the Union
Past presidential guests at State of the Union
Past presidential guests at State of the Union
Past presidential guests at State of the Union
Past presidential guests at State of the Union