STORY HIGHLIGHTS
NEW: Hattiesburg tornado was packing 170 mph winds, weather service says
More than a dozen people are injured, including two critically; no deaths are reported
Mississippi Gov. Phil Bryant declares a state of emergency for affected counties
About 4,000 customers are without electricity, Mississippi Power says
iReport: Please send your photos and videos, but stay safe
(CNN) -- Emergency officials in seven Mississippi counties were dealing Monday with widespread damage after a swarm of storms swept through the area Sunday evening, injuring scores of people.
No deaths have been reported.
Two people in Lamar County were critically hurt, the Mississippi Emergency Management Agency said.
A tornado struck Hattiesburg, a southern Mississippi city that straddles Lamar and Forrest counties. The Weather Service described the storm as packing 170 mph winds -- an EF-4 on the service's tornadic scale.
The scale ranges from EF0 to EF5.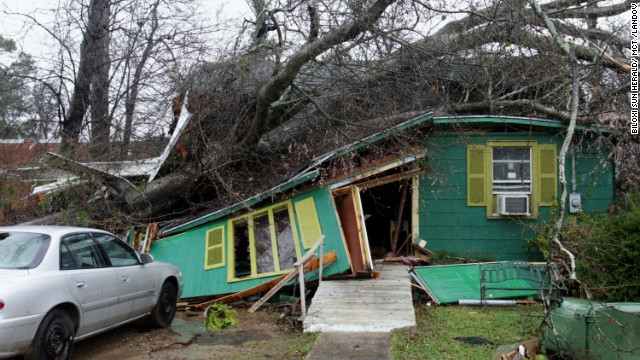 A tree lies atop a house on Monday, February 11, in Hattiesburg, Mississippi, the day after a tornado barreled through the area. At least 15 tornadoes formed across southern Mississippi and Alabama as a cold front moved in Sunday, February 10.
An electrical crew worker walks past a building with blown-out windows across from the University of Southern Mississippi in Hattiesburg on February 11. Dozens of people were injured in the storm in the Mississippi town.
A woman eyes the devastation from her damaged home in Hattiesburg on February 11.
Power lines lie in the street near the roof-damaged Westminster Presbyterian Church on February 11 after a tornado ripped through Hattiesburg.
Jordon Williams' bedroom is in ruins on February 11 after the tornado struck Hattiesburg.
Crystal Hamilton steps over rubble in her living room in Hattiesburg on February 11.
The Ogletree House, part of the Alumni Association at the University of Southern Mississippi, was damaged when the tornado touched down February 10 in Hattiesburg.
A crushed car sits amid the debris in Hattiesburg on February 11.
Ellen Chmiel surveys the damage from the steps of her Hattiesburg home on February 11.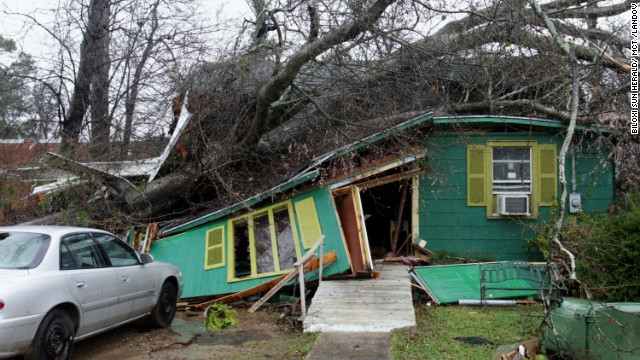 Photos: Tornado wreaks havoc in Mississippi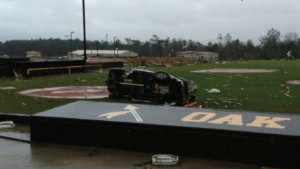 Man: Storm 'outside my hotel!'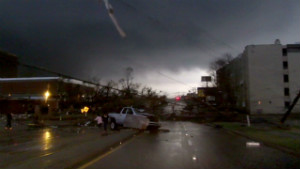 Mayor: 'We've been blessed'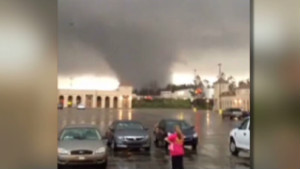 Watch tornado bear down on Mississippi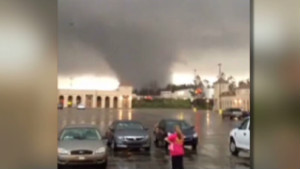 Watch tornado bear down on Mississippi
Hattiesburg Mayor Johnny DuPree reported major damage to a number of buildings. "If there is a good thing about this, it happened on a Sunday when most of these structures were vacant," he said.
Tornado sirens were activated 20 to 30 minutes before the twister touched down, DuPree said. "I think that was enough for people to find shelter, to go to a place in their house that was safe," he added.
Several homes were destroyed in Marion County, and numerous structures -- including businesses and public buildings -- sustained "significant damage," the state emergency management agency said.
As of Monday morning, 4,000 power customers were without electricity, down from the approximately 14,000 who had lost power, Mississippi Power spokesman Mark Davis said.
Mississippi Gov. Phil Bryant declared a state of emergency for the affected counties. The declaration means state resources and assets can be used to support local response efforts. Some 63 people were treated at area hospitals, most of them for minor injuries, he said.
Some 200 mobile homes were damaged or destroyed, and 100 apartments were damaged and uninhabitable, he said.
Bryant tweeted photos of the storm damage.
iReporter shopping at Target captures video of tornado
In Hattiesburg, the University of Southern Mississippi suffered damage to several buildings, but there were no reports of injuries there. The campus was already closed because of Mardi Gras and was to remain closed through Tuesday; classes were canceled through Wednesday.
"We never lost power," said Joe Paul, vice president for student affairs, in a statement on the school's website. "The cafeteria is up and running, and everyone is fine."
University police declared a state of emergency and urged those not on campus to stay away until further notice.
Nearby Oak Grove High School also suffered damage. Randy Wright posted photographs to his Twitter account, showing debris strewn on what appeared to be a parking lot and a truck upside down in a baseball diamond.
The Hattiesburg Public School District canceled classes Monday.
"There's quite a few homes without power at this point," Forrest County Sheriff Billy McGee said. "Quite a few trees on houses, on cars, that type of thing."
Ten to 15 people were hospitalized, but none suffered serious injuries, he said.
It was not clear how those people were hurt.
Sarah Lawrence, a Hattiesburg resident, said the storm sounded like "stuff being thrown."
"Within seconds, everything changed," she said. "I didn't feel like there was much notice. I heard the sirens and everything looked OK outside, so I started making preparations to go into the bathroom. And then, next thing I know, all the lights went out, and it got dark outside."
Northeast begins digging out from major blizzard
The 10 deadliest U.S. tornadoes on record
CNN's Maggie Schneider, Chandler Friedman, Elwyn Lopez and Janet DiGiacomo contributed to this report.