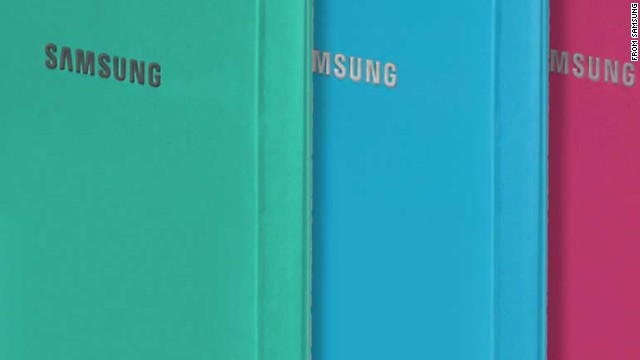 Samsung may be the latest company to leap into the emerging field of "smart," or Web-connected wristwatches. The company is planning to announce a new smartphone device that's worn on the wrist in September, according to a Bloomberg news report. No word on whether it might come in multiple colors, like the Samsung Galaxy Note phone.
Most current smartwatches rely on smartphone pairing over Bluetooth to get data and notifications. A long-rumored 'iWatch' from Apple could take the same approach as these rivals, or put more computing power directly into the device.
Lunatik
make kits that included mounts and slick straps.
Apple's sixth-generation iPod nano was a small, square touchscreen (it has since been replaced by the rectangular seventh-generation nano). Many fans immediately saw the potential to turn the iPod into a watch face, and companies such as
Pebble
waterproof watch has a black-and-white, e-paper screen, which can be customized with specially designed watch faces. It connects to iOS and Android smartphones over Bluetooth and vibrates to notify the wearer of incoming calls, e-mail, texts and other alerts. There are also downloadable music and sports apps.
The $150
I'm Watch
is one of the pricier smartwatch options at $399. It comes in seven colors and runs the Droid 2 operating system. It connects to Android smartphones using Bluetooth to get texts and e-mails, check social networks, make calls and see calendar events.
The Italian-made aluminum
Sony SmartWatch
, also only syncs with Android devices. When paired with a phone over Bluetooth, it can receive notifications for e-mail, texts, social networks and calendars.
Another full color touchscreen device, the $130
MetaWatch
has a retro-looking, black-and-white screen, but it can connect to the iPhone 4s and iPhone 5, in addition to Android devices. It's also a water-resistant sports watch that tracks pace and distance. The watch starts at $179 and is available with various colored bands or in black or white leather.
The
Motoactv
smart watch is marketed as a fitness tracker. It acts as a heart-rate monitor and pedometer, has GPS and an MP3 player. There are also a number of nonwrist mount options, including a handlebar strap, arm band and chest strap.
The $269
Here come the smartwatches
Apple's rumored 'iWatch'
iPod nano watches
Pebble
I'm Watch
Sony SmartWatch
MetaWatch
Motorola Motoactv
STORY HIGHLIGHTS
The "iWatch" would have a curved screen and run on iOS, report says
The public has shown interest in "smart" watches on Kickstarter
Apple did not immediately respond to a request for comment
(CNN) -- Having conquered the desktops, music libraries and phones of millions, Apple reportedly wants to adorn one more spot in the life of the gadget-obsessed -- their wrists.
The company is developing a smart watch that would run on the same iOS operating system that powers iPhones, iPads and some iPods, according to a report in The New York Times.
The watches would include a curved glass screen, according to the Times report, citing "people familiar with the company's explorations."
Apple did not immediately respond to a request for comment Monday.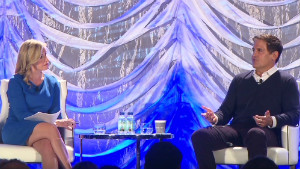 Mark Cuban not bullish on Apple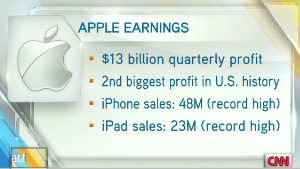 Eye-popping earnings from Apple
Last year, Corning, which makes the Gorilla Glass used for iPads and iPhones, unveiled a thinner, more touch-sensitive version of their product that could make it easier to produce a watch with curves.
And, yes, assuming it includes chat-feature Facetime, Dick Tracy fans could actually live out those decades-old dreams of having a video-enabled Two-Way Wrist Radio.
What other features might such a watch have? Observers have speculated about monitoring of the wearer's vital signs or turn-by-turn directions, spoken by Siri, Apple's "voice assistant."
Of course, such reports are no sure thing. Over the years, Apple has reportedly poked around into products ranging from cars to cameras without any commercially available product ever coming from it. An Apple TV has been in the rumor stages for years now, and while many observers still expect one to surface eventually, there have been no signs yet.
If the plans are indeed sincere, Apple may be taking a cue from the interest the market already has shown in such a product.
Pebble, a watch that uses Bluetooth technology to link up with the user's smartphone, racked up a record $10.2 million on Kickstarter last year.
TikTok and LunaTik, two styles of a wrist-strap gadget that turns an iPod Nano into a smart watch, raked in another $942,000.
At least one analyst told the Times that the move makes sense, although it might be a while before an "iWatch" hits the shelves.
"Over the long term, wearable computing is inevitable for Apple; devices are diversifying, and the human body is a rich canvas for the computer," said Sarah Rotman Epps, a Forrester Research analyst who specializes in mobile technology.
"But I'm not sure how close we are to a new piece of Apple hardware that is worn on the body."