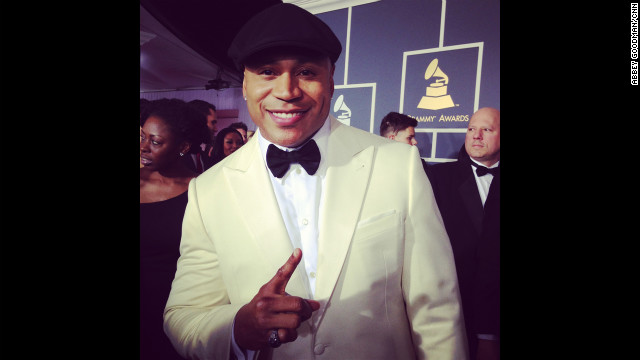 What happens when you combine music's biggest night with one of our favorite apps? You get the InstaGrammys, of course. See CNN's best moments from backstage and behind the scenes at the 55th Annual Grammy Awards. Photos by
@abbeygoodman on Instagram
.
Marcus Mumford and his proud father, John, share a heart-meltingly sweet bear hug backstage after Mumford & Sons' "Babel" won album of the year.
Rihanna timed her arrival as close to showtime as possible. That meant no interviews, but we couldn't let her sneak past without at least one photo.
Look at Gotye and Kimbra. Little do they know that before the night is up, Prince is going to present them with the Grammy for record of the year.
Fun. took a page out of "Zoolander's" playbook with a little Blue Steel action before they went on to win Grammys for song of the year and best new artist.
This photo is like Frank Ocean himself: A little mysterious, a little guarded, but the spotlight is right there waiting, if only he'd step into it just a little bit more.
Katy Perry planned to race past the press like her BFF Rihanna, but couldn't resist stopping for a little girl talk with "The Ellen Degeneres Show's" pink princesses Sophia Grace and Rosie (obscured in photo). What do you think they're talking about?
Jack White appeared to be in good spirits - and even came close to cracking a smile! - before the big show.
Florence Welch's gaze is as mesmerizing as her music.
With a due date just a few weeks away, Wiz Khalifa and Amber Rose enjoy one of their last nights out before they welcome their baby boy.
Carrie Underwood navigates the red carpet with a little help from her friends. By the end of the evening, the Grammy winner would admit she was ready to slip into something a little more comfortable.
Just outside the frame is total chaos, but Janelle Monae remains perfectly poised - not to mention totally poreless. No Instagram filter was applied to this photo.
No rock star 'tude here - Carly Rae Jepsen demonstrated her Canadian courtesy by arriving early for her first Grammys red carpet.
After proving she can sing live and then owning the Super Bowl stage earlier in the month, Beyonce has earned a break from the press for one night.
Guess who's just casually bathed in gold?
Why, it's dapper rapper 2 Chainz.
Questlove's heart is always in the right place.
Can we talk about Keith Urban's look of love at Nicole Kidman for a second?
Considering some of the other get-ups we've seen on LMFAO, this is basically a black tie look for Redfoo.
LMFAO's SkyBlu is sparkly and he knows it.
Miguel, 2013 B.K.C. (before Kelly Clarkson).
It was a blink and you'll miss it moment when Chris Brown appeared on the red carpet.
Jay-Z may have knocked The-Dream's "swap meet" hat, but backstage the singer/songwriter revealed that Beyonce asked where she could get one of her own.
It may surprise you to know that Adam Levine is quicker than he looks, but at least he makes for a "Beautiful Goodbye."
LL Cool J
Mumford & Sons
Rihanna
Gotye and Kimbra
Fun.
Frank Ocean
Katy Perry
Jack White
Florence Welch
Wiz Khalifa and Amber Rose
Carrie Underwood
Janelle Monae
Carly Rae Jepsen
Beyonce
2 Chainz
2 Chainz
Questlove
Nicole Kidman and Keith Urban
LMFAO
Instagrammys: CNN on the red carpet
Miguel
Chris Brown
The-Dream
Adam Levine