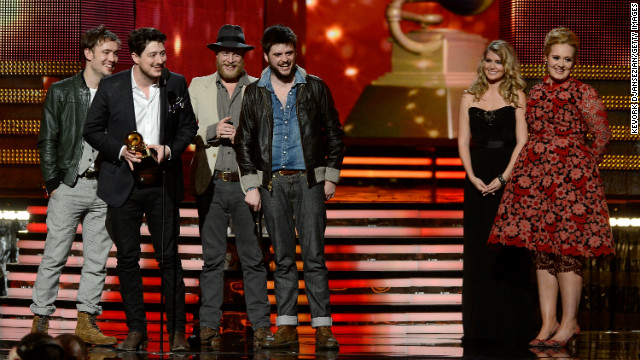 Thanks to their second studio album, "Babel," Mumford & Sons took home the Grammy for album of the year at the 55th annual Grammy Awards on Sunday, February 10, in Los Angeles. This is the band's second Grammy award.
Nominated for six Grammys, Fun. picked up the best new artist award as well as the song of the year honor for "We Are Young." Nate Ruess, Andrew Dost and Jack Antonoff also performed their single "Carry On" earlier in the show.
Adele's win for best pop solo performance marks the singer's ninth Grammy to date, as she took home six awards in 2012 alone.
Carrie Underwood won best country solo performance for "Blown Away." "Country music has always been so good to me," said the "American Idol" alum, "and I thank the good Lord that I'm part of such a wonderful, talented, amazing family."
Kelly Clarkson won best pop vocal album for "Stronger." "I get nervous speaking in front of people," she said accepting her Grammy. "Miguel, I don't know who the hell you are, but we need to sing together." This is Clarkson's third Grammy.
The Black Keys picked up the Grammy award for best rock performance, the group's third win of the night.
Frank Ocean nabbed the Grammy for best urban contemporary album, beating out Miguel and Chris Brown. The "Thinkin Bout You" singer was nominated for six awards in all.
The Grammy for best rap/sung collaboration was awarded to Kanye West (who wasn't present), Jay-Z, Frank Ocean and The Dream for "No Church in the Wild."
Zac Brown Band won the Grammy for best country album with "Uncaged." This is the band's third Grammy Award.
After declaring, "I love this song," Prince presented Gotye and Kimbra the Grammy for record of the year for their earworm "Somebody That I Used To Know."
Grammy winners 2013: Mumford & Sons
Grammy winners 2013: Fun.
Grammy winners 2013: Adele
Grammy winners 2013: Carrie Underwood
Grammy winners 2013: Kelly Clarkson
Grammy winners 2013: The Black Keys
Grammy winners 2013: Frank Ocean
Grammy winners 2013: Jay-Z, Kanye, Frank Ocean, The Dream
Grammy winners 2013: Zac Brown Band
Grammy winners 2013: Gotye feat. Kimbra