What stars might've said at the Grammys
updated 3:39 PM EST, Mon February 11, 2013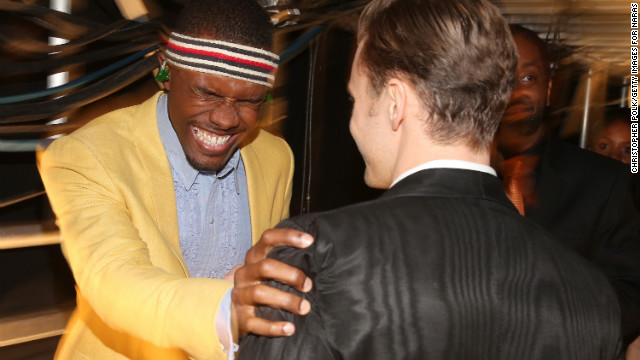 Frank Ocean to Justin Timberlake: "When you performed 'Suit & Tie' wearing a suit and tie ... I died!"
Beyonce to herself upon entering the press room: "I should go out there and sing live right now. Because I can."
Chris Brown to Adele: "Your song 'Someone Like You' really speaks to me."
Beyonce to Drake: "You were brilliant on 'Degrassi: The Next Generation.' I've seen every episode." Jay-Z to himself: "Since when?"
Taylor Swift: "I just wanted you to know that Hannah and Adam's relationship on 'Girls' is the inspiration behind my next breakup anthem." Lena Dunham: "Well ... see ... it's just ..."
John Mayer to Katy Perry: "I warned you about the new dress code."
Keith Urban to Adele: "You're telling me you just blast your 'do with this hairpray on Mondays, and it stays put all week? See, that's what I need!" Nicole Kidman to herself: "Please, God. No."
Jack White: "Ellen, what did you do with the hat, tie and pocket square I sent you? I thought we were going to be twinsies?" Ellen DeGeneres: "Next time, dude. I swear."
Lena Dunham: "I'm so proud of you!" Fun. guitarist Jack Antonoff: "I'm not even a 'new' artist."
Beyonce: "Do you see that girl in the red trying to photobomb us right now?!" Adele: "Bey, I do! Just ignore her and smile."
Matthew Koma to Carly Rae Jepsen: "There's always next year."
Jay-Z: "I see you looking at me, but there's no way I'm sharing."
Candid Grammy moments
Candid Grammy moments
Candid Grammy moments
Candid Grammy moments
Candid Grammy moments
Candid Grammy moments
Candid Grammy moments
Candid Grammy moments
Candid Grammy moments
Candid Grammy moments
Candid Grammy moments
Candid Grammy moments
Candid Grammy moments