President's party to quit coalition government in Tunisia
updated 9:28 AM EST, Fri February 15, 2013
STORY HIGHLIGHTS
The party reportedly has three ministers and two secretaries of state
The officials will "continue to shoulder their responsibilities," a party leader says
Tunisia faces political unrest after a rare political assassination
(CNN) -- Members of the president's party in Tunisia will quit the coalition government, the state-run news agency TAP reported Sunday.
The move threatens to worsen a political crisis, set off after an opposition leader was assassinated there last week.
The Congress for the Republic Party, which counts Tunisian President Moncef Marzouki among its ranks, has three ministers and two secretaries of state in the government, TAP reported.
The five officials will "continue to shoulder their responsibilities within their respective departments to avoid any administrative vacuum," TAP said, citing Chokri Yacoub, a party leader.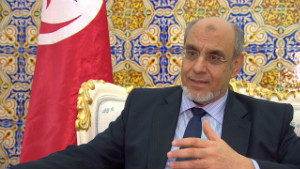 Tunisian PM: We aren't in a dictatorship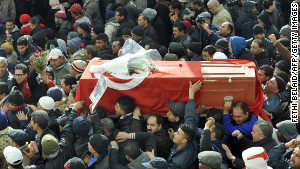 Supporters rally at funeral for Belaid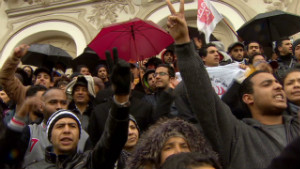 Grief, anger spill into Tunisian streets
The news comes one day after Prime Minister Hamadi Jebali said he would step down if a caretaker government he is forming fails to win approval from Tunisia's National Constituent Assembly.
In response to the shooting death of Chokri Belaid, Jebali sacked his government and said he would appoint a new one to serve until the next election.
However, a top official of Jebali's own Ennahda party labeled Jebali's moves "non-binding," raising questions about his leadership.
Belaid, a prominent secular politician who decried violence, was shot dead as he left his home Wednesday morning for work. No one has claimed responsibility for the attack, but Belaid's widow and others blamed the climate fostered by Jebali's Ennahda party.
Jebali denied that Ennahda had anything do with Belaid's killing and said he hoped to get approval for his new government from his party and others.
"The government, I feel, is backed by a lot of people, mainly among ordinary people. I hope that political parties will translate the view of our people," Jebali said Friday.
As he spoke, thousands of Tunisians demonstrated in the streets of the capital in outrage over the assassination, calling on Jebali to resign.
The killing of Belaid was the country's first high-profile political assassination since Tunisia's "Jasmine Revolution" that toppled President Zine el Abidine Ben Ali two years ago and spawned the Arab Spring.
CNN's Joseph Netto contributed to this report.

Part of complete coverage on
updated 9:22 PM EDT, Thu May 23, 2013

"It's always the one we feared, the lone wolf that can come from nowhere and not be on our radar," said ex-London police chief John Yates.

Learn about one woman's tireless battle against sex slavery in the Philippines, with Manny Pacquiao in her corner. Watch the full version here.
updated 6:43 AM EDT, Thu May 23, 2013

Ai Weiwei, the controversial Chinese artist-activist, has released a music single and video inspired by his harrowing detention by the government.
updated 10:09 PM EDT, Thu May 23, 2013

CNN's Christiane Amanpour and Nic Robertson give their insight on the brutal murder of a man in broad daylight.
updated 10:15 AM EDT, Thu May 23, 2013

Imagine if you could paint a working light switch directly onto your wall, without any need for sockets, cables or wiring. Well, now you can.
updated 10:45 AM EDT, Thu May 23, 2013

A rare Apple 1 computer, with only 50 in existence today, could sell at auction for $400,000.
updated 1:14 PM EDT, Tue May 21, 2013

Did you know that hurricanes can also produce tornadoes? Read facts you didn't know about destructive twisters.
updated 7:19 AM EDT, Thu May 23, 2013

The World Economic Forum has declared Egypt one of the most dangerous places for tourists, above Yemen and Pakistan in terms of risks for visitors.
updated 5:07 PM EDT, Thu May 23, 2013

Doctors used an experimental technique never tried before on humans to save the life of a six-week-old baby from a rare lung condition.

Five years after the 2008 Olympics construction boom, new Beijing hotels have steadily cropped up.