President's party to quit coalition government in Tunisia
updated 9:28 AM EST, Fri February 15, 2013
STORY HIGHLIGHTS
The party reportedly has three ministers and two secretaries of state
The officials will "continue to shoulder their responsibilities," a party leader says
Tunisia faces political unrest after a rare political assassination
(CNN) -- Members of the president's party in Tunisia will quit the coalition government, the state-run news agency TAP reported Sunday.
The move threatens to worsen a political crisis, set off after an opposition leader was assassinated there last week.
The Congress for the Republic Party, which counts Tunisian President Moncef Marzouki among its ranks, has three ministers and two secretaries of state in the government, TAP reported.
The five officials will "continue to shoulder their responsibilities within their respective departments to avoid any administrative vacuum," TAP said, citing Chokri Yacoub, a party leader.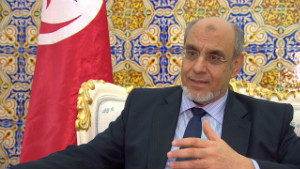 Tunisian PM: We aren't in a dictatorship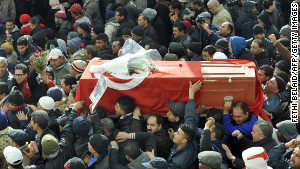 Supporters rally at funeral for Belaid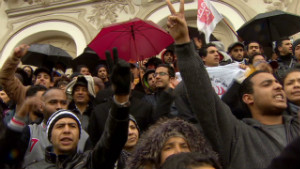 Grief, anger spill into Tunisian streets
The news comes one day after Prime Minister Hamadi Jebali said he would step down if a caretaker government he is forming fails to win approval from Tunisia's National Constituent Assembly.
In response to the shooting death of Chokri Belaid, Jebali sacked his government and said he would appoint a new one to serve until the next election.
However, a top official of Jebali's own Ennahda party labeled Jebali's moves "non-binding," raising questions about his leadership.
Belaid, a prominent secular politician who decried violence, was shot dead as he left his home Wednesday morning for work. No one has claimed responsibility for the attack, but Belaid's widow and others blamed the climate fostered by Jebali's Ennahda party.
Jebali denied that Ennahda had anything do with Belaid's killing and said he hoped to get approval for his new government from his party and others.
"The government, I feel, is backed by a lot of people, mainly among ordinary people. I hope that political parties will translate the view of our people," Jebali said Friday.
As he spoke, thousands of Tunisians demonstrated in the streets of the capital in outrage over the assassination, calling on Jebali to resign.
The killing of Belaid was the country's first high-profile political assassination since Tunisia's "Jasmine Revolution" that toppled President Zine el Abidine Ben Ali two years ago and spawned the Arab Spring.
CNN's Joseph Netto contributed to this report.

Part of complete coverage on
updated 3:14 PM EDT, Thu May 16, 2013

Boxing legend Manny Pacquiao is using his hero status to fight human trafficking in the Philippines, pushing for an anti-trafficking law.
updated 6:25 PM EDT, Thu May 16, 2013

The U.N. says 70% of rapes committed in Somalia are carried out by men in military uniform. CNN's Nima Elbagir reports.
updated 8:38 AM EDT, Fri May 17, 2013

Christiane Amanpour writes an open letter to girls of the world, saying it is time to end the discrimination against girls in education.
updated 3:12 PM EDT, Fri May 17, 2013

Fans gasped when David Beckham wore a sarong. Then there was the nail polish and tattoos. But his masculinity was never in doubt.
updated 10:54 AM EDT, Fri May 17, 2013

Albinos in Tanzania have been attacked and killed because some people believe their body parts bring good luck. But one albino is fighting back.
updated 8:50 AM EDT, Fri May 17, 2013

Terrible results for Dell mean the future seems anything but bright for the PC industry despite a flurry of attempted innovations.
updated 12:00 PM EDT, Fri May 17, 2013

Mario Balotelli has delivered his verdict on his time in the English Premier League -- the AC Milan striker couldn't be happier to have left England.
updated 7:04 AM EDT, Fri May 17, 2013

If you thought Preakness was the poor sister to Kentucky Derby, think again. CNN brings you top five facts from the prestigious horse race.
updated 7:45 PM EDT, Wed May 15, 2013

Natasha Kampusch was held for eight years in an Austrian man's basement. She talks about her road to recovery, exclusively to CNN.
updated 5:36 PM EDT, Wed May 15, 2013

From her hospital bed, Reshma tells CNN about the 17 days she spent trapped under nine stories of rubble in Bangladesh.
updated 6:12 PM EDT, Thu May 16, 2013

A room full of partygoers in San Francisco were given power over a cocktail-making robot controlled by their smartphones.
updated 11:57 AM EDT, Thu May 16, 2013

The cast of "Star Trek Into Darkness" take a break from fighting space villains to answer questions from CNN iReporters.
updated 7:48 AM EDT, Thu May 16, 2013

CNN brings you images capturing moments to remember. Look ahead to the future and chronicle our changing world.