President's party to quit coalition government in Tunisia
updated 9:28 AM EST, Fri February 15, 2013
STORY HIGHLIGHTS
The party reportedly has three ministers and two secretaries of state
The officials will "continue to shoulder their responsibilities," a party leader says
Tunisia faces political unrest after a rare political assassination
(CNN) -- Members of the president's party in Tunisia will quit the coalition government, the state-run news agency TAP reported Sunday.
The move threatens to worsen a political crisis, set off after an opposition leader was assassinated there last week.
The Congress for the Republic Party, which counts Tunisian President Moncef Marzouki among its ranks, has three ministers and two secretaries of state in the government, TAP reported.
The five officials will "continue to shoulder their responsibilities within their respective departments to avoid any administrative vacuum," TAP said, citing Chokri Yacoub, a party leader.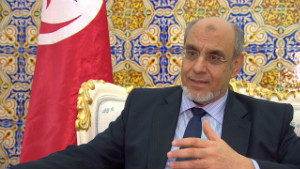 Tunisian PM: We aren't in a dictatorship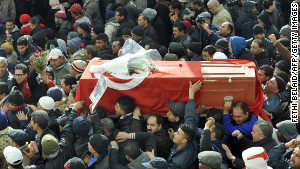 Supporters rally at funeral for Belaid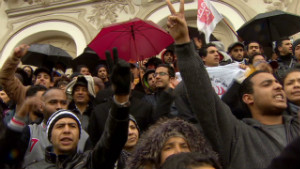 Grief, anger spill into Tunisian streets
The news comes one day after Prime Minister Hamadi Jebali said he would step down if a caretaker government he is forming fails to win approval from Tunisia's National Constituent Assembly.
In response to the shooting death of Chokri Belaid, Jebali sacked his government and said he would appoint a new one to serve until the next election.
However, a top official of Jebali's own Ennahda party labeled Jebali's moves "non-binding," raising questions about his leadership.
Belaid, a prominent secular politician who decried violence, was shot dead as he left his home Wednesday morning for work. No one has claimed responsibility for the attack, but Belaid's widow and others blamed the climate fostered by Jebali's Ennahda party.
Jebali denied that Ennahda had anything do with Belaid's killing and said he hoped to get approval for his new government from his party and others.
"The government, I feel, is backed by a lot of people, mainly among ordinary people. I hope that political parties will translate the view of our people," Jebali said Friday.
As he spoke, thousands of Tunisians demonstrated in the streets of the capital in outrage over the assassination, calling on Jebali to resign.
The killing of Belaid was the country's first high-profile political assassination since Tunisia's "Jasmine Revolution" that toppled President Zine el Abidine Ben Ali two years ago and spawned the Arab Spring.
CNN's Joseph Netto contributed to this report.

Part of complete coverage on
updated 6:17 PM EDT, Tue May 21, 2013

The image of the Gaza boy and his father under a hail of Israeli bullets became a powerful symbol. Now Israel insists its military is not to blame.
updated 8:47 AM EDT, Wed May 22, 2013

The tornado that ripped through Oklahoma saw teachers rise to be surrogate parents, protectors and heroes, according to LZ Granderson.
updated 1:14 PM EDT, Tue May 21, 2013

Did you know that hurricanes can also produce tornadoes? Read facts you didn't know about destructive twisters.
updated 9:01 AM EDT, Wed May 22, 2013

The petite frame of 19-year-old Zoe Smith should fool nobody -- she's a weightlifting warrior who has fought stereotypes and broken a British record.
updated 12:41 AM EDT, Wed May 22, 2013

Prime Minister Shinzo Abe calls women "Japan's most underutilized resource," yet traditions have been hard to overcome.
updated 10:55 AM EDT, Wed May 22, 2013

According to the United Nations' mission in Iraq, 712 Iraqis were violently killed in April 2013. This is both normal and extraordinary.
updated 7:21 AM EDT, Wed May 22, 2013

Myanmar's Muslims have generally coexisted with the Buddhist majority. But ethnic fault lines are exposed as it emerges from military rule.
updated 8:09 AM EDT, Wed May 22, 2013

Actresses Carey Mulligan, Isla Fisher and Elizabeth Debicki tell CNN who gave them inspiration for their characters.
updated 1:21 AM EDT, Wed May 22, 2013

A quarter century after his death, American pop artist Andy Warhol has popped up in China again after his first and only trip to the country in 1982.
updated 10:39 AM EDT, Wed May 22, 2013

Revolutionary "bionic exoskeletons," like the metal suit worn by comic book hero Tony Stark, may be closer than you think.
updated 3:51 PM EDT, Tue May 21, 2013

Photos: From Sharon Stone to Matt Damon, browse through the best from the Cannes red carpet this year.

Damnit we have work to do ... but not before we have another go at this annoyingly difficult web-based game.