President's party to quit coalition government in Tunisia
updated 9:28 AM EST, Fri February 15, 2013
STORY HIGHLIGHTS
The party reportedly has three ministers and two secretaries of state
The officials will "continue to shoulder their responsibilities," a party leader says
Tunisia faces political unrest after a rare political assassination
(CNN) -- Members of the president's party in Tunisia will quit the coalition government, the state-run news agency TAP reported Sunday.
The move threatens to worsen a political crisis, set off after an opposition leader was assassinated there last week.
The Congress for the Republic Party, which counts Tunisian President Moncef Marzouki among its ranks, has three ministers and two secretaries of state in the government, TAP reported.
The five officials will "continue to shoulder their responsibilities within their respective departments to avoid any administrative vacuum," TAP said, citing Chokri Yacoub, a party leader.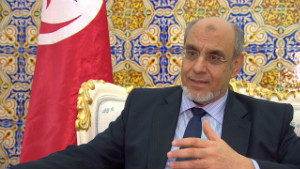 Tunisian PM: We aren't in a dictatorship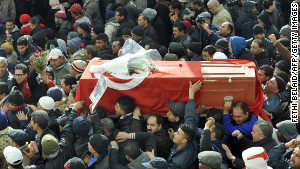 Supporters rally at funeral for Belaid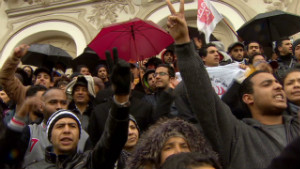 Grief, anger spill into Tunisian streets
The news comes one day after Prime Minister Hamadi Jebali said he would step down if a caretaker government he is forming fails to win approval from Tunisia's National Constituent Assembly.
In response to the shooting death of Chokri Belaid, Jebali sacked his government and said he would appoint a new one to serve until the next election.
However, a top official of Jebali's own Ennahda party labeled Jebali's moves "non-binding," raising questions about his leadership.
Belaid, a prominent secular politician who decried violence, was shot dead as he left his home Wednesday morning for work. No one has claimed responsibility for the attack, but Belaid's widow and others blamed the climate fostered by Jebali's Ennahda party.
Jebali denied that Ennahda had anything do with Belaid's killing and said he hoped to get approval for his new government from his party and others.
"The government, I feel, is backed by a lot of people, mainly among ordinary people. I hope that political parties will translate the view of our people," Jebali said Friday.
As he spoke, thousands of Tunisians demonstrated in the streets of the capital in outrage over the assassination, calling on Jebali to resign.
The killing of Belaid was the country's first high-profile political assassination since Tunisia's "Jasmine Revolution" that toppled President Zine el Abidine Ben Ali two years ago and spawned the Arab Spring.
CNN's Joseph Netto contributed to this report.

Part of complete coverage on
updated 12:39 PM EDT, Mon May 20, 2013

No solutions to the violence and total confusion is no longer just news, but a terrifying daily reality. Has Nigeria descended into civil war?
updated 4:17 AM EDT, Mon May 20, 2013

On the eve of the French Open, attention turns to the illness that has struck down several players. Why is it hitting tennis so hard?
updated 10:09 AM EDT, Mon May 20, 2013

Daycare, hour-long lunch breaks, free medicine? Not all of Bangladesh's factories are sweatshops, but many fear the crisis will hit them hard.
updated 9:14 AM EDT, Mon May 20, 2013

A group of bright minds at California Institute of Technology invented the 'toilet of the future,' a solar-powered wc that could save lives.
updated 9:15 AM EDT, Mon May 20, 2013

Chinese Premier is meeting India's leaders just weeks after raising the stakes in one of Asia's least understood and longest running disputes.
updated 7:15 AM EDT, Mon May 20, 2013

Despite unemployment being close to 12%, Italians are snubbing traditional jobs no longer viewed as attractive -- like pizza-making.
updated 11:07 AM EDT, Mon May 20, 2013

The woman behind the Chelsea Flower Show talks with CNN about the preparations and the 100th anniversary of the iconic horticultural gathering.
updated 7:38 PM EDT, Sun May 19, 2013

CNN's Dan Rivers reports on the influx of companies into Myanmar after the country opened up to foreign business.
updated 3:14 PM EDT, Thu May 16, 2013

Boxing legend Manny Pacquiao is using his hero status to fight human trafficking in the Philippines, pushing for an anti-trafficking law.
updated 11:22 AM EDT, Mon May 20, 2013

On Wednesday, NASA officials announced a serious problem with the Kepler satellite, the world's most successful planet-finding machine.
updated 9:54 AM EDT, Fri May 17, 2013

Anthony Bourdain discovers a American style, fast-food chicken restaurant that opened in Libya after the revolution -- and became a hit instantly.
updated 2:22 PM EDT, Mon May 20, 2013

As we mark 140 years since blue jeans were invented, we want to see the best and worst ways you've worn denim through the years.