STORY HIGHLIGHTS
Former world No. 1 Rafael Nadal reaches singles final in Chile comeback tournament
Spaniard will seek his 37th clay-court title as he faces Horacio Zeballos in Vina del Mar
Nadal can complete a Chilean conquest in the following doubles final on Sunday
Roger Federer to return to action this week as he defends his title in Rotterdam
(CNN) -- Rafael Nadal is on course for a comeback double as he bids for two titles at the VTR Open in Chile on Sunday.
The 11-time grand slam champion will seek his 37th clay-court crown and 51st overall when he takes on 73rd-ranked Argentine Horacio Zeballos in the singles final at Vina del Mar.
He will then team up with another Argentine, last year's tournament winner Juan Monaco, in the doubles final against Italy's Paolo Lorenzi and Potito Starace.
"I'm really happy with what I've been doing this week," said the Spaniard, who has dropped to fifth in the rankings after being sidelined for over seven months due to knee problems.
Read: Nadal overcoming 'bad feeling'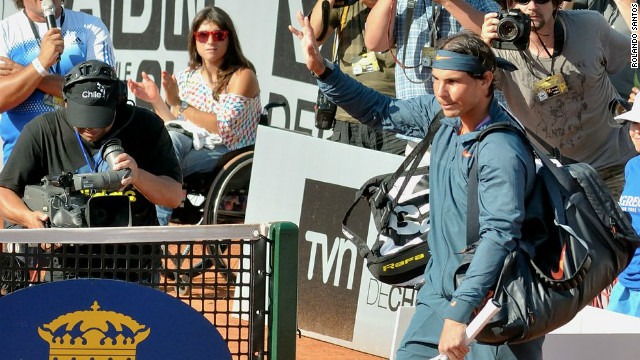 A little after 6 p.m. on a breezy midweek summer evening in Vina del Mar, Chile, Rafael Nadal walked on to the clay court at the 2013 VTR Open after a seven-month injury absence that had many fearing for his career. The whirling click, click, click of cameras and shouts of "Rafa! Rafa!" echoed around the venue as the 11-time grand slam winner walked across the court tight lipped and unsmiling, waving half-heartedly at the crowd. Rolando Santos was there for CNN with his camera.
After receiving a first-round bye, Nadal drew the tall and muscular Argentine Federico Delbonis -- the kind of opponent that has often given him problems.
Seven months after a shocking second-round loss at Wimbledon, Nadal still had more questions about his future than answers despite coming through a doubles match the previous day.
Nadal's first volleys were less than impressive and it was Delbonis that took the first two games. The world No. 5 was tentative and rusty.
It was as if as more attention was focused on Nadal's knee than his play. The crowd sucked in their breath and winced whenever the Spaniard slid on the clay court or landed hard after a serve.
About a half an hour into the match, Nadal chased a ball sideways across the court and slid on the clay surface but kept his balance. The look on his face as he came to a stop was a five-second blur of emotions. He looked wide-eyed at his knee as if expecting pain or a problem, before a trace of a smile crossed his face. He turned towards his opponent, his body language signaling "game on."
The intensity of his face and body increased as the match wore on, although most of Nadal's points were gifts from an over-aggressive opponent.
Late in the match, as the shadows covered most of the court, a heckler shouted, "How is your knee Rafa?" The stadium responded with a loud and angry "Shhhh!" at the breach of etiquette. Nadal responded in his own way with a cannon-like serve.
At times it seemed like Nadal was working on specific shots after the layoff, as he tested his accuracy.
At the end of the match Nadal smiled, enjoying the applause and letting affection from the crowd and the moment sink in following his 6-3 6-2 win. He later went on to reach Saturday's semifinals.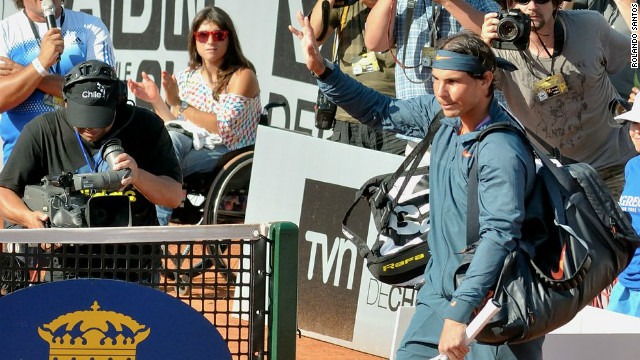 Rafael Nadal's road to redemption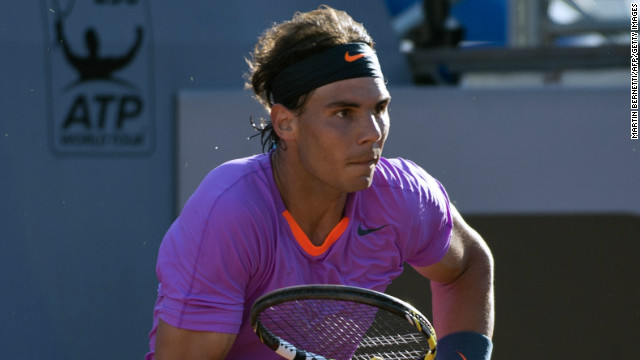 Eleven-time grand slam winner Rafael Nadal made a winning return to singles action on Wednesday, beating Argentine Federico Delbonis.
Nadal made his comeback after seven months away from the ATP World Tour with a doubles win on Tuesday.
Nadal teamed up with his friend Juan Monaco to win their doubles match against Czech Republic's Frantisek Cermank and Lukas Dlouhy in a Chilean claycourt event.
Nadal has had problems with his knees for much of his career. His latest absence was caused by an injury to the left one, which required surgery.
He told reporters before the tournament that he expects it will take him several weeks to regain match fitness.
Nadal arrives at La Moneda presidential palace in Santiago on February 1.
He was received by Chilean president Sebastian Pinera ahead of his debut appearance at the Vina del Mar Open.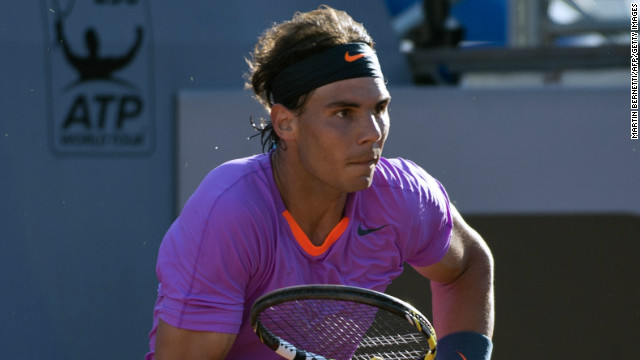 Rafael Nadal returns in Chile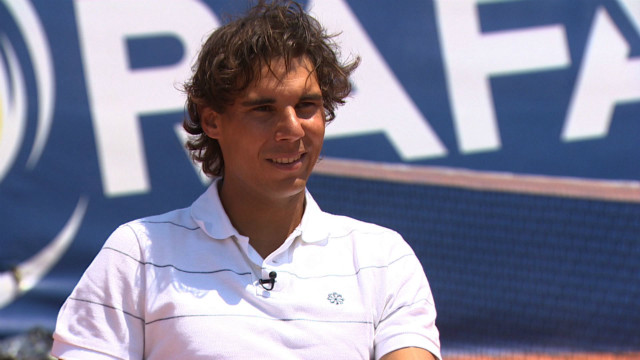 CNN's Open Court show visited Rafael Nadal at his home island of Mallorca, where he was interviewed by Pedro Pinto.
Pinto also talked to Nadal's uncle Toni, who has coached the Spaniard since he was a young boy.
Despite his global appeal, Nadal says he's still trying to lose his shy side in front of the cameras.
Unlike many sports stars, Nadal has stayed close to his roots and not uprooted to more glamorous locales after becoming successful.
The tranquility of Mallorca is just one of the reasons that Rafa has stayed on the island, according to his uncle.
Toni Nadal is confident Rafa will bounce back after missing the Olympics and U.S. Open due to his ongoing knee problems.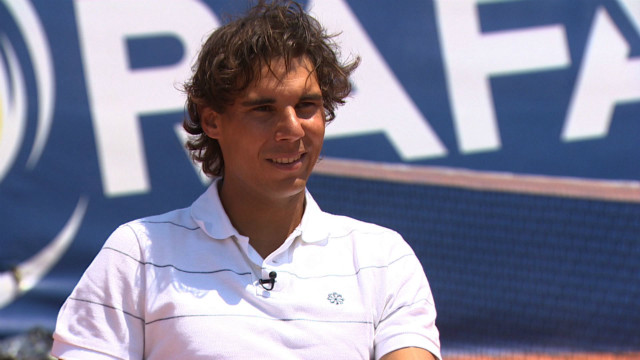 At home with Rafael Nadal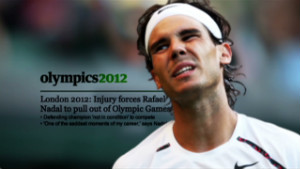 Rafael Nadal's injury heartache
"I have a good feeling on the court, so I cannot ask for anything more. I will try to play better and better every day."
"I won't compare myself to seven months ago, it's just the first week of competition. It's a great feeling to be in a final match after so much time without playing."
Nadal's first real test of the week came in Saturday's semifinal against 26th-ranked French third seed Jeremy Chardy, but he had no problems in cruising to a 6-2 6-2 victory.
"I played well today, better than the days before, which is important," he said.
Read: Nadal - I must be humble in comeback
Zeballos, meanwhile, reached the second ATP World Tour final of his career -- the other being in St. Petersburg in 2009 -- by beating eighth-seeded compatriot Carlos Berlocq 6-3 7-6 (7-4).
Richard Gasquet became the first player to win twice on the ATP Tour this year as he beat compatriot Benoit Paire 6-2 6-3 in Sunday's final of the Open Sud de France in Montpellier.
The 10th-ranked Frenchman has a 14-1 record in 2013, having won the Qatar title in January before losing in the fourth round of the Australian Open.
In other men's news, Nadal's great rival Roger Federer will return to action in Rotterdam this week as he defends his World Tennis Tournament title.
The world No. 2, who lost to Andy Murray in the Melbourne semifinals last month, will play 60th-ranked Slovenian Grega Zemlja in his opening match.
In women's action, Petra Kvitova put the Czech Republic into the semifinals of Fed Cup on Sunday, as her 2-6 7-6 (7-3) 6-4 win over Samantha Stosur gave the two-time defending champions an unbeatable 3-0 lead against Australia in Prague.
The 2011 Wimbledon champion saved a match-point at 5-4 down in the second set against that year's U.S. Open victor Stosur.
Kvitova's teammates Andrea Hlavackova and Lucie Hradecka then beat Ashleigh Barty and Casey Dellacqua 6-0 7-6 (7-1).
The Czechs will next face Italy, who edged the United States 3-2 in Rimini.
Sara Errani and Roberta Vinci beat Liezel Huber and Varvara Lepchenko 6-2 6-2 in the decisive doubles rubber.
Russia also went to a decider against Japan before sealing a semifinal clash with Slovakia.
Japan leveled at 2-2 in Moscow as home No. 1 Maria Kirilenko was unable to play due to illness, as Ayumi Morita triumphed 6-4 6-1 against stand-in Elena Vesnina, but Ekatarina Makarova bounced back from her Saturday defeat to beat Kimiko Date-Krumm 6-1 6-1.
She then teamed up with Vesnina in a 6-2 6-2 doubles victory over Morita and Misaki Doi.
Slovakia took an unbeatable 3-1 lead against last year's finalists Serbia as Daniela Hantuchova won 6-3 6-2 against Vesna Dolonc.