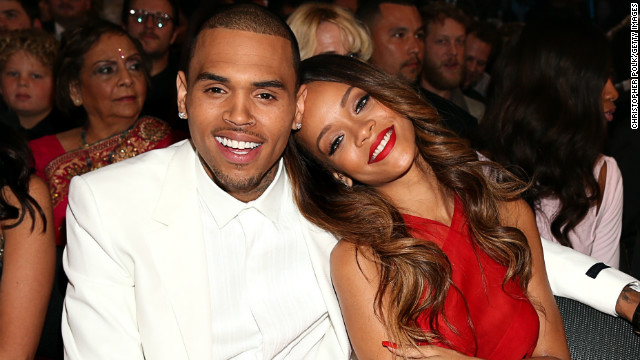 Friends since 2005, Chris Brown and Rihanna went public with their romantic relationship in 2008. The couple went their separate ways after Brown pleaded guilty in June 2009 to assaulting the Barbadian singer on the eve of the 51st Grammy Awards. They've since reconciled, only to seemingly break up again. Here's a look back at their rocky relationship:
In August 2007, Brown and Rihanna joined Timbaland, center, and Robin Thicke onstage during MTV's "Total Request Live" in New York
The couple spent time together on the beach in Barbados in August 2008.
Rihanna and Brown danced together at a club in Paris in December 2008.
In December 2008, Brown and Rihanna performed onstage during Z100's Jingle Ball in New York.
Brown stood beside his lawyer, Mark Geragos, at court in Los Angeles in March 2009. Brown was charged with assaulting Rihanna on February 8. "I'm in shock, because, first of all, that's not who I am as a person, and that's not who I promise I want to be,"
Brown told Larry King in August 2009.
In June 2010, Brown performed a tribute to Michael Jackson during the BET Awards in Los Angeles. After Brown pleaded guilty to assaulting Rihanna, a restraining order mandated that the pair cut off communication and remain a certain distance apart.
Rihanna performs onstage during the 2011 Grammy Awards. In February, Schnegg
Brown with a cake at a party in New York honoring the March 2011 release of his "F.A.M.E." album.
August 2012 interview
. "I lost my best friend," she said. "Everything I knew switched -- switched in a night -- and I couldn't control that, so I had to deal with that, and that's not easy for me to understand."
The "Birthday Cake" singer opened up to Oprah about the night that changed everything between her and Brown during an
In 2012, the pair shocked onlookers when they cozied up to one another at a Lakers game on Christmas.
Rolling Stone about her repaired relationship
with Brown in the magazine's February 1 issue, and by February 6, the pair were seen cruising in Brown's car.
Rihanna opened up to
And by the Grammy Awards two weeks later, the pair were seen cuddling in the audience.
The rumors about the pair's romantic status heated up around Rihanna's 25th birthday in late February when the two were seen vacationing together.
sharing cozy photos
of herself with Brown on Instagram, he clarified in early May 2013 that they weren't a couple. "[A]t the end of the day, shawty doing her own thang, she on the road. It's always gonna be love. I'm a grown man, just gotta fast forward," he
told an Australian radio station
. "I'm always gonna love that person. I can't be focused on wife-ing someone that young. I need to be the best Chris Brown I can be."
Although Rihanna's infamous for
Rihanna and Chris Brown through the years
Rihanna and Chris Brown through the years
Rihanna and Chris Brown through the years
Rihanna and Chris Brown through the years
Rihanna and Chris Brown through the years
Rihanna and Chris Brown through the years
Rihanna and Chris Brown through the years
Rihanna and Chris Brown through the years
Rihanna and Chris Brown through the years
Rihanna and Chris Brown through the years
Rihanna and Chris Brown through the years
Rihanna and Chris Brown through the years
Rihanna and Chris Brown through the years
Rihanna and Chris Brown through the years
Rihanna and Chris Brown through the years
Rihanna and Chris Brown through the years