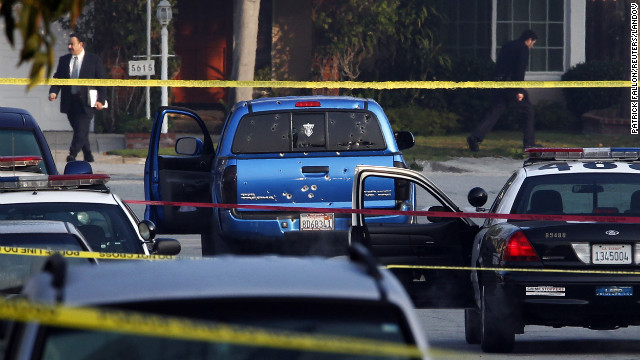 Detectives investigate the scene where officers fired on a vehicle they believed was Christopher Dorner's on February 7, in Torrance, California. Two people in the truck were wounded.
An employee of Southern California Edison surveys the damage at the burned-out cabin where the remains of multiple-murder suspect and former Los Angeles Police Department officer Christopher Dorner were found on Friday, February 15, in Big Bear, California.
A statue of an angel stands on a wood column in front of the burned cabin on February 15.
An evidence flag placed by San Bernardino County Sheriff's crime scene investigators sits on pile of rubble in the burned cabin on February 15.
Cindy Bachman, public information officer for the San Bernardino Sheriff's Department, updates the media after a standoff and a shootout with Dorner on Tuesday, February 12.
Police search cars at a blockade as they come down off the mountain during a manhunt for Dorner on February 12.
Cindy Bachman, information officers for the San Bernardino County Sheriff's Department, speaks to reporters at a roadblock near Big Bear Lake, California, on Tuesday, February 12. Christopher Jordan Dorner has been the subject of a massive manhunt and is accused of killing one police officer and wounding two others, as well as killing the daughter of his police union representative and her fiance on Sunday.
Authorities take positions during the manhunt for former LAPD officer Christopher Jordan Dorner near the town of Angelus Oaks, California, on Tuesday.
San Bernardino County Sheriff SWAT team members return to the command post at Bear Mountain in Big Bear Lake, California, on Friday, February 8, after heavy snow hindered the manhunt for ex-LAPD cop Christopher Jordan Dorner.
Officers keep watch outside of the Twin Towers Jail in response to an unconfirmed sighting of Dorner in Los Angeles.
Officers investigate the burned out truck of Christopher Jordan Dorner that was discovered at the base of Bear Mountain Ski Resort in Big Bear Lake, California, on Thursday, February 7.
Department of Homeland Security officers search vehicles at the San Ysidro Port of Entry in San Diego on February 7 as they search for former LAPD officer Christopher Dorner.
Los Angeles Police Chief Charlie Beck speaks at a press conference about the manhunt for Dorner as photos of the suspect stand in the background on February 7.
An illuminated sign at San Diego State University along Interstate 8 displays information about Dorner's last known vehicle on February 7.
San Diego Harbor Police officers near Naval Base Point Loma armed with high-powered firearms walk along a street on February 7 in San Diego.
Investigators inspect a bullet-ridden squad car where a police officer was shot on Magnolia Avenue in Corona, California on February 7.
Police stand guard near a LAPD car where a police officer was shot on Magnolia Avenue as officers across the state remain on high alert.
Photos: Manhunt for Christopher Dorner
Ex-cop at center of California manhunt
Ex-cop at center of California manhunt
Ex-cop at center of California manhunt
Ex-cop at center of California manhunt
Ex-cop at center of California manhunt
Ex-cop at center of California manhunt
Ex-cop at center of California manhunt
Ex-cop at center of California manhunt
Ex-cop at center of California manhunt
Ex-cop at center of California manhunt
Ex-cop at center of California manhunt
Ex-cop at center of California manhunt
Ex-cop at center of California manhunt
Ex-cop at center of California manhunt
Ex-cop at center of California manhunt
Ex-cop at center of California manhunt
STORY HIGHLIGHTS
The Los Angeles police chief says he ordered the review to reassure the public
"It's just a matter of time," says an assistant police chief about catching Christopher Dorner
Dorner is sought in three California killings
Authorities are searching for him in the San Bernardino Mountains
Big Bear Lake, California (CNN) -- Los Angeles police said Saturday that they would reopen an investigation into the firing of Christopher Jordan Dorner, a former cop accused of killing three people as part of a revenge plot targeting law enforcement officers.
Dorner wrote a manifesto declaring war on police in retaliation for being fired from his job as an LAPD officer and losing an appeal to be reinstated. He promised to bring "unconventional and asymmetrical warfare" to officers and their families, calling it the "last resort" to clear his name and strike back at a department that he says mistreated him.
"I do this not to appease a murderer. I do it to reassure the public that their police department is transparent and fair in all the things we do," Los Angeles Police Chief Charlie Beck said in a statement.
He said police would also look into any allegations made in the manifesto.
Read the criminal complaint against Dorner (pdf)
Beck addressed what he described as the "ghosts of the LAPD's past," and said that one of his biggest worries was that those ghosts would be "resurrected by Dorner's allegations of racism."
"As hard as it has been to change the culture of the Los Angeles Police Department, it has been even more difficult to win and maintain the support of the public. As much as I value our successes in reducing crime, I value even more our gains in public confidence," he said.
The development came as police continued their search for Dorner, 33, in snowbound mountains. Bundled up in winter gear, teams returned to the pine forests and trails surrounding Big Bear Lake in the San Bernardino Mountains.
As the dragnet entered its third day, questions continued Saturday about whether Dorner was still in the area, but police in California, Nevada and Arizona remained on alert.
Scouring the terrain by land and air, police were using helicopters, snowcats and armored personnel carriers with snow chains. The search resumed after overnight temperatures dipped into the teens.
Officers trudged through knee-high snow with rifles at the ready. Patrols again visited homes Saturday in Big Bear Lake, knocking on doors and peeking into windows. They had checked on the community's 400 homes Thursday.
"I don't think he is up here, to be quite honest with you, in this quite brutal weather," resident Justin Owen said. He was shoveling snow out of his driveway when a police team asked him if he had seen suspicious activity.
No, he told them.
Unlike his son, father Ed Owen believed Dorner could be hiding in any of the houses that serve as second residences in the mountains and are often vacant, frequently the case where families have owned the property for decades and lose interest in it, he said.
"I would guess the occupancy rate on my block is just 10%," Ed Owen told CNN. "If you really wanted to scout things out, you probably could find a home that is never occupied and hide in there."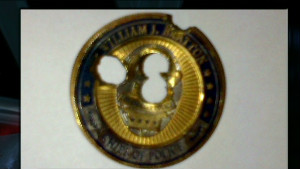 LAPD suspect's chilling package to CNN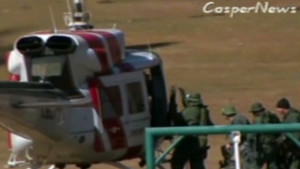 Comparing ex-cop suspect to DC sniper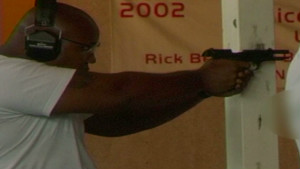 See video of Dorner during LAPD training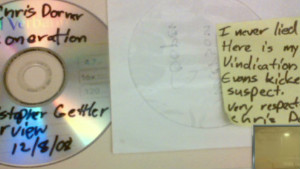 Why was Christopher Dorner fired?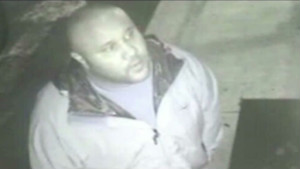 Why Dorner should turn himself in
Not far from the manhunt, skiers and snowboarders enjoyed an ideal day for winter recreation in the resort community.
"The possibility exists that he is here, somewhere in the forest, so we're going to keep looking ... until we determine that he's not here," said Cindy Bachman, a spokeswoman for the San Bernardino County Sheriff's Department.
Calamitous dragnet
The manhunt in Southern California hasn't been without calamity.
Los Angeles police mistakenly shot and wounded two persons Thursday in Torrance as they drove a blue pickup truck resembling Dorner's vehicle. Torrance police also fired upon another blue pickup the same day, but no one was injured in that incident, a law enforcement source said.
The Los Angeles officers involved in the wounding of innocent civilians were put on paid administrative leave, police spokeswoman Rosario Herrera said Saturday. A day earlier, the LAPD had said the officers weren't put on such leave.
Unconfirmed sightings of the 270-pound, 6-foot Dorner have been reported as far away as Las Vegas and the California-Mexico border, according to reports.
LAPD spokesman Andrew Smith urged Dorner to turn himself in.
"That would be the best resolution for this whole thing right now," he said. "No one else has to be shot. No one else has to be injured. No one else has to die. He can turn himself in anywhere, and he'll be taken into custody, and he'll be able to get his side of the story out."
Dorner, who also served in the Navy, is suspected of killing two people in Irvine, California, on Sunday and shooting Thursday at three Los Angeles-area police officers, one of whom later died.
One of the victims of the Irvine killings, Monica Quan, was the daughter of the retired police officer who represented Dorner in his efforts to get his job back, police said.
According to a criminal complaint, someone claiming to be Dorner called the retired officer after the killing, telling him he "should have done a better job of protecting his daughter."
The call was traced to Vancouver, Washington, but the complaint went on state that it was unlikely Dorner was in Washington at the time of the call.
Los Angeles Mayor Antonio Villaraigosa described Dorner as "a very sick individuaI."
"There is absolutely nothing that was done to this individual that would rationalize in any way the murder of three innocent people," Villaraigosa told CNN on Saturday. "The notion that somehow this deranged individual be given any credence boggles my mind."
For now, the focus of the manhunt remains on Big Bear and the surrounding mountains, where Dorner's burned-out pickup was found Thursday.
The truck had a broken axle, which would have prevented the truck from moving, and footprints appear to show Dorner doubled back into the community, according to a source with knowledge of the investigation.
It was unclear where Dorner may have gone from there or by what means, the source said.
Armed and dangerous
Guns found in the truck also were burned, but authorities believe Dorner may have as many as 30 weapons with him, said the source, who spoke on condition of anonymity. The source was not authorized to release details to the media.
Manhunt reminiscent of D.C. sniper case
Dorner, who retired from the Navy Reserve on February 1 as a lieutenant, was trained in counterinsurgency and intelligence, the source said.
It is also believed that he received flight training during his time in the Navy. Though the exact nature of his flying skills are not known, the Transportation Security Administration issued an advisory.
"While there is no specific information at this time that Dorner is considering using general aviation, TSA requests that operators use an increased level of awareness concerning any suspicious activity during the coming days," it said.
Meanwhile, Bob Dow, supervisor at the airport at Big Bear Lake, dismissed the possibility that Dorner left that airport on a plane, saying the airport monitors all planes coming in and flying out.
Mood 'tense' among L.A. officers
Military bases on alert
Navy installations throughout California and Nevada were on heightened alert, a U.S. military official told CNN.
"Security personnel are on the lookout," said the official, who spoke on condition of anonymity. The measure was ordered late Thursday by Rear Adm. Dixon Smith, commander of the Navy's southwest region.
The official, who was not authorized to release details to the media, declined to discuss security procedures, but said the move was made after it became clear that Dorner gained access this week to the Naval Base at Point Loma and stayed in a motel there.
Two sailors reported Dorner approached them Wednesday and spoke with them for about 10 minutes at a San Diego coastal riverine unit -- a quick, small boat fighting team -- where Dorner served in 2006. As a Navy reservist, Dorner held security jobs at that unit.
The Navy is not certain whether Dorner still possesses any military identification he might try to use to enter a facility.
Investigators said they believe Dorner tried to steal a boat from someone in San Diego, according to the LAPD. Dorner "was not successful, and he fled the location," LAPD Chief Charlie Beck said.
A wallet containing Dorner's identification and an LAPD detective's badge was found near the San Diego airport, police said.
Authorities speculate that Dorner, who is familiar with LAPD policies and procedures, may be trying to lead authorities astray by planting clues.
"He understands the way police departments work: the policies, the procedures, the response times,'" said Brandon Webb, a security expert and editor of SOFREP.com, the Special Operations Forces Situation Report.
Dorner's manifesto details threats
CNN's Chelsea J. Carter, Dana Ford, Nick Valencia, AnneClaire Stapleton, Deborah Feyerick, Sara Weisfeldt and Barbara Starr contributed to this report. Paul Vercammen and Stan Wilson reported from Big Bear Lake. Michael Martinez report and wrote from Los Angeles.