STORY HIGHLIGHTS
Two LAPD cops patrol in the ex-cop's old beat, saying they "don't think he'll bring the fight into L.A."
All 10,000 LAPD officers are on tactical alert, with one stating: "We're maxed deployed"
Meanwhile, two patrolling sheriff's deputies are on edge as ex-cop has pledged to kill police
"He's a scary guy," a 24-year veteran deputy says
Los Angeles (CNN) -- A veteran Los Angeles County sheriff's deputy and his younger partner sat tensely in their car Thursday in the same patrol district where a former LAPD cop -- now on the run, accused in three killings -- used to work.
The two deputies were "on the edge," they said, monitoring the police radio and the latest news about the rogue ex-cop who has pledged to kill officers in and out of uniform.
Their marked cruiser was ensconced beneath soaring concrete columns supporting the light-rail Expo Line. In an off-limits parking spot by a "Do Not Enter" sign, their car faced passing traffic, and the two officers stood watch, wondering whether Christopher Jordan Dorner would pass their way.
"Everyone is a lot more on edge," said one of the deputies, a 24-year veteran, who was in uniform with a bulletproof vest and his sidearm. "We're just doing a lot more careful observation.
"We're listening to the news like you. Everyone has got their eyes open," said the deputy, who asked that his name not be published due to security concerns. "He's a scary guy."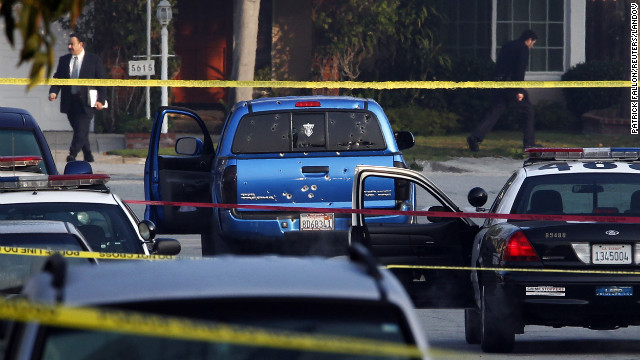 Detectives investigate the scene where officers fired on a vehicle they believed was Christopher Dorner's on February 7, in Torrance, California. Two people in the truck were wounded.
An employee of Southern California Edison surveys the damage at the burned-out cabin where the remains of multiple-murder suspect and former Los Angeles Police Department officer Christopher Dorner were found on Friday, February 15, in Big Bear, California.
A statue of an angel stands on a wood column in front of the burned cabin on February 15.
An evidence flag placed by San Bernardino County Sheriff's crime scene investigators sits on pile of rubble in the burned cabin on February 15.
Cindy Bachman, public information officer for the San Bernardino Sheriff's Department, updates the media after a standoff and a shootout with Dorner on Tuesday, February 12.
Police search cars at a blockade as they come down off the mountain during a manhunt for Dorner on February 12.
Cindy Bachman, information officers for the San Bernardino County Sheriff's Department, speaks to reporters at a roadblock near Big Bear Lake, California, on Tuesday, February 12. Christopher Jordan Dorner has been the subject of a massive manhunt and is accused of killing one police officer and wounding two others, as well as killing the daughter of his police union representative and her fiance on Sunday.
Authorities take positions during the manhunt for former LAPD officer Christopher Jordan Dorner near the town of Angelus Oaks, California, on Tuesday.
San Bernardino County Sheriff SWAT team members return to the command post at Bear Mountain in Big Bear Lake, California, on Friday, February 8, after heavy snow hindered the manhunt for ex-LAPD cop Christopher Jordan Dorner.
Officers keep watch outside of the Twin Towers Jail in response to an unconfirmed sighting of Dorner in Los Angeles.
Officers investigate the burned out truck of Christopher Jordan Dorner that was discovered at the base of Bear Mountain Ski Resort in Big Bear Lake, California, on Thursday, February 7.
Department of Homeland Security officers search vehicles at the San Ysidro Port of Entry in San Diego on February 7 as they search for former LAPD officer Christopher Dorner.
Los Angeles Police Chief Charlie Beck speaks at a press conference about the manhunt for Dorner as photos of the suspect stand in the background on February 7.
An illuminated sign at San Diego State University along Interstate 8 displays information about Dorner's last known vehicle on February 7.
San Diego Harbor Police officers near Naval Base Point Loma armed with high-powered firearms walk along a street on February 7 in San Diego.
Investigators inspect a bullet-ridden squad car where a police officer was shot on Magnolia Avenue in Corona, California on February 7.
Police stand guard near a LAPD car where a police officer was shot on Magnolia Avenue as officers across the state remain on high alert.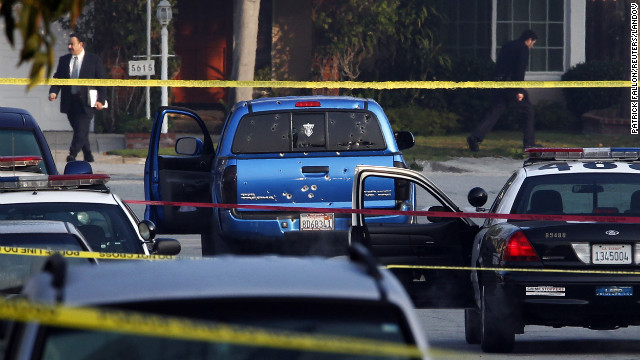 Ex-cop at center of California manhunt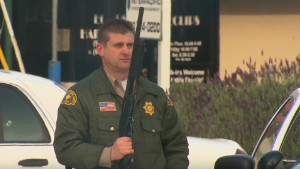 Police search for alleged cop killer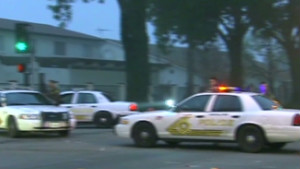 Miller: Dorner hunting the hunters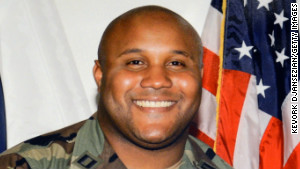 Fired cop's 'last resort' manifesto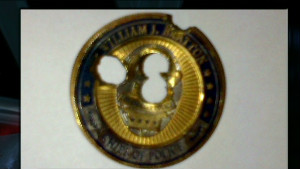 Bratton: Dorner package 'very disturbing'
His partner, sitting behind the wheel, let the senior deputy do much of the talking, but when he paused to listen to the radio, the six-year deputy chimed in.
Timeline in manhunt for former L.A. cop
"We're just being more observant," he said, frequently looking toward the morning traffic speeding by the La Cienega Boulevard station.
Normally, the two officers would be riding the Expo Line, checking passengers for proof of fare payment. The officers are common fixtures on the new rail line, which opened last year, and walk through the train cars, issuing tickets for passengers who haven't paid their fare.
That rail line runs through the heart of the southwest division of the Los Angeles Police Department, the district where Dorner, a former LAPD officer, had been assigned for patrol duty while on the force.
Dorner has allegedly written a manifesto pledging "asymmetrical warfare" on officers in and out of uniform, particularly LAPD officers, but the sheriff's deputies were taking the threat to include them, too.
All 10,000 officers in the LAPD were on "tac alert" Thursday, including Officers Ryan Lee and John Negrete, who were patrolling the same division where Dorner had worked. Under a tactical alert, all officers are in uniform or available for duty.
Also, all motorcycle officers were taken off the street and put in patrol cars Thursday for their own protection, Los Angeles Police said.
Suspect's grudge dates back to 2007 complaint
Lee and Negrete didn't mind giving their names to a CNN reporter because they expressed confidence in their department's numbers.
"We're maxed deployed," Lee said, behind the wheel, idling the parked black-and-white. "I don't think he'll bring the fight into L.A. I think he has a better chance with a smaller department. We have so many resources."
It was clear from their manner of speech that all officers were at the ready.
"These types of events band officers and departments together, and I guess his trying to bring the fight to officers, well, he knows better," added Lee, a 10-year veteran. "His manifesto to exonerate himself doesn't make sense."
Negrete, who's been on the force for 13 years, expressed hope for a peaceful capture of Dorner.
"I just read bits and pieces of his manifesto and I just hope he's taken into custody so nobody and no officer gets hurt," said Negrete.
Lee and Negrete didn't have a news radio in the car, so the only way they can get news updates is through Twitter on their cell phones, they said.
"The department holds this stuff close to their vest. I know there's a lot going on," Lee said about the manhunt for Dorner. The officers were given some information about Dorner during roll call, and some fellow cops remarked they knew of Dorner but didn't offer much more, Lee and Negrete said.
"For us patrol guys, it's just get in your car and we'll call if we need you," Lee said of the chain of command.
The partners were assigned to watch for potential problems at an anti-homophobia campaign in the African-American neighborhood of Leimert Park, at Crenshaw Boulevard and 46th Street.
In The Meantime Men's Group was conducting free HIV testing and passing out condoms on Thursday, which was National Black HIV Awareness Day.
Opponents had earlier covered up a billboard sign sponsored by the group that said "Homophobia, Racism and HIV Can't Stop Me," and the two officers were watching for any trouble. There was none, said the group's executive director, Jeffrey King.
Alleged cop-killer details threats to LAPD, why he was driven to violence
Dorner's alleged rampage was portrayed by authorities as revenge killings for his termination from the LAPD.
Dorner was an LAPD officer from 2005 to 2008, when he was terminated, according to authorities.
The former officer claimed in a manifesto attributed to him that he was unfairly fired after reporting excessive force by a fellow officer, and he vowed to avenge his termination. He also served as a former U.S. Navy Reserve lieutenant who worked with river warfare units and a mobile inshore undersea warfare unit, according to Pentagon records obtained by CNN. His last day with the Navy was February 1.
Dorner is a suspect in a double murder Sunday in Irvine, California, authorities said. One victim was the daughter of retired Los Angeles Police Officer Randal Quan, who handled the appeal of Dorner's termination and, according to the manifesto, bungled it. Dorner appealed the case to a Los Angeles court, where a judge ruled against him in 2011, according to court records.
Multiple law enforcement agencies have linked Dorner, 33, to the shooting of two Riverside police officers in an ambush at an intersection around 1:30 a.m. Thursday. One officer, 34, died.
About 20 minutes earlier, police believe Dorner shot at two LAPD officers assigned to protect off-duty officers named in Dorner's manifesto, police said. A bullet grazed one of the officers, and the wound was not life-threatening. Damage to the squad car prevented the officers from pursuing Dorner, police said.
That shooting took place in Corona, also located in Riverside County, at 1:25 a.m. Thursday, said Los Angeles police.
For a former officer to be a suspected cop killer is beyond imagination for many law enforcement officers, whose culture bonds them so tightly that many can spot another officer out of uniform just by their demeanor and a nod of the head. The two sheriff's deputies acknowledged this subculture.
When asked how alarming it must be for a former officer to be at war with police, the younger deputy expressed acceptance.
"I guess it shows we're people too," he said.