North Korea accused of ripping off 'Call of Duty' in propaganda video
updated 8:28 AM EST, Thu February 7, 2013
STORY HIGHLIGHTS
North Korean propaganda video pulled off YouTube website
Game maker Activision says video used scenes from Call of Duty game
Video appeared as experts say North Korea nuclear test imminent
Walt Disney Company denounced North Korea's use of Mickey Mouse in 2012
Hong Kong (CNN) -- A bizarre three-and-a-half minute North Korean propaganda video -- depicting a city resembling New York but with its skyscrapers on fire -- was pulled from YouTube this week after videogame maker Activision said those scenes were lifted from its top-selling game "Call of Duty."
Clicking on the now-defunct YouTube link brings up the message: "This video has been removed by the user. Sorry about that." But the video can still be found elsewhere on the internet.
The anti-U.S. video also employs an instrumental version of "We Are the World," written by Michael Jackson and Lionel Richie, while a sleeping North Korean man apparently dreams himself aboard a North Korean space shuttle launched into orbit around the Earth.
Just after the video's two-minute mark, a city covered by a large American flag is seen apparently being bombarded by a missile attack.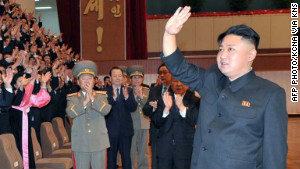 3rd nuclear test could empower N. Korea
The Korean-language caption that scrolls across the screen says, "Black smoke was billowing somewhere in America. Maybe the group of Satan, who has been habitually conducting an invasion war, are burning in the fire they set themselves."
The release of this video, the latest in a series of regular propaganda videos, comes as experts and officials widely believe North Korea is on the verge of its third nuclear test, following trials in 2006 and 2009.
The country's use of copyrighted material is not new. In 2012, Mickey Mouse, Winnie the Pooh and a cast of Disney characters appeared at a Pyongyang theater for newly-ascended North Korean leader Kim Jong Un.
The Walt Disney Company denounced the use of its characters and said in a statement, "This was not licensed or authorized by The Walt Disney Company," according to the Associated Press.

Part of complete coverage on
updated 2:47 AM EDT, Mon April 22, 2013

Twitter resumes -- or "twesumes" -- have been touted as the best way for social media-savvy types to snag a dream job.
updated 4:00 AM EDT, Wed April 17, 2013

We live in a three-speed economic world, according to the International Monetary Fund.
updated 12:27 PM EDT, Wed April 17, 2013

Women have long dominated the heated discussion around gender equality. But men need to too, says Facebook's Sheryl Sandberg.
updated 6:53 AM EDT, Fri April 19, 2013

Security threats from mobile malware are on the rise and nearly 95% of targets operate on the Android operating system, according to a new report from NQ Mobile.
updated 4:06 PM EDT, Mon April 15, 2013

Microsoft is working on a touch-enabled smartwatch, The Wall Street Journal says, reporting that the company asked Asian suppliers to ship components for the device.
updated 2:47 AM EDT, Fri April 19, 2013

Give your anxious, negative colleagues a chance, and they just might surprise you.
updated 6:46 AM EDT, Wed April 17, 2013

In Europe, high-speed rail has come to stand for ease and efficiency where journeys of four hours or less trump airplanes and the hassle of airport security.
updated 2:12 PM EDT, Fri April 19, 2013

Infographic: Singapore may be tiny but it is also one of East Asia's most powerful trading hubs.
updated 8:27 PM EDT, Sun April 21, 2013

In Hong Kong urban lore, an apartment where a violent death took place can often be bought for as much as 10-30 per cent off the market price.
updated 12:05 PM EDT, Tue April 16, 2013

With gold prices officially in a bear market, investors must ask themselves if this is the time to buy?