Which beach to choose this winter?
updated 11:44 AM EST, Tue February 5, 2013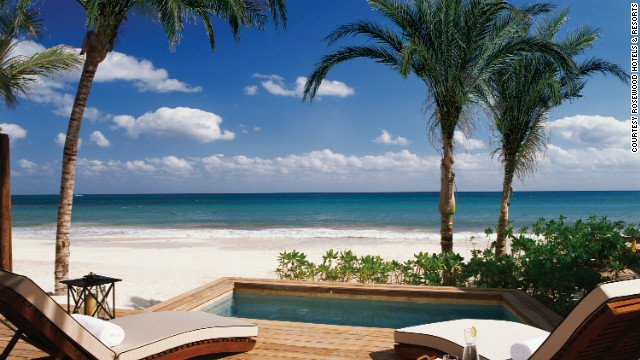 Mayakoba (which means "village of water") is often called the Venice of the Caribbean. It's perfect for honeymooners or a group of girlfriends willing to spend on a decadent spa getaway or other exclusive resort vacation.
Perfect for the budget or moderate spender, this isolated archipelago in Panama offers a chance to get off the grid and relax without many crowds. It doesn't offer full-service options, so it's not for the luxury traveler.
While Maui offers perfect beaches and cultural offerings for travelers on a moderate to expensive budget, the reason to visit is the luxury resorts, says Fodor's. It's perfect for a honeymoon, an anniversary or a family trip with older children.
Providenciales is the most developed island in Turks & Caicos and serves travelers on a moderate to expensive budget. The island has a good range of villas and resorts for travelers, and the shallow waters of Grace Bay are perfect for families with young children just starting to swim.
Although the cruise ships have discovered St. John, it still offers stunning and uncrowded beaches and beautiful, protected national parkland to explore. Active travelers on any budget will find accommodations ranging from campsites to private villas.
Perfect for a moderate spender who craves a chic yet laidback vacation, Vieques has beaches, privacy and glow-in-the-dark organisms (which visitors can see kayaking at night on Puerto Mosquito).
Visitors to Virgin Gorda on the British Virgin Islands are looking for a luxury vacation with total relaxation and seclusion. Sailing and swimming are the primary activities of the couples and longtime friends who stay here. Guests can swim among the giant boulders of the Baths of Virgin Gorda (shown here).
Mayakoba, Mexico
Bocas del Toro, Panama
Maui, Hawaii
Providenciales, Turks & Caicos
St. John, U.S. Virgin Islands
Vieques, Puerto Rico
Virgin Gorda, British Virgin Islands
STORY HIGHLIGHTS
It's time to think about a sunny getaway
Fodor's beach finder tool helps travelers pick destinations that fit their preferences
Share photos of your favorite beaches on iReport.com
(CNN) -- It's during the rain, sleet and snow of winter that a warm and sunny beach vacation starts to sound particularly alluring.
Which one to choose? Hawaii, Florida, Belize, Costa Rica, Mexico, Panama, Dominican Republic, Jamaica, Bahamas, St. Kitts, Martinique and Isla Mujeres in Mexico all sound lovely this time of year.
But what do you want when you get there? Romance, a deserted beach, a beach party or child-friendly travel? And can you even afford them? Fodor's 80 Degrees Beach Finder tool can help narrow down the options by location, type and price point.
10 budget all-inclusive resorts
"We know from firsthand experience that not all beaches are a perfect fit for every beach goer," said Arabella Bowen, Fodor's executive editorial director. "You may want to go to a beach but don't know which beach will make your perfect vacation. Do you want somewhere remote and quiet, water sports, a lively nightlife scene, shopping or family friendly?"
The Fodor's beach finder tool matches beaches with travelers' interests and budgets and offers hotel and restaurant choices to fit within those parameters.
What do the dollar signs mean? If you want a hotel room for $150 or less per night, choose the $ option. For $250 or less per night, choose the $$ option. For $350 per night or less, choose the $$$ option. For more than $350 per night, choose the $$$$ option.
Click through the gallery to see Bowen's exclusive picks for CNN.
Please share your favorite beaches -- and what you like to do when you're visiting -- on our iReport assignment. We'll follow up with our readers' picks.