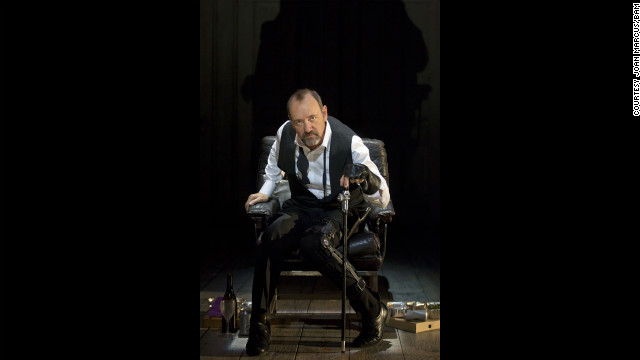 In the wake of Richard III's remains being discovered, take a look at some of the thespians who have brought the historical character to life. In this photograph: Kevin Spacey in "Richard III" for the Brooklyn Academy of Music, 2012.
Sir Ian McKellen in the film "Richard III," 1995.
The Monty Python comedy team gave us a whole room of Richard III's in the skit "Hospital for Overactors."
Peter Sellers took the throne as Richard III for his rendition of a "Hard Day's Night" in 1965 for the television special "The Music of Lennon & McCartney."
Paul Daneman as Richard III with Eileen Atkins as Lady Anne in Richard III at the Old Vic Theatre, 1962.
Donald Wolfit as Richard III, 1941.
French actor Denis Podalydes as Richard III in "The Life and Death of Richard the Third," 2010.
Madge Compton as Lady Anne Neville and Balliol Holloway as Richard III, 1930.
Laurence Olivier as Richard III in the film "Richard III," 1955.
Paul Daneman as Richard III, 1962.
George Hayes as Richard III during a Shakespeare Festival at Stratford-Upon-Avon, circa 1925.
John Barrymore as Richard III in "Henry VI Part III," 1929.
Richard III on stage and screen
Richard III on stage and screen
Richard III on stage and screen
Richard III on stage and screen
Richard III on stage and screen
Richard III on stage and screen
Richard III on stage and screen
Richard III on stage and screen
Richard III on stage and screen
Richard III on stage and screen
Richard III on stage and screen
Richard III on stage and screen