STORY HIGHLIGHTS
"These are fixable problems," says management exec
"It's not a human error, it's an equipment error," he adds
Video from inside a control room shows the incident unfolding
"We don't have a lot of details to share," an Entergy spokesman says
(CNN) -- A day after Sunday's 35-minute power outage during the Super Bowl game in New Orleans, officials were vowing to fix whatever the cause may have been, but no one was saying just what that was.
"We're going to work very closely with SMG to get to the root of the problem," said Charles Rice, president of Entergy New Orleans Inc., referring to the company that manages the dome. "We both made excellent preparations for an event like this, and then the system worked the way it was supposed to work."
"We've spent millions of dollars upgrading our equipment, including our electrical feeders, and we've never had this issue before," said Doug Thornton, an SMG executive who was in NFL control at the time of the incident. The interruption in service occurred in a substation that supplies the stadium with power, he said. A piece of equipment in the substation "detected some abnormalities and it did what it was supposed to do -- it opened a switch, basically a breaker, which shunted the power that we were receiving from Entergy and de-energized the building."
He noted that electricians and electrical consultants were on site and pitched in immediately.
A fire alarm that was hit prior to halftime appears to have had nothing to do with the outage, nor did the halftime show, Thornton said. The halftime presentation was run on generated power, "which means it was not on our power grid at all," he said.
Any electrical issues identified in the probe will be addressed, he promised. "These are fixable problems," he said.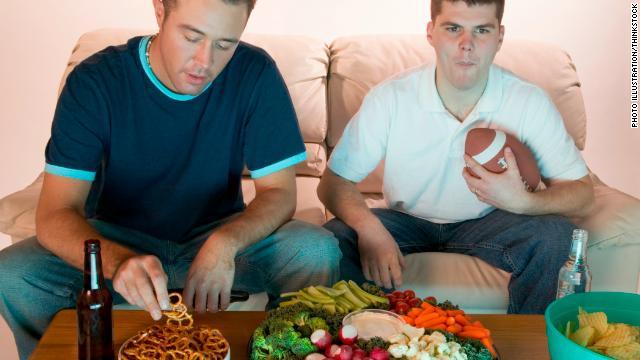 We collected some numbers about one of the biggest sports events of the year, and a few of them actually relate to the game, instead of some of the other fun reasons a lot of us will be watching Sunday night. Click through to learn more.
Super Bowl XLVI, held on February 5, 2012, was the most-watched program in U.S. television history: 111.3 million people watched the New York Giants defeat the New England Patriots.
The Pittsburgh Steelers and the Dallas Cowboys share the most appearances at the Super Bowl, with eight each. The two teams went head to head in 1976 at Super Bowl X.
The Pittsburgh Steelers hold the record for most wins, taking the championship six times. Steelers quarterback Ben Roethlisberger celebrates with his teammates after throwing a fourth quarter touchdown against the Arizona Cardinals during Super Bowl XLIII.
The Buffalo Bills, Denver Broncos, Minnesota Vikings, and New England Patriots have each lost the Super Bowl four times. Here, New England head coach Bill Belichick walks off the field after losing to the New York Giants during Super Bowl XLVI.
Twenty-two percent of HDTV owners bought their set specifically to watch an upcoming Super Bowl game, according to a survey by the Consumer Electronics Association. Additionally, retail spending is expected to be at $12.3 billion for Super Bowl XLVII.
Anheuser Busch spent $248.6 million on advertising for the Super Bowl between 2003 and 2012, the most of any company. Fifty million cases of beer are expected to be consumed during Super Bowl XLVII.
The average cost of a 30-second commercial during the 2012 Super Bowl is $3,442,752.
13.7 million Super Bowl related Tweets were sent during Super Bowl XLVI in 2012.
$93.9 million was wagered on the Super Bowl in Nevada for the 2012 Super Bowl, according to the Nevada Gaming Control Board. Here, Dennis Pitta of the Baltimore Ravens gets tackled after a catch during the 2013 AFC Championship game.
1.23 billion chicken wing "portions" are expected to be eaten during Super Bowl weekend.
An expected 11 million slices of Domino's pizza will be eaten during Super Bowl XLVI.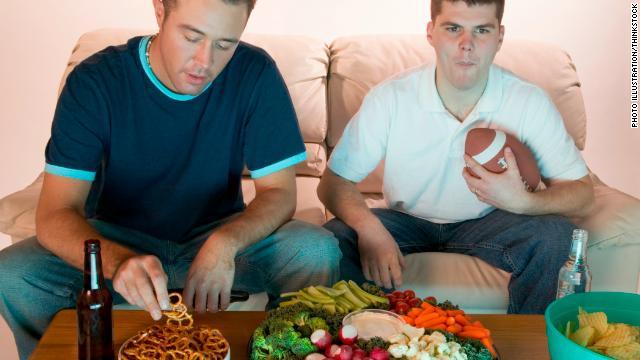 Photos: Super Bowl by the numbers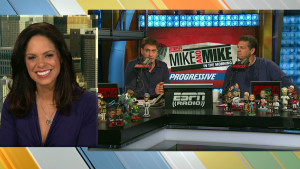 Super Bowl recap: Blackouts and Flacco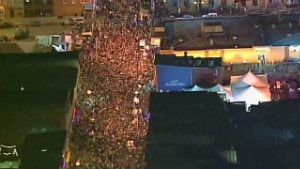 Ravens fans celebrate in the streets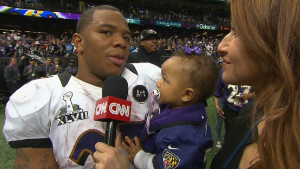 Ravens react to Super Bowl win
"Obviously, for me, it's a disappointing moment, but when you're relying on systems, it's not a human error, it's an equipment error. We'll get to the root cause of it and we'll find out what it is. It's very disappointing."
NFL Executive Vice President Eric Grubman praised the fans for remaining calm. "They acted with the belief that the game was going to come back on, just as you or I would have acted in their seats, and that's what you and I did."
Though the investigation has just begun, "There is no indication at all that this was caused by the halftime show, absolutely none," said NFL Commissioner Roger Goodell, referring to Beyonce's power-packed performance. "That is not the case from anything we have at this point."
The company completed upgrades to the stadium's electrical equipment on December 21, but that may have had nothing to do with Sunday night's problem, said Entergy spokesman Philip Allison. "Since then, we've had three major events -- the New Orleans Bowl, the Panthers-Saints game and the Sugar Bowl -- "with no issues."
On Monday, CBS aired video shot from inside a stadium control room as the outage occurred.
"All right, we lost lights," says a man as the room darkened.
Moments later, a man says, "Frank, we lost the A feed."
"What does that mean?" he is asked.
"It means that we have to do the bus tie."
"What does that mean?"
"It means about a 20-minute delay."
The CEO and director of research for Zpryme, a market intelligence and analysis firm for the utility and smart grid industry, said someone appears to have made a mistake in their estimate of how much energy the building's electrical infrastructure could handle.
"Someone made that decision not to invest, saying, 'We can handle this,'" said Jason Rodriguez. "Come to find out that their load was just much higher than anticipated."
He continued, "You can say it's the electrical infrastructure but, at the end of the day, there's a human component to it, a decision that had to be made."
But Bill Squires, a sports facility consultant, was not persuaded anyone was to blame.
"I would be very reluctant to ever point a finger, knowing what I know now, at an individual; I just think it was one of those things," he said. "I've got to believe that those guys do the preventive maintenance."
Besides, Squires said, the outage was no more than an inconvenience. "Nobody got hurt; everybody was safe."
And James Fama, vice president for energy delivery at the Edison Electric Institute, said the system appears to have worked well, given that the lights came back on and the circuitry was not damaged.
"The bottom line for any utility or any electric planner would be -- protect your equipment so that you can re-energize it. And it appears to be exactly what happened."
CBS, citing ratings figures from The Nielsen Company, said Sunday's game between the 49ers and the Ravens reached a total of 164.1 million viewers, making it the most-viewed show in U.S. history. Figures were tallied from 6:32 p.m. ET until 8:41 p.m. ET and from 9:11 p.m. until 10:47 p.m.
The average number of viewers was put at 108.4 million, which ranked it third.