Webber vows to battle Vettel for F1 title
updated 12:23 PM EST, Sun February 3, 2013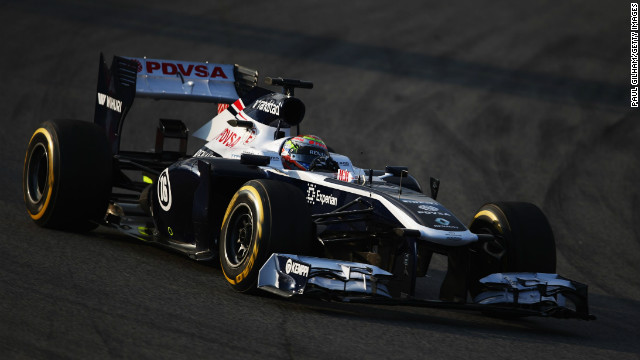 Pastor Maldonado took the new Williams for a spin at Barcelona on February 19 following the launch at Circuit de Catalunya.
The new Infiniti Red Bull Racing RB9 was launched at the Austrian-owned Formula One team's English headquarters in Milton Keynes on February 3.
Mark Webber, left, and triple world champion Sebastian Vettel pose with the Red Bull they will be driving this year.
Title rivals Ferrari launched the new F138 which they hope will power Fernando Alonso to glory in 2013.
British team McLaren unveiled its car on January 31. New driver Sergio Perez (right) poses with 2009 world champion Jenson Button and the new MP4-28.
Former McLaren star Lewis Hamilton, left, and new teammate Nico Rosberg pose with the new Mercedes W04 on February 4.
Sauber's new C32 was launched in Switzerland on February 2. It will be driven by Perez's replacement Esteban Gutierrez and Nico Hulkenberg, who left Force India in 2012.
Force India's Paul Di Resta with the new VJM06 which was launched on February 1 at Silverstone. His new teammate had yet to be named.
Charles Pic and Dutch rookie Giedo van der Garde launched Caterham's new CT03 car on the first day of preseason testing at Circuito de Jerez on February 5.
Romain Grosjean was third-fastest on the opening day in Jerez for Lotus, which was the first team to launch its new car -- the E21 -- on January 28.
F1 teams unveil 2013 cars
F1 teams unveil 2013 cars
F1 teams unveil 2013 cars
F1 teams unveil 2013 cars
F1 teams unveil 2013 cars
F1 teams unveil 2013 cars
F1 teams unveil 2013 cars
F1 teams unveil 2013 cars
F1 teams unveil 2013 cars
F1 teams unveil 2013 cars
STORY HIGHLIGHTS
Red Bull launches new RB9 ahead of preseason testing later this month
Mark Webber insists he can be a title contender this season
Australian watched teammate Sebastian Vettel win third crown last year
Team boss Christian Horner backs 36-year-old after recent in-house criticism
(CNN) -- Mark Webber vowed to push Sebastian Vettel for the 2013 world title when their champion Red Bull team launched its new Formula One car on Sunday.
The veteran Australian has had to play second fiddle to the all-conquering Vettel in the past three seasons, despite at stages being in contention for his maiden championship.
He has had to contend with recent criticism from Red Bull's motor sport advisor Helmut Marko, who claimed the 36-year-old can't cope with the title pressure.
"I do believe I can have a crack at the championship again this year, as I have done in previous seasons," Webber told reporters at the RB9's launch at the team's English headquarters in Milton Keynes.
"That is my goal and what I think about each day when I get up, and I'm working hard with the team on doing that.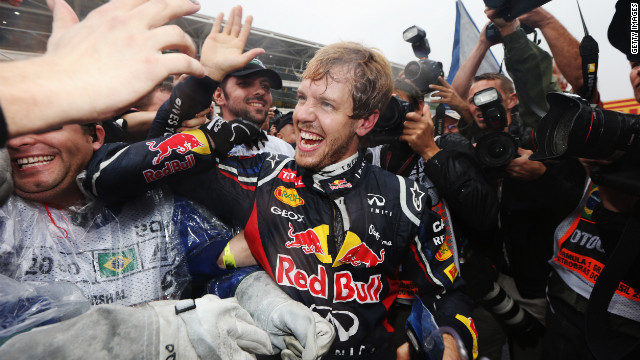 Sebastian Vettel celebrates with his team and admirers after a pulsating race at Interlagos in Brazil. But where does the Red Bull driver rank in the pantheon of F1's virtuosos?
On Sunday, Vettel fought off feisty toreador Fernando Alonso to capture the drivers' title in a dizzying denouement and join an elite band of Formula One world champions.
It is mark of Vettel's greatness that he had come to from behind at Interlagos after a nightmare start on the opening lap when he was hit on the fourth turn and suffered damage to his car. It left Vettel at the back of the grid but by the 24th lap the Red Bull racer had clawed his way back to fifth place.
"Even if he appears to have a car that makes it possible for him, nevertheless he has to do it," said seven-time world champon Michael Schumahcer of Vettel's achievements.
"He's going for it 200% and it's a very tough job," added Schumacher of Vettel's talent. "He managed to pull it out and that is the extra effort that comes from him and to do this so consistently is very special."
The 2012 season demonstrated that if you want to get ahead in F1 make sure you have a good engineer in your team. Arguably there is no better engineer in the sport than Adiran Newey.
"Schumacher had five consecutive titles but that was in a period when Ferrari had influence on tyre development," said former McLaren GP winner John Watson.
"The interesting part is that this championship has been so hard-fought and it didn't really come together until the last races,"said 1978 champion Mario Andretti. "This season has been one of the best in memory. Vettel is one of the rare talents that don't come along very often."
"Vettel is making the most of the best design in F1," added Andretti.who is one of only two American drivers to have won the Formula One title. Here Andretti (R) is seen talking to Stirling Moss, during the championship winning season in 1978.
When Schumacher won his first world title with Benetton in 1994 it was also one of F1's darkest periods. The German won the San Marino Grand Prix in 1994 where both Simtek racer Roland Ratzenberger and three-time world champion Ayrton Senna lost their lives.
Vettel celebrates with Formule One supremo Bernie Ecclestone following his title win in Brazil.
Vettel is now chasing after Frenchman Alain Prost , who won four drivers' titles.
"Fangio is my hero," said former McLaren GP winner Watson. "Why I respect him is that he won five world championships in an era when motor racing was fundamentally a slaughter."
Vettel aims to join Prost next year -- then five-time winner Fangio and Schumacher's magnificent seven are all that are ahead of him in his quest for total greatness.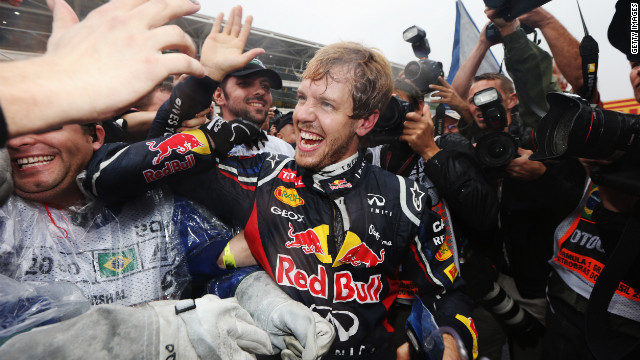 How good is Sebastian Vettel?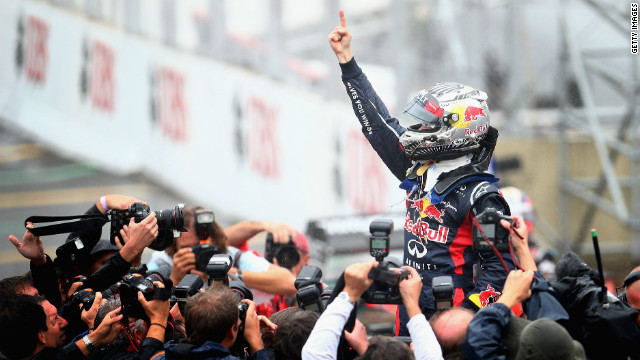 Sebastian Vettel celebrates after securing his third consecutive Formula One title. The Red Bull racer claimed a sixth place finish at the Brazilian Grand Prix to win the championship by three points from Fernando Alonso.
Fernando Alonso was looking cool and relaxed before heading into battle at Interlagos. The Ferrari driver, who started the day 13 points adrift of championship leader and title rival Vettel, qualified in eighth before being upgraded to seventh following the 10-place grid penalty meted out to Williams' Pastor Maldonado.
Vettel began the day aiming to become the youngest ever triple world champion in Formula One. The German, 25, started fourth on the grid with McLaren's Lewis Hamilton on pole. A top four finish would be good enough for Vettel to win the title irrespective of where rival Alonso finished.
Hamilton started the day on pole position ahead of his McLaren teammate Jenson Button. Brazil holds fond memories for Hamilton, who won the drivers' title at Interlagos back in 2008.
Vettel suffered a nightmare start on the opening lap after being hit on the fourth turn and suffering damage to his car. His team radio swiftly brought news, telling the German: "There is visible damage. It is not front wing, we cannot fix it." The incident left Vettel at the back of the grid but by the 24th lap of 71, the safety car had been called to clear debris from the track with the Red Bull racer having clawed his way back to fifth place.
Alonso lost grip on the first turn of the circuit as tension soared during a pulsating race at Interlagos. The Ferrari man, who last won the title back in 2006, was hoping to collect his third championship trophy by sneaking past Vettel.
Hamilton had led at Interlagos before a collision with Force India's Nico Hulkenburg forced him out of the race and allowed teammate Jenson Button to pass and claim victory.
Button salutes the crowd at Interlagos following his victory. He said: "First of all I want to congratulate the whole team. This is the perfect way to end the season. We have had ups and downs and to end on a high bodes well for 2013."
Michael Schumacher congratulates fellow German Vettel on his title triumph. Seven-time world champion Schumacher finished seventh in his final race before retirement.
Vettel celebrates with Formula One supremo Bernie Ecclestone following his title win in Brazil.
Vettel celebrates with his team and admirers after a pulsating race at Interlagos. There's sure to be a big party after another fantastic season for the German driver and the Red Bull team.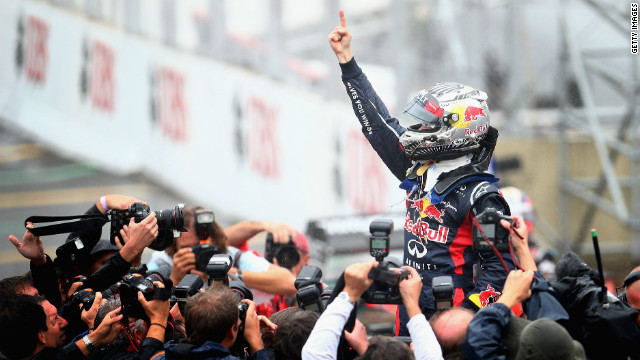 2012 F1 season climax in Brazil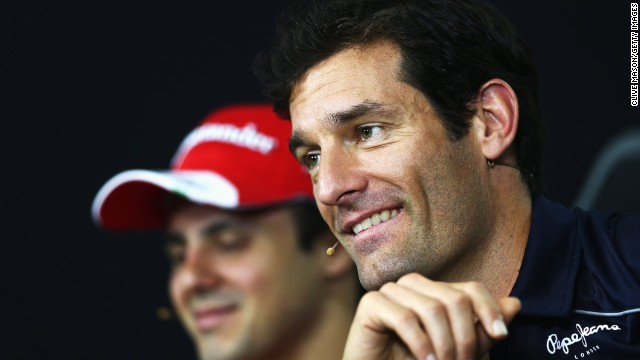 Mark Webber speaking to reporters in Sao Paulo ahead of his final Formula One race at the Brazilian Grand Prix on Sunday.
"I wouldn't say I'm happy in the Formula 1 paddock," Mark Webber told CNN. "It's an environment that's not always real. You can click your fingers for food, for whatever you want really. But for me, I always try to ensure that I treat people as I'd treat myself.
Mark Webber led the way from pole on the way to his eventual victory at the Monaco Grand Prix -- his first win of the season.
Webber takes a post-race dip as the Red Bull team celebrate another Monaco GP triumph in May. It was the second time in three years that Webber had won the sport's prestigious race.
Red Bull's Australian driver Mark Webber celebrates after winning the British Grand Prix at Silverstone -- his second victory of the 2012 season. The Australian held off Ferrari's Fernando Alonso in a close battle to win the race.
Webber is very much the understudy to double world champion Sebastian Vettel, who is seemingly on his way to a third consecutive world title.
Vettel has long been nurtured by Helmut Marko, titled a motorsport consultant at Red Bull but the eyes, ears and mouth piece of team owner Dietrich Mateschitz, and a figure Webber has not always seen eye to eye with.
Two days after his second win of the season at Silverstone in the British Grand Prix, Webber penned a new deal with Red Bull Racing, extending his contract with the team to the end of the 2013 season.
Before extending his Red Bull contract, Webber had talks with Ferrari over a possible switch to the Italian team. "Ferrari approached us first," said the Australian. "Things happen for a reason and it feels I'm staying here for the right reason. We made the decision just before Silverstone when both teams seemed pretty interested. I'm happy with that decision."
Webber's first love was for motorbikes, and he used to race them as a youngster, before turning to go-karts when he was a teenager.
Webber switched to karting as a 14-year-old and the move paid instant dividends as he won his state championship in New South Wales. The Australian describes the medium as "very raw."
Webber started off in Formula One as a test driver for the former Bennetton team in 2001 and got his big break in the form of a race seat with Minardi the following season.
Webber still looks fondly upon his time as a go-kart driver and recently took to the seat again as part of the Red Bull Kart Fight event in Japan.
Webber says: "Karting is the best way for you to get a feel of how to race each other, dealing with the competition, dealing with winning, dealing with losing and you soak it up so much at a young age and learn very fast."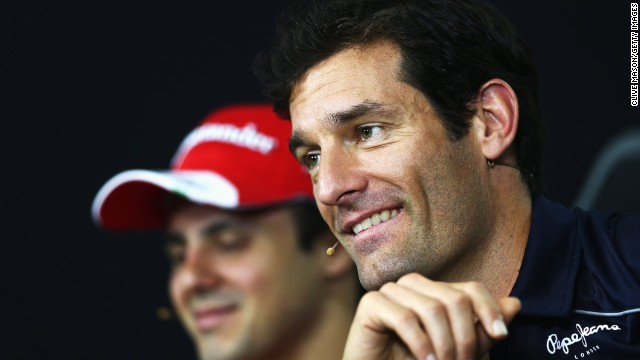 Mark Webber: From kart to cockpit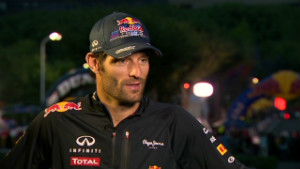 Mark Webber back in the go-kart
"They know I need 100% support. You cannot win a world title with only 90, you need 100, and we're going into 2013 with this in place, and I'm comfortable with that."
Read: Webber shrugs off Red Bull tensions
Team boss Christian Horner, who signed a new multi-year contract last week, backed Webber to be a contender despite him finishing sixth overall last season -- 102 points behind his teammate.
"If we weren't happy with Mark then we would never have signed him to be with the team for this year," he said.
"We're very happy with Mark and we give both drivers equal opportunity. It's ultimately down to what they do on the circuit.
"For us, it doesn't matter which driver wins, as long as it is a driver in one of our cars. Both of these guys believe they are the best, and the team will do the very best it can to support them."
Vettel became the youngest driver to win three world titles as he overhauled Ferrari's Fernando Alonso in the final third of the season.
"It all starts again from zero. We've all got the same chances in what will be a tough year again with a lot of races," the 25-year-old German said.
"So I'm just looking ahead. I'm not looking back on past races because I am convinced it doesn't give you a head start or an advantage.
"Obviously, the expectations are still there, but more than that we expect ourselves to do well again, so there is a lot of pressure.
"Right now there is excitement to get back into the car, start testing, then go racing and find out where we are. It's one thing to do all the talking now, but as soon as you have the helmet on, you simply want to perform and do your best."