Warm temps are near, Punxsutawney Phil predicts
updated 6:37 PM EST, Sat February 2, 2013
STORY HIGHLIGHTS
Punxsutawney Phil misses his shadow
As legend goes, that means an early spring
Last year, he predicted colder temperatures
Georgia groundhog sees more winter
Editor's note: Take the iReport Groundhog Day challenge!
(CNN) -- If you were hoping to be done with winter, Punxsutawney Phil had some good news for you -- spring is on the way.
After the groundhog was summoned from his burrow at the Gobbler's Knob hill in Punxsutawney, Pennsylvania, observers proclaimed that "the prognosticator of all prognosticators" had not seen his shadow.
Meanwhile, at New York's Staten Island Zoo, fellow groundhog Staten Island Chuck also didn't see his shadow, agreeing that an early spring was on its way. But General Beauregard Lee, a Georgia groundhog, saw his shadow, signaling six more weeks of winter.
Punxsutawney's celebration goes back 127 years.
The tradition goes back to medieval times when there was a superstition that all hibernating animals emerged from their caves and dens to check the weather on Candlemas, which is halfway between the winter solstice in December and the vernal equinox in March. If the animals saw their shadows, winter would go on for another six weeks, and they could go back to sleep, according to the tradition.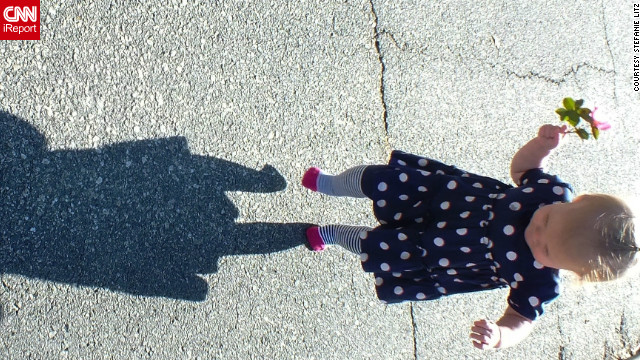 iReporter Stefanie Litz of Columbus, Georgia, said her 14-month-old daughter enjoyed the beautiful winter day. "She only wanted to walk and walk and walk with her little pink flower, but it slowly lost its petals."
iReporter Ilnaz Shirvani and her husband captured this photo at Seal Point Park in San Mateo, California. "I personally would love to see the spring come early," she said.
Kenji Croman shot this picturesque image on Instagram from Maui, Hawaii.
Both professional dancers, iReporter Carolyn Paine and friend Alex Zarlengo couldn't resist dancing for their shadow photo. "After taking the photo we ended up just dancing around with our shadow selves," she said. "Personally, I want spring to come as soon as possible. I hate the dark, cold winter."
iReporter James Stephenson snapped this photo of himself and his daughter in front of his home in Miami Beach. "Groundhog day was beautiful and spring-like in Miami. I think we're in for good weather. Of course, that's a safe bet around here," he said.
Taking a walk on the beach with her husband, iReporter Amanda Judice took this photograph in Seabrook, Texas, at 10 a.m. on Groundhog Day. "I think spring is just around the corner," she said. "Our weather today is absolutely beautiful. Big blue sky, only a slight wind and 65 degrees."
Ali Her of Dallas posted this photograph while fishing at Kidd Springs Park on Groundhog Day. She's predicting an early spring.
iReporter Holly Naab shot this photo of her and her puppy, Frank, at a park in Elkhorn, Nebraska. "I'm hoping for an early spring, so Frank can get outside more," she said.
iReporter Lulis Leal shot this creative photo of her shadow in Cedar Grove, New Jersey, and says she is looking forward to warmer weather.
iReporter Krishna Sharma took a fun spin on shadows on Groundhog Day. " I used a few sheets of white paper and tried to cut out CNN via scissors," he said.
iReporter Jannet Walsh snapped this photo her shadow along with her 14-year-old dog Andrew. "It's been hard to walk the dog in the brutally cold arctic weather, as I am too cold to walk him," she said.
Mike Mattson snapped this photograph on Instagram in Vancouver, Washington.
Adrian Gates snapped this photograph on Instagram in Dallas, Texas.
Snapping this photo of his shadow on at 9:33 a.m. in Springfield, Missouri, iReporter Michael Goodling is betting on a shorter winter.
In London, iReporter Richard Gough predicts winter will be longer this year.
Dominican Republic resident and iReporter Misael Rincón says he prefers the cold to tropical heat. "For my country, it's always spring and summer," he said.
iReporter Natalie Montanaro shot this photo of her shadow along with a horse weather vane and hourglass. "I was thinking about the "Wizard of Oz" when I spotted the hourglass near the fireplace so I put on my dancing shoes to set up a shot," she said. "I so wish that there will be an early spring."
iReporter Rummel Pinera captured this photo at his home city of Muntinlupa in the Philippines. "I want spring to come earlier," he said. "It would mean an earlier summer in tropical countries like the Philippines."
iReporter Jennifer Hainin took this shadow photo of her on her horse. "It would be great for spring to come early, as long as that doesn't mean that summer comes sooner," she said.
Valentyn Desiatnyk took this photograph on Instagram from Kyiv, Ukraine, on Groundhog Day.
iReporter Lia Ocampo took this photo of her shadow outside her home in Queens, New York.
iReporter Shari Neluka Atukorala from Sri Lanka says it'd be nice to have a little bit of sunshine.
Tara Abadir shot this photo on Instagram while on vacation in Park City, Utah.
Raquel Zaldivar snapped this photo on Instagram in Miami, Florida, on Groundhog Day.
Alline da Costa snapped this photograph from Rio de Janeiro, Brazil, using Instagram.
iReporter Kathi Cordsen captured this photo at 7:45 a.m. on Groundhog Day in Fullerton, California, and predicts it'll be a shorter winter for Californians this year.
iReporter Gail Powell captured her shadow in San Diego, California. "I swim in my pool for exercise every day, rain or shine. so I am good with whatever the weather brings," she said.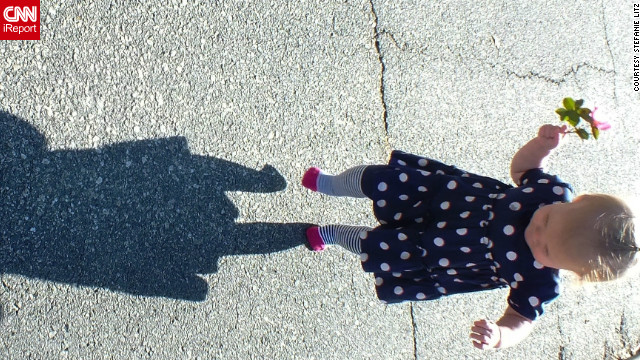 CNN iReport shadow challenge!
Much of the United States has seen extreme highs and lows in temperatures in recent weeks, taking folks from shorts and T-shirt weather to conditions that require heavy coats and gloves.
Here's what Phil indicated in the last few years, according to Groundhog.org:
2012: "Many shadows do I see, six more weeks of winter it must be."
2011: "No shadow, spring is near!"
2010: "Phil saw his shadow and told his prediction to new Inner Circle President Bill Deeley."
2009: "Phil saw his shadow and Inner Circle President Bill Cooper completed his final interpretation and retired at Gobbler's Knob. It was 7:26 a.m."
2008: "It was 29 degrees. In front of one of the largest crowds ever at Gobbler's."