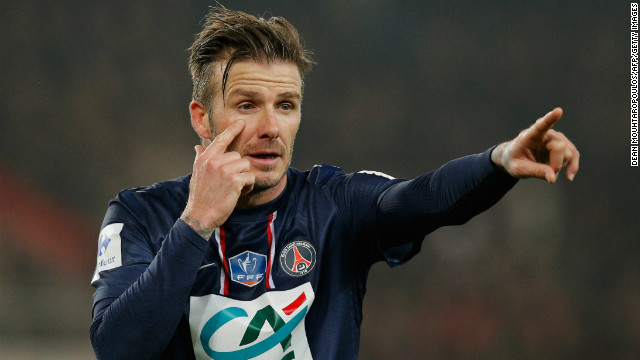 David Beckham made an immediate impact at Paris Saint-Germain, with victories in his first two appearances against French rivals Marseille.
He was unveiled at the Parc des Princes on the final day of the January 2013 transfer window, and announced that he will donate the pay he receives during his five-month contract to a children's charity in Paris.
Beckham celebrated his second MLS Cup success with Los Angeles Galaxy in December 2012, when he decided to leave with a year left on his contract as he sought one final career challenge in Europe.
David Beckham made his debut for English Premier League team Manchester United in 1993. By 1996, the midfielder was becoming renowned for his ability to score and create goals with his now legendary right foot. In a match against Wimbledon, Beckham stunned football fans by scoring from the halfway line.
Beckham swiftly progressed into the England team and was part of Glenn Hoddle's squad for the 1998 World Cup in France. In a second-round match against Argentina, Beckham was sent off for kicking out at Diego Simeone. England lost the match on penalties and were eliminated, with Beckham becoming a hate figure for some fans.
Beckham rebuilt his reputation and in 1999 was a key part of the Manchester United team which became the first English club to win the Premier League, FA Cup and European Champions League in the same season. The Old Trafford side, led by Alex Ferguson, secured the treble thanks to a stunning late comeback against Bayern Munich in the Champions League final.
Beckham's redemption was complete in 2000, when caretaker England manager Peter Taylor made him captain of the national team. He retained the role under Sven-Goran Eriksson, leading England at the 2002 and 2006 World Cups and the 2004 European Championships.
In 2003, after a turbulent final few months at United which involved Ferguson accidentally kicking a boot at Beckham, he joined Real Madrid's "Galacticos".
But Beckham's spell in Madrid didn't produce the trophy rush he had hoped for. His sole title came in 2007, under future England manager Fabio Capello, thanks to a win against Real Mallorca on the final day of the season.
Beckham made the switch to Los Angeles Galaxy in the U.S.'s Major League Soccer in 2007. His stated aim was to raise the profile of soccer in the country.
Four years after heading to the States, Beckham finally won the MLS Cup with Galaxy last season. Galaxy beat Houston Dynamo 1-0 in the final thanks to a goal from Landon Donovan.
Off the pitch, Beckham is famous for being one half of one of the world's most high-profile couples. He started dating Victoria Adams of British pop group Spice Girls in 1997. The pair married in 1999 and have four children, son Brooklyn, Romeo and Cruz and daughter Harper Seven.
Football fans wear masks depicting Beckham at the London 2012 Olympics. He was not picked for the GB team, but played a big role in his hometown being awarded the Games.
The career of David Beckham
Paris plan
Leaving LA
On the rise
Red mist
Treble
Redemption
Beckham's Real deal
Golden goodbye
Reborn in the USA
Glory with Galaxy
Posh and Becks
London lad
STORY HIGHLIGHTS
David Beckham signs short-term contract at Paris Saint-Germain
Soccer icon says he will donate his wages to a Paris children's charity
The 37-year-old ends speculation about his future after leaving L.A. Galaxy
He had spent six years in U.S. but decided to end his contract early
(CNN) -- Brand Beckham is moving from the "City of Angels" to the "City of Light."
Soccer star David will take former popstar wife Victoria and their four children back to Europe, with big-spending French club Paris Saint-Germain confirming that the former England captain has passed a medical and signed a short-term deal ahead of Thursday's transfer deadline.
The 37-year-old was later unveiled at a press conference, ending speculation about his next destination following the end of his six-year spell with U.S. MLS team Los Angeles Galaxy in early December.
Beckham said he will donate the wages earned during his five-month contract to a children's charity in Paris.
"It's something exciting and something I'm not sure has been done before," he told reporters, and revealed that his family will be based in his hometown London.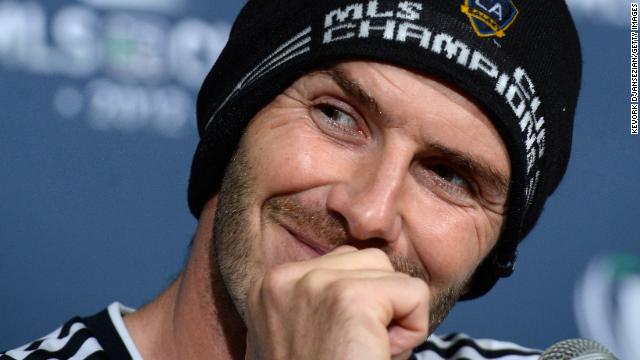 David Beckham ended his five-year stint in America's pro soccer league in style Saturday as his team, the Los Angeles Galaxy, won the MLS Cup. The Galaxy defeated the Houston Dynamo 3-1 to win the cup for the second year in a row. Nearly two weeks ago, the team announced that Saturday's game would be Beckham's last with the team. Pictured, Beckham addresses the media after the game on Saturday, December 1, in Carson, California.
Beckham drinks out of the MLS Trophy after the victory.
Fans hold up signs for Beckham at The Home Depot Center during the game.
Beckham looks on while taking on the Houston Dynamo.
Galaxy captain Landon Donovan holds up the MLS Trophy as David Beckham, lower left, and other teammates celebrate their win.
Beckham attacks as Dynamo goalkeeper Tally Hall tries to stop the ball in the second half.
Beckham has a free kick in the second half.
Beckham waves to fans as he walks off the pitch after the game.
Beckham kicks a corner kick.
Beckham leaps over Houston's Brad Davis in the second half.
Beckham celebrates in the second half.
Beckham and Houston's Ricardo Clark go for a header in the first half.
Beckham attempts to disrupt an inbound pass by Houston's goalie Tally Hall in the second half.
After the win, Beckham celebrates with his sons Brooklyn, Romeo and Cruz.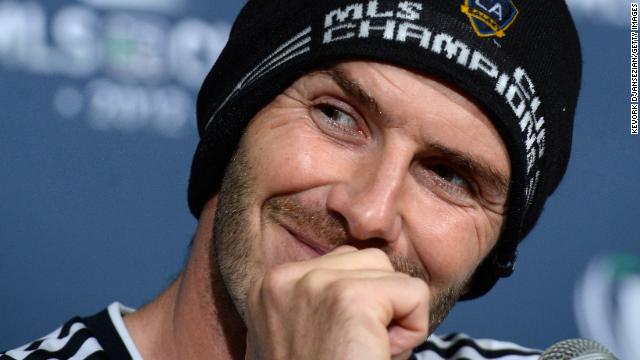 Photos: David Beckham's last U.S. game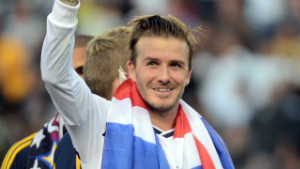 David Beckham's last U.S. game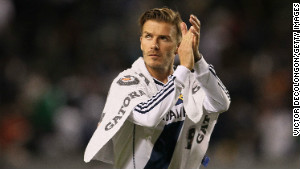 End it like Beckham
He had been linked with a host of clubs around the world but, in the twilight of his career, has decided to join a team on the rise thanks to the injection of hundreds of millions of dollars by its Qatari owners.
Read: CNN's transfer deadline live blog
"It's simply a very nice piece of short-term brand alignment that will be mutually beneficial to both parties," sports business expert Simon Chadwick told CNN.
Beckham is one of the world's most recognisable names, both for his sporting prowess and numerous off-pitch endorsement deals, and his pulling power could provide a valuable income stream for PSG -- which must conform to European football's financial fair play rules that restrict over-spending by club owners.
"I think it's very difficult to quantify," Chadwick said. "He's been away from Europe for too long -- he's now really in his twilight years, we don't know what part he'll play in the team, we don't know how he'll be used for commercial purposes, we don't know how the French public will respond.
"And we don't know how international fans will engage with and consume the PSG/Beckham brand. We may see a spike in activity such as increases in ticket sales, but I am not entirely convinced that there'll be a significant sustainable stream of revenues."
Read: Did the Beckham project succeed in U.S.?
However, one leading football executive who had unsuccessfully tried to persuade Beckham to join his team said that the midfielder still had a strong role to play on and off the pitch.
"Not only were we looking for a playmaker in midfield but also a leader in the dressing room and someone to set the standards on and off the pitch. Beckham would have brought all that," the executive told CNN on condition of anonymity.
"Sure Beckham would have ensured exposure and possibly commercial opportunities, but without the quality as a player it wouldn't have been at all interesting."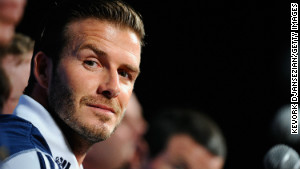 David Beckham's U.S. soccer legacy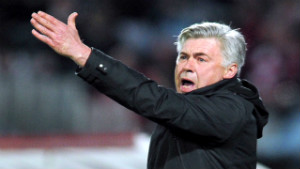 French football club spends big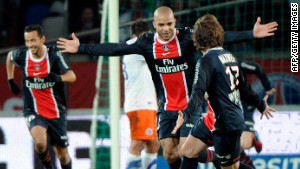 PSG's push for football glory
Beckham had the chance to join PSG in January 2012, but opted to stay in the U.S., ending his American mission with his second MLS Cup title before announcing that he would not fulfill the second year of his contract extension.
"I chose Paris because I can see what the club are trying to do. I can see who the club are trying to bring in," he said Thursday.
"It's an exciting city and now there's a club that's going to have a lot of success over the next 10, 20, 30 years. I'm very honored I've been picked to be part of the future of PSG."
One man who saw him up close in the U.S. believes the former Manchester United and Real Madrid star still has what it takes to perform on the big stage.
"At first it is like the marketing -- you bring in him more for the brand than the player," said former PSG defender Didier Domi, who played in the MLS for New England Revolution in 2011.
"But when I watched him in the MLS he still has the physical condition to play at the highest level. He likes to compete. On the pitch he can add a lot.
Read: Transfer window's risky business
"They are not signing him for his ability to sprint -- it's his technique and vision. He has that ability to elevate his game depending on the opposition. He can play a part for PSG in both Ligue 1 and Champions League."
"Les Parisiens" are seeking to win the French title for the first time since 1994, having been runner-up last season.
The club's owners, the Qatar Investment Authority, have splashed out on top players such as Zlatan Ibrahimovic, Thiago Silva, Javier Pastore and Lucas Moura since taking over in 2011.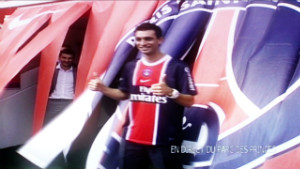 Javier Pastore predicts PSG success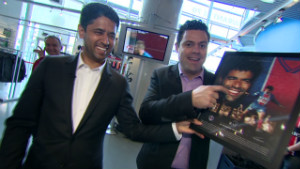 Paris St-Germain's ambitious president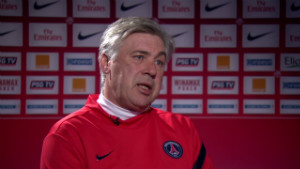 Ancelotti eyes PSG success
Carlo Ancelotti's team tops the Ligue 1 table on goal difference after 22 of 38 rounds in the 2012-13 campaign, and will play in the knockout phase of Europe's top club competition in a two-legged tie against Spanish club Valencia on February 12 and March 6.
Former AC Milan coach Ancelotti managed Beckham during the former England captain's first loan spell with the Serie A club in 2009.
However, Beckham might be struggling to be fit for those matches, according to the manager of English club Arsenal -- who allowed the veteran to train with his squad this month.
"He told me that he doesn't look at all to be in shape. Beckham is super-ambitious," Arsene Wenger told reporters this week.
"If, in his mind, he wanted to play in the Premier League he would not have gone on holiday. He would have prepared and come in and tried to impress me. He told me he has done nothing at all."
Beckham admitted it might take "a few weeks" to get fully fit.
"It won't take long," he said.
He explained that he could not play for another club in England except Manchester United, where he won six Premier League titles and the Champions League before moving to Spain in 2003.
"It's the team I support and the team I dreamed of playing for," said Beckham, who to Manchester as a teenager and progressed through the club's academy.
"I'm very honored by the offers I had from other Premier League clubs but I didn't want to play there unless it was for Manchester United."