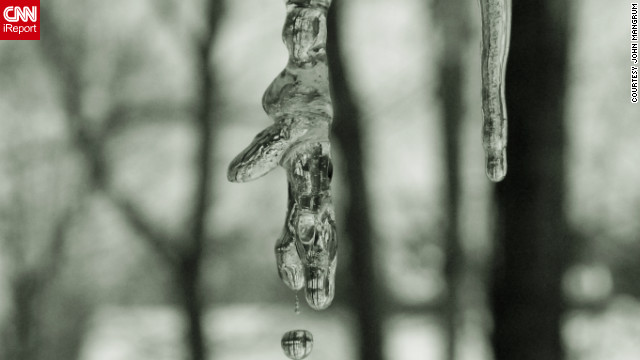 John Mangrum
returned from a vacation in early January and was greeted with about 10 inches of snow that had fallen the previous few days. "Luckily," he said, "the temperature had warmed up enough to produce some beautiful icicles hanging from the roof."
Cindy Schultz
spotted these intricate crystals in the frost outside her kitchen window. "Winter can be a beautiful time of year, as long as you bundle up!" she said.
this shot of icicles
hanging off a backyard swing on January 25, the day a wintry mix of rain and snow hit the area.
Ice and snow are not very common in Knoxville, Tennessee, says Sabah Moetasim, so "we tend to enjoy these situations and capture them in memories." She used a macro lens to capture
shared this photo
and others from the grassy patch next to her office parking lot. Normally, he says, the plants look "very ordinary," but a frost "illuminates some of the intricate details" of even the smallest leaf.
One freezing morning changes everything. Krishna Sharma
frozen formations
on Paterson, New Jersey's Great Falls. She called her sister and told her, "Get dressed warm, we are going to get some photos." Newby says, "I love, love, love winter photography and will dress like an eskimo to get good photos."
Caroline Newby saw a news report about the
when he spotted this cardinal
and "took as many pictures as I could."
After a late January ice storm in Greenville, North Carolina, Richard Barnhill was walking around his parents' yard
Danny Murphy
spotted these icicles on his son's pickup truck as Iowa dealt with its worst ice storm since 2007. He snapped photos on January 27.
Stormchaser
Kevin Cavallin
, a biologist and amateur photographer in Ames, Iowa. He came close to falling a few times trying to kneel down to get a good shot of icicles on a railing. Be careful out there!
Ice photography can be "a contact sport ... with the ground," says
Lee Gunderson
. "When the sun comes on frozen rain or hoar frost it is always beautiful."
"Beauty always comes with great storms, no matter where you are," says
Albany, New York
Franklin, Wisconsin
Knoxville, Tennessee
Medina, Ohio
Paterson, New Jersey
Greenville, North Carolina
Hazleton, Iowa
Hazleton, Iowa
Ames, Iowa
Stettler, Alberta, Canada