Monster ride: Surfer catches 'world's biggest wave'
updated 2:39 AM EST, Wed January 30, 2013
STORY HIGHLIGHTS
Garret McNamara's wave believed to be 100 feet high
Small Portuguese fishing village has some of the world's most dangerous surf
Giant swells generated by unique deep water canyons
(CNN) -- He is but a dot in the ocean, gathering speed and rapidly rising as a mammoth wall of water expands below and behind him.
Simultaneously fearsome and awesome, this may be the moment Hawaiian rider Garret McNamara on Monday broke his own record for the largest wave ever surfed.
Caught off the coast of the small fishing village of Nazaré, Portugal, the monster wave was reported to be more than 100 feet high, or 30.5 meters.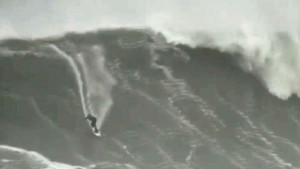 Anderson Cooper interviews McNamara
"It was just this endless drop and my feet were popping out of the straps," McNamara told CNN's Anderson Cooper. "It was like my whole body was shattering. It was really difficult."
If accurate, the wave towers over his 2011 surf of a 78-footer (24 meter) at the same location. Nazaré officials have requested an impartial verification of a possible new world record.
Thanks to one of the only deep water canyons in the world that connects to shore, Praia do Norte -- the north beach of Nazaré -- sees abnormally large waves.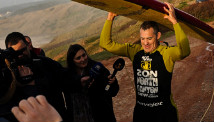 McNamara: "One of the hardest, longest drops."
A group of extreme surfers descended on the Portugal coast this past week, providing some amazing experiences for onshore observers and some very social media-friendly video and photos.
McNamara was first invited by the Nazaré Town Hall in 2010 as part of a three-year project to explore the local coast's unique geomorphic phenomenon and to bring more awareness to the area as a destination for big-wave enthusiasts.
Though onlookers were spellbound by McNamara's ride, the surfer said he didn't get that much of a rush.
"I don't know what's wrong with me. There's definitely something wrong," McNamara said in his interview with Cooper.

Part of complete coverage on
updated 9:36 AM EDT, Mon April 29, 2013

You heard of the two guys who recently opted in to a two-year, $1.5 million holiday? These are some of the sights they'll be privy to.

From sedate village areas to coastal havens, these four off-the-path spots provide a big, lazy dollop of calm and intrigue.

The old country of conflict and cartels has largely disappeared, replaced by a rejuvenated capital and a resilient culture.
updated 9:24 PM EDT, Tue April 16, 2013

With new wing and engine designs, the latest version of the legendary jet is the longest commercial plane in the skies. Here's what else is new.

Because even people who enjoy memorizing train timetables -- yes, they exist too! -- need a place to relax.

After three years at the top Rene Redzepi's Noma falls a place and three Spanish restaurants make the top 10.
updated 3:59 AM EDT, Mon May 6, 2013

Some of Italy's lesser known towns and villages are equally, or more, impressive as the bigger drawcards. Here are our favorites.
updated 2:11 AM EDT, Fri April 12, 2013

It might be the biggest phenomenon to hit the global travel industry since the invention of commercial flight -- Chinese tourism.

Vanity, thy name is bird poo ... and beer baths ... and anything else that makes us look and feel good.
updated 8:25 AM EDT, Thu May 2, 2013

Hong Kong's busy harbor is never short of action, but the great big yellow duck that floated into town on Thursday turned everybody's heads.

Sharks, hot springs, mountain vistas, water elevators -- all without having to leave room service delivery range.
updated 1:05 AM EDT, Fri April 26, 2013

Listen up, Big Travel! These fixes would make travel more pleasant for us and save you money