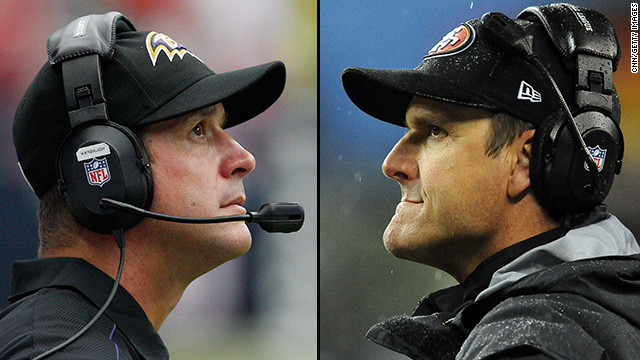 John Harbaugh, left, and Jim Harbaugh became the first siblings to face each other as coaches in a major sports match-up on Super Bowl Sunday in 2013. Older brother John Harbaugh's Baltimore Ravens won over the San Francisco 49ers. Here's a look at some of the most dramatic, best-known sibling rivalries -- real and fictional:
Probably the biggest (fictional) brother vs. brother rivalry took place on the popular 1980s TV show "Dallas." Bad boy J.R. Ewing -- played by actor Larry Hagman, right -- squared off against his good-guy brother Bobby, played by Patrick Duffy.
The good-versus-evil brotherly battle between Marvel comics characters Thor, left, and Loki was the core of last year's record-breaking blockbuster movie, "The Avengers."
Noel and Liam Gallagher's tumultuous relationship still triggers tabloid headlines today, years after Noel -- the calmer half of the brotherly partnership -- quit the British band Oasis.
Esther "Eppie" Lederer, left, doled out advice under the name Ann Landers, while her twin sister, Pauline Phillips, authored the "Dear Abby" advice column under the pseudonym Abigail Van Buren. Phillips died in January 2013.
Biblical brothers Cain and Abel were the first -- and one of the worst -- examples of sibling rivalries. Cain's murder of his brother is depicted in this 17th century painting by Bartolomeo Manfredi.
Sibling rivarly was a running theme in the Smothers Brothers comedy routine in the 1960s. Tommy, right, often told Dick, "Mom always liked you best."
Serena Williams, right, and Venus Williams have dominated women's tennis since they first went professional in the late 1990s. The sisters are close, and often pair up during doubles competitions. But they've competed against each other in the finals of eight Grand Slam singles tournaments, including Wimbledon.
Famous sibling rivalries
Famous sibling rivalries
Famous sibling rivalries
Famous sibling rivalries
Famous sibling rivalries
Famous sibling rivalries
Famous sibling rivalries
Famous sibling rivalries
STORY HIGHLIGHTS
For the first time, two sibling coaches will face-off in a major sports matchup this Sunday
Jim and John Harbaugh have played down the notion of any rivalry
Brother-versus-brother is a common theme from the Bible to network TV
Join CNN on Saturday at 4 p.m. ET for "Kickoff in New Orleans: A CNN and Bleacher Report Special" hosted by Rachel Nichols and Ernie Johnson.
(CNN) -- It's an "epic" first, ushering in "one of the most incredible sports stories" of our time. The result of a storied brotherly rivalry.
Leading up to Super Bowl Sunday, some sports columnists and football aficionados are having a field day with the "Harbowl."
John Harbaugh, coach of the Baltimore Ravens, will face off against his 15-months-younger brother Jim, head coach of the San Francisco 49ers.
Top 20 sibling rivalries in sports
Some football fans are complaining that the storyline is overhyped. And the brothers themselves reject it, emphasizing their bond.
Still, the super siblings will make history when their teams duke it out this weekend at the Mercedes-Benz Superdome in New Orleans.
People all over the world love a good story of a brotherly feud, whether fictional or real. We decided to take a look at some of the biggest ones.
The Bible
Cain and Abel. Jacob and Esau. Joseph and his brothers. Moses and Pharoah (they grew up together). Not to mention Isaac and Ishmael. If you're looking for brother vs. brother rivalry, no better jumping off point than the Old Testament.
Thor vs. Loki
Comics and cartoons are home to numerous good vs. evil battles represented by two archetypal brothers. See the Lion King's Mufasa vs. Scar. Or the story at the core of last year's record-breaking blockbuster "The Avengers," based on Marvel comics. Loki, Thor's evil adopted brother, tries to terrorize all of humanity.
J.R. vs. Bobby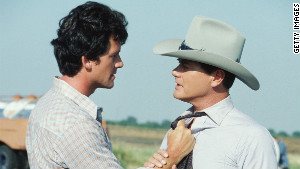 Probably the biggest brother vs. brother rivalry took place on the popular 1980s TV show, "Dallas."
Sometimes you just loving watching the bad guy. On "Dallas," conniving J.R. Ewing was forever squaring off against his good-guy brother Bobby. The show's been resurrected with that battle at the center. But with Larry Hagman's death, J.R. vs. Bobby -- probably the biggest brother vs. brother rivalry in TV history -- will likely end as well, after the episodes Hagman already shot for the new season that began this week.
(Coincidental corporate synergy alert: The new "Dallas" is airing on TNT, which, like CNN, is a part of Time Warner.)
When brothers disband
Brotherly feuds have poisoned the waters for successful musical acts, including the Everly Brothers, which Rolling Stone calls "Rock's First Sibling Rivalry."
And more recently, similar bitterness helped bust the popular band Oasis. Liam and Noel Gallagher's feud included public spats and legal action. (See also The Kinks, the Isley Brothers and more in this spread from zencollegelife.com.)
Battle of the billionaires
Who doesn't hate feuding with their billionaire sibling over the future of a massive empire?
So we can all commiserate with Mukesh and Anil Ambani, who split up their father's Reliance Group and have fought to see whose vision for the future of Indian business will prevail.
Brotherly love trumps competition
I'll never forget watching the 1984 Olympics as a kid. Twin brothers Phil and Steve Mahre won gold and silver in the slalom at Sarjevo. After Phil finished his race, he used a walkie-talkie to give hints to his brother. I remember thinking, he wants his brother to do well more than he wants to be able to say he beat him. So, while rivalries abound, brotherly love can win out.
Sisterly feuds just as strong
We could of course double this list by looking at rivalries between sisters as well. A big one that's been in the news lately: Pauline Phillips, advice columnist behind "Dear Abby," passed away last month. Her twin sister was the equally famous advice columnist Esther "Eppie" Pauline Friedman Lederer known as "Ann Landers." They were locked in a feud for years.
Biggest sibling rivalries - join the discussion on Facebook
What other sibling rivalries stick out in your mind? Let us know in the comments below.