Judge rejects new trial for Sandusky
updated 12:27 PM EST, Thu January 31, 2013
STORY HIGHLIGHTS
In October, Cleland sentenced Sandusky to 30 years in prison for sexually abusing boys
Defense attorney Joe Amendola testified that he had been unprepared for the trial
The scandal led to the firing of Penn State head football coach Joe Paterno
(CNN) -- Former Penn State assistant football coach Jerry Sandusky, who's serving a prison sentence for sexually abusing young boys, will not get a new trial, as he'd hoped.
A Pennsylvania judge Wednesday rejected all the post-trial petitions filed by Sandusky and his attorneys, who had claimed they didn't have enough time to prepare their case.
In a 27-page opinion, Judge John Cleland said the proceeding was "simply not a case where trial counsel's inability to review before trial all of the discovery material produced can be said to have resulted in a 'structural defect' that made the lack of a fair trial a virtual certainly."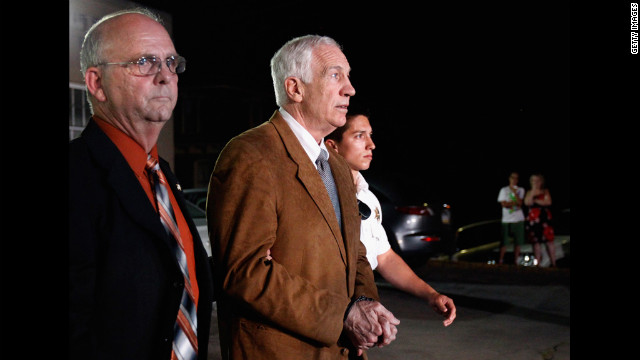 Former Penn State assistant football coach Jerry Sandusky leaves the Centre County Courthouse in handcuffs after a jury found him guilty in his sex abuse trial on Friday, June 22.
Sandusky is escorted in handuffs to a police car at the Centre County Courthouse under the glare of TV lights. The jury found Sandusky guilty on 45 of 48 counts.
Defense attorney Joe Amendola talks to the media after the trial.
Dottie Sandusky, who has been married to Sandusky for 46 years, walks with her husband while jurors deliberate. She testified that she did not witness any sexual abuse.
Matt Sandusky, one of Jerry Sandusky's six adopted children, said Thursday through his attorney that he also was sexually abused and was prepared to testify.
Shadows of the media are seen outside the courthouse during the second day of deliberations. Jurors took 21 hours over two days to convict Sandusky on 45 of 48 charges against him.
Sandusky's attorney Joe Amendola arrives at the courthouse Friday. After the conviction, Amendola announced plans to appeal despite the mountain of convictions against his client.
Judge John Cleland walks into the courthouse. Once the jury reached its decision, he revoked Sandusky's bail and ordered his arrest.
Prosecutor Joseph E. McGettigan III, second from left, and the rest of his prosecution team arrive at the courthouse Friday.
A crowd gathers outside the Centre County Courthouse in Bellefonte, Pennsylvania, to await the Sandusky verdict.
Sandusky faces the cameras as he is led to a sheriff's vehicle in handcuffs after the reading of the verdict.
Sandusky is put into a police car.
Sandusky was booked into the Centre County Correctional Facility.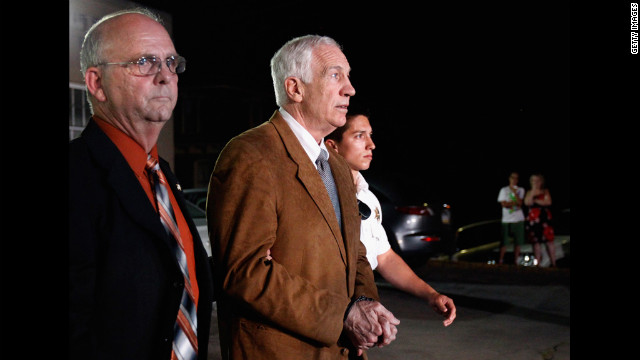 Photos: Jerry Sandusky convicted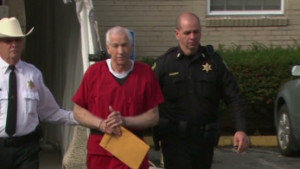 Sandusky victim: 'I do not forgive you'
In October, Cleland sentenced Sandusky to no less than 30 years in prison for sexually abusing 10 boys.
Defense attorney Joe Amendola testified that he had been unprepared for the trial, but also conceded that after reviewing the documents post-trial, he didn't see anything he would have done differently in defending the former coach.
The sex abuse scandal led to the firing of Penn State's head football coach, Joe Paterno, and the ouster of the university's longtime president, Graham Spanier. Paterno died in 2012 of lung cancer.
The NCAA slapped Penn State with fines and sanctions over the case, but Pennsylvania's governor announced a lawsuit against the collegiate athletic board, saying Sandusky's actions were a criminal matter and not a violation of NCAA rules.