STORY HIGHLIGHTS
Protesters rally, demanding justice and tighter regulation
A firework set off in the club was not for indoor use, police say
Investigators found evidence of faulty and fake fire extinguishers
Police identify the two club owners and two band members they arrested
iReport: Are you there? Share your story.
Santa Maria, Brazil (CNN) -- The teacher who lost four students. The mother whose son died, while another clings to life. The photographer who survived but is haunted by guilt.
As the southern Brazilian city of Santa Maria began to buzz again Tuesday with cars and people, a somber mood still ruled the streets, where a nightclub fire Sunday claimed 235 lives.
Just about at every corner you could hear angry voices raised in talk about who is to blame for the massive blaze at the Kiss nightclub. Protesters rallied, demanding justice for those killed and tighter enforcement of regulations.
In addition to the deaths, 74 people remain hospitalized in critical condition, Brazil's health ministry said.
In Santa Maria alone, 100 of the dead were buried Monday in three different cemeteries.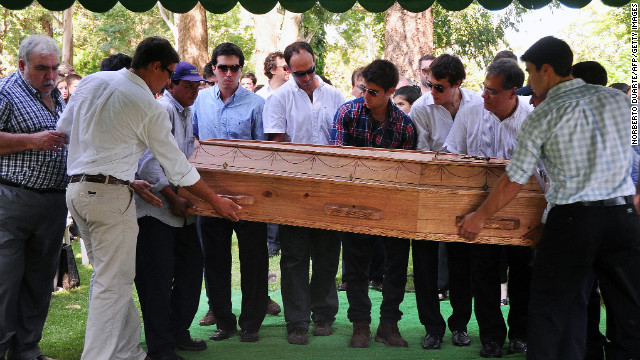 Relatives and friends of Paraguayan student Guido Britez, 21, who died in a fire at the Kiss nightclub in Brazil, carry his coffin during the funeral in Asuncion on Tuesday, January 29. More than 230 people died and more than 120 were injured early Sunday when a fire tore through the nightclub packed with university students in southern Brazil, police said.
Guido Britez's family attends the funeral on January 29.
Mauro Hoffman, co-owner of the Kiss nightclub, is taken into custody by police in Santa Maria, Brazil, on Monday, January 28.
Residents of Santa Maria, Brazil, hold a march on January 28 to honor the victims of the Kiss nightclub fire and demand justice for them.
Residents march along Rio Branco Avenue on January 28, demanding justice for and to honor the Kiss nightclub fire victims.
A violinist comforts another during the march on January 28.
Demonstrators carry candles through the streets in Santa Maria on January 28.
Soldiers carry the coffin of a victim of the nightclub blaze on January 28.
A priest celebrates Mass in a public square in the center of Santa Maria on January 28.
Mourners cry at the municipal cemetery on January 28.
The entrance to the Kiss nightclub is covered in soot on January 28.
Relatives and friends of one of the victims of the Kiss nightclub fire gather during the funeral at Santa Rita Cemetery in Santa Maria on January 28.
Firefighters stand at the burnt-out entrance of the Kiss nightclub on Sunday, January 27, in Santa Maria, Brazil.
Relatives wait to identify victims at the municipal gymnasium in Santa Maria on January 27.
Relatives of victims weep during a funeral in Santa Maria on January 27.
Relatives pray at the wake of a victim on January 27 in Santa Maria.
Relatives of a victim of a fire that broke out at the Kiss nightclub weep during the funeral in Santa Maria, Brazil, on Sunday, January 27.
A woman weeps on a coffin as relatives of the nightclub fire victims identify bodies.
People console each other during a collective wake for the victims of the nightclub fire.
A coffin decorated with a photograph and image of the Virgin Mary is surrounded by mourners.
Brazilian President Dilma Rousseff, right, consoles relatives of victims of the fire.
Emergency personnel gather outside the burned-out Kiss nightclub in Santa Maria, Brazil. The nightclub is popular with young people, drawing between 2,000 and 3,000 people a night on the weekends.
A firefighter, center, carries a victim away from the blaze.
Residents look on as bodies of victims are transferred from the site of the fire to a municipal sports center.
People cry after a getting news about the deadly fire.
Firefighters work to extinguish the blaze that broke early Sunday.
Victims were dragged out of the nightclub and received preliminary medical treatment on the ground.
Firefighters, onlookers and police gather outside the burned-out club.
A grieving woman talks on her cell phone after the fire.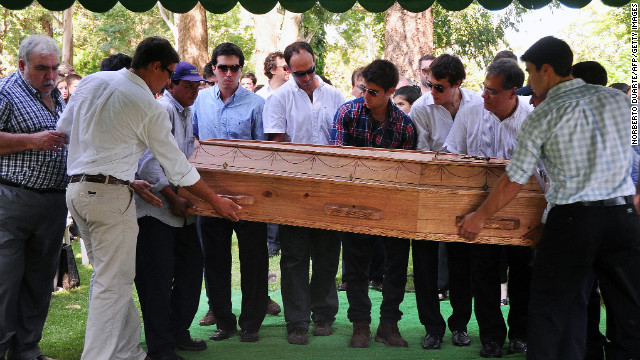 Hundreds dead in Brazil nightclub fire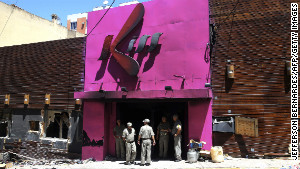 Brazil club fire echoes 2003 R.I. fire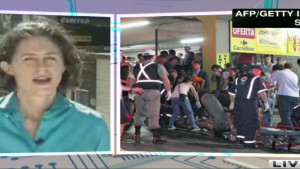 What caused the Brazil club fire?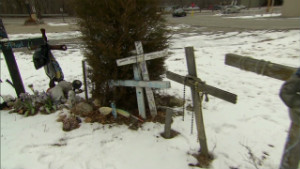 Lessons ignored from Rhode Island fire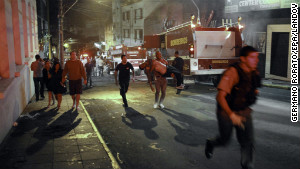 Brazilian reporter: People were running
That night, the streets were filled with thousands of mourners who marched to the burned-out club.
The shouts of grief and prayers were overtaken only by the wailing of mothers who stood before the building. One woman shouted: "My son, why did you have to die here?"
Police have questioned about two dozen people, including four individuals they arrested -- the two owners of Kiss, a member of the band Gurizada Fandangueira and a promoter.
Police identified the club owners as Mauro Hoffman and Elissandro Spohr. Band vocalist Marcelo de Jesus dos Santos and show producer Luciano Bonilha were also in custody.
Kiss was filled well beyond its legal capacity, when a crowd of 2,000 people packed the club to hear the band play.
About 20 minutes into the concert, the musicians ended a song with pyrotechnic effects. The ceiling caught fire, state officials said. It spread fast.
The crowd panicked, breaking into a stampede, and it hit a bottleneck -- the only exit was the front door, down a dark, narrow hallway.
It clogged quickly.
A firework set off in the club was not made for inside use and the band, which purchased it, knew that, said Marcelo Arigony, with the Santa Maria police. He accused the band of intentionally purchasing the firework made for use outdoors because it was cheaper.
He also said investigators have found evidence of faulty and fake fire extinguishers at the club, which had expired fire and municipal licenses. The club's original license permitted just 691 people inside.
While the investigation centers on the pyrotechnics used, Gurizada Fandangueira's guitarist told the newspaper Folha de Sao Paulo that it was not clear yet what may have caused the fire.
"There were many wires on the ceiling, and there could have been a short circuit," he said.
Brazil nightclub fire: 'Like a war zone' with bodies piled
More stories emerge
For residents of Santa Maria like Vinicius Serafim, the tragedy that unfolded at the club was unthinkable, even as the first reports began to come in.
"Most of us were thinking, 'OK, there is a fire, people got out and that was it," he said. "In the morning, where they started saying 40 dead, 50 dead, then we started noticing and really knowing (what happened)."
Photos: Hundreds dead in Brazil nightclub fire
Serafim, an English teacher, lost four students in the blaze, and others are in intensive care units.
"Everybody is completely destroyed because they were young people, people that we knew. We worked with them for at least one year," he said.
One survivor, 24-year-old Mariana Magalhaes, told Brazil's state-run Agencia Brasil news agency, that she witnessed the band's singer unsuccessfully trying to put out the fire with an extinguisher.
She was working as a photographer at Kiss, and had already been to 15 funerals when she spoke to Agencia Brasil.
Magalhaes was one of the first to exit the building, and admits that she felt she was overreacting at first by screaming and running out. Only later did she realize her panic saved her life.
"No one could imagine the seriousness (of the fire)," she said. One danger was that the club's sound insulation was made of styrofoam, which releases toxic fumes when burned.
"It was a very silent enemy," she said. "People were exiting fine and walking, when from one moment to the next they started to fall, to have convulsions, to vomit."
Magalhaes escaped with five friends, but in the immediate aftermath of the tragedy she was filled with guilt, too.
"You can count five people on one hand," she said. "We don't feel fortunate for surviving because there are mothers who won't be able to hug their sons. My mom is hugging me, but at the same time I felt lucky and guilty."
On a Brazilian television program, one mother lamented the death of her son and the injuries to a another son.
Elaine Goncalves was able to locate her injured son as he was being transferred to a hospital, but she could not accompany him because she had to go claim the body of her other son.
"It's terrible, very sad," she said. "My sons left the house looking nice, happy, playful, the two brothers together. My son left to go to a party and now he is here, inside a box. I demand justice."
Opinion: We haven't learned from past mistakes
President: 'Indescribable' pain
Brazil's minister of health, Alexandre Padilha, said the most serious cases involve patients who require permanent dialysis, medications to maintain blood pressure, and assistance breathing.
Many of the injured were transferred to hospitals in bigger cities, while others were kept in Santa Maria.
"The transfer was for patients with serious burns because our specialized centers are in the city of Porto Alegre and also in order to free up beds in the intensive care unit here in Santa Maria," Padilha said.
Some were in such critical condition that it was not believed they could survive the trip to another facility.
Brazilian President Dilma Rousseff honored the victims during a meeting with newly elected mayors on Monday.
"The pain which I witnessed is indescribable," Rousseff said. "I speak of that pain to remind us all about our responsibility, the executive branch, with our population. In the face of this tragedy, we must make a commitment to ensure that it will never happen again."
Deadly blazes: Nightclub tragedies in recent history
Helena de Moura reported from Santa Maria, and Mariano Castillo from Atlanta. CNN's Shasta Darlington and Alejandra Oraa contributed from Santa Maria and Umaro Djau, Ben Brumfield and Marilia Brocchetto contributed from Atlanta.