Storm system threatens to bring high winds, tornadoes to 10 states
updated 5:53 PM EST, Tue January 29, 2013
STORY HIGHLIGHTS
NEW: Forecasters see an "increasing threat for severe thunderstorms" into Wednesday
NEW: System stretches from Texas north to Michigan
NEW: There could be "damaging winds and several tornadoes" in parts of 10 states
Snow and cold weather aren't far behind Tuesday's high temperatures and rain
(CNN) -- A storm system stretching from Texas north to Michigan threatens to bring "widespread damaging winds and several tornadoes" to parts of 10 states, the National Weather Service said Tuesday.
"An increasing threat for severe thunderstorms will occur through tonight in advance of a strong cold front moving across the central United States," the weather service's Storm Prediction Center said. "The most intense thunderstorms are anticipated late this afternoon and especially into the overnight hours tonight across parts of the lower Ohio Valley, mid-South and lower Mississippi Valley."
States threatened by what the agency called a moderate risk of severe weather are Arkansas, southern Illinois, extreme southwestern Indiana, western Kentucky, western Tennessee, southern Missouri, northern Louisiana, northern Mississippi, southeastern Oklahoma and northeastern Texas, the agency said.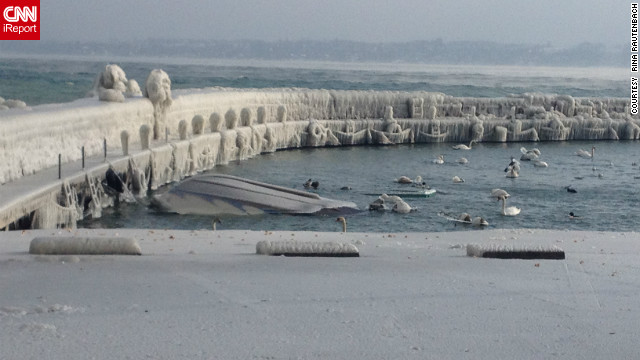 Low temperatures in Switzerland helped freeze Lake Geneva in early February. Rita Rautenbach got this amazing shot at the time. "'During the night and the day before, we had extreme temperatures where it got so cold that the spray made waves on the lake. As it sprays up it turns into ice immediately. It became layer on layer on layer. It became thick blocks of ice on the bench, on the cars."
Hospital rooms were completely destroyed after a tornado hit Harrisburg, Illinois in February. Jane Harper, a nurse there, took this photo after moving patients out of harm's way. She went to check one of the patient rooms, and found that the room was no longer there.
A lightning storm lit up the Bay Bridge in San Francisco, California in April. Phil McGrew shot 20-second exposures for 90 minutes in order to get shots like this.
Severe flooding in Duluth, Minnesota, in June destroyed roads and left neighborhoods underwater. "We have not experienced anything like this in our community," said photographer and healthcare preparedness coordinator Kayla Keigley. "Roads are destroyed. Neighborhoods are underwater. I am in shock and I work in the field of preparedness - this is something I work to deal with daily. Our community is in disbelief."
A stranded seal sat on a Duluth, Minnesota, roadway after it was washed out of the Lake Superior Zoo during the June flooding. This image, shot by Ellie Burcar - who discovered the seal - went viral. Authorities soon arrived and the seal survived the ordeal.
June's High Park fire, caused by extreme drought conditions, could be seen from the Horsetooth Reservoir in Larimer County, Colorado. "Climbing to this vantage point afforded me the opportunity to capture the fire crew on film at eye level as they flew by, and to look down into the heliport," said Bryan Maltais. "I could also also photograph the unique atmospheric conditions that the fire created."
An avalanche tumbled down the surrounding mountains of the Annapurna Base Camp in Nepal in June. After hiking for more than a week in the Himalayas, J. Grant Trammell decided to shoot some photos from the safety of base camp. "It was a magically clear and still morning. I awoke just at 4 a.m. I made my way to a vantage point just above the Annapurna Base Camp and shot images for almost five hours."
Wildfires burning in the foothills of the Colorado Springs mountains blanketed a nearby neighborhood with pitch-black smoke in June. "We ran outside and saw the side of the foothills getting engulfed by flames coming down on either sides of the quarry," said photographer Michael Kennedy. "Our subdivision quickly deteriorated into a war zone with police cars coming into the neighborhood with loud speakers announcing 'leave the area, under mandatory evacuation.'"
A massive haboob, or dust storm, overtook Phoenix, Arizona in July, and Andrew Pielage knew he had to get it on camera. Racing up a mountain that was nearby, he skipped the official trail to get a better view and was able to capture it from a very unique angle. "I had made it just in time. You really get a good and scary sense of the size and magnitude of these types of storms. It will be a photograph I will never forget."
Searing temperatures and high humidity brought a heat wave to Toronto, Canada, in July. "These past days have been brutal with the heat, the humidity. Tempers are short, electricity system is straining but not buckling... yet," photographer David Bradley told us at the time.
Skies darkened over New York City as a storm moved into the area in July. "The storm was pretty mild, but seeing it come through was amazing," said photographer Jenna Bascom at the time. "Gorgeous clouds, great light."
A historic drought in Terre Haute, Indiana, dried up a lake at the Wabashiki Fish and Wildlife Area, killing the fish living in it back in July. At the time, photographer Michael Gerringer said, "This lake attracts an impressive variety of birds and other wildlife, but when I walked out into the lake bed the only bird species I saw were a pair of turkey vultures overhead and a few red-headed Woodpeckers."
Hurricane Isaac brought flooding to the streets of Fort Pierce, Florida in August. Trish Powers described the water as "waist deep" at times. See more Isaac images here.
Many homes like this one collapsed in New Orleans, Louisiana after Hurricane Isaac hit in August. Eileen Romero was completely shocked when she came upon the scene only a block away from her home in New Orleans' Mid-City neighborhood.
Dramatic flooding hit low-lying parts of Manila, Philippines, in August after continuous rainfall. Grant Orbeta captured stunning images like this one.
Fuego Volcano spewed ash into the air in Antigua, Guatemala, shortly after it erupted in September. Photographer Jennifer Rowe said, "People who have lived here for more than 20 years have told me this is the biggest eruption they've ever seen."
Rare cloud formations, called mammatus, were spotted in La Crosse, Wisconsin in September. The name "mammatus" comes from the Latin word manna, or breast. "After the storms rumbled through, I saw a yellow orange glow out the window," said Jim Jorstad. "I then grabbed my camera, began driving several miles up the hill, stopping to take photos along the way."
Santo Domingo, Dominican Republic faced large-scale flooding as it was hit with Hurricane Sandy prior to the U.S. in October. Misael Rincon shot images of the superstorm and other hurricanes in 2012.
A fleet of taxi cabs sat submerged in a flooded parking lot in Hoboken, New Jersey, after Superstorm Sandy hit the area in October. Photographer Jonathan Otto said, "The picture was taken from the 14th street viaduct looking over the corner of Jefferson and 14th street, where it appears New York stores new cabs."
A house in Union Beach, New Jersey, was left standing despite being ripped apart from the winds of Superstorm Sandy in October. While photographing the area, Clifford Rumpf said each photo taken of the ravaged neighborhood was more shocking than the next. See more Sandy images here.
Phnom Penh, Cambodia was hit with a torrential downpour of rain in October, causing flash flooding. Jim Heston was in awe of the fact that his camera was able to capture falling rain as well as it did.
A nor'easter blew through Manhattan in November just after the area was hit by Superstorm Sandy, but a number of New Yorkers continued with business as usual. "I immediately rushed outside with my camera to capture some images, and, as the snowfall got heavier, I ended up walking from Upper East Side, down Fifth Avenue, to Times Square, taking snapshots of the snow bearing down on people and blanketing the streets," said Edgar Alan Zeta Yap.
A December winter storm brought much needed moisture to drought-stricken Wisconsin. Jim Jorstad said, "The photos were stunning to capture. I drove up in the rural area of Chaseburg, Wisconsin. Some of the photos...were taken in and around some Amish communities nearby."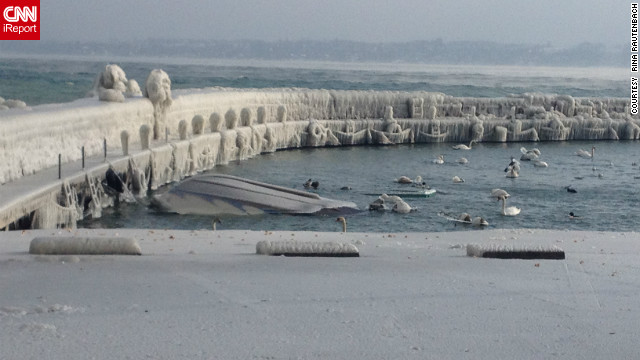 23 best weather photos of 2012
But severe storms are possible along a line from the southern Great Lakes to the Louisiana coast, the Storm Prediction Center said.
Tornado watches were up Tuesday afternoon for portions of Arkansas, Kansas, Missouri, Illinois, Oklahoma and Texas.
Those storms could be at their most dangerous late Tuesday night into Wednesday morning, CNN meteorologist Sarah Dillingham said.
Extreme weather and a changing climate
Even outside the areas most at risk for tornadoes, wind gusts could reach 80 mph in some areas -- enough to bring down trees and power lines, she said.
On Wednesday, the threat shifts farther east, with parts of Alabama, Georgia, Tennessee, Kentucky, South Carolina, North Carolina, Virginia and West Virginia at moderate risk of severe weather, including damaging winds and isolated tornadoes, the Storm Prediction Center said.
After the severe weather, a cold-weather system could bring snow and freezing rain to the Midwest, beginning Wednesday, and the threat of extremely cold weather in the northern Plains states and Upper Midwest, particularly on Thursday.
NASA scientists link climate change, extreme weather