Voices for and against immigration reform proposals
updated 10:14 AM EST, Wed January 30, 2013
STORY HIGHLIGHTS
Immigration reform proposals have sparked nationwide debate
A bipartisan group of senators has proposed one plan
President Barack Obama is unveiling his plan Tuesday
(CNN) -- The sudden momentum toward a bipartisan plan to reform the U.S. immigration system has sparked a torrent of discussion about this politically charged and emotional issue. Here's a sampling of voices from across the spectrum of viewpoints:
"Anything other than having these people going home and apply through our regular immigration system that successfully admits over 1 million people every year is amnesty," said a CNN commenter using the screen name ninesixteen. "Allowing them to wait in the U.S. is a reward. Our immigration is deliberately constructed to not let in unlimited numbers. These people violate our laws yet expect to be allowed to stay and work when others wait patiently in their countries. Legalization is wrong."
Immigration Q&A: Amnesty or path to citizenship?
"Illegal immigration has already put massive and unaffordable burdens on the welfare state and with 20 million or more applying for Amnesty, this will simply accelerate this process," said Tea Party Nation founder Judson Phillips, who argues that the real number of undocumented immigrants in the United States is higher than the frequently cited 11 million figure.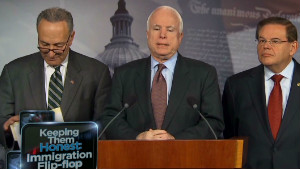 GOP changing tone on immigration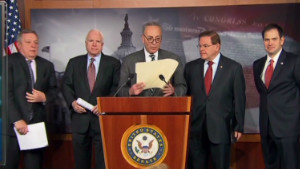 Borger: For GOP, it's about survival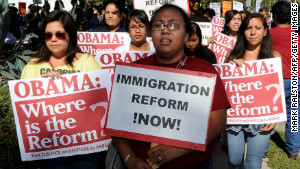 The politics of immigration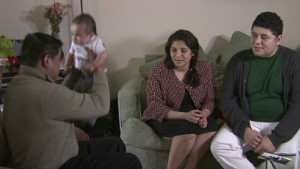 Immigrant family fears being torn apart
Mexico 'welcomes' new U.S. immigration reform push
"I'm a liberal democrat but here's the problem with this law," said a CNN commenter going by the screen name Riprod. "Legalize them and now they have to pay taxes, SS (Social Security), get minimum wages, union participation etc. Now they are no longer economically employable by farmers, construction, landscapers and hotels, hotel workers, etc. So we are left with 11 million more on welfare while these companies search outside our border for more workers. No, I'm totally against this, they're illegal, arrest them and kick them out. Secondly, it took me 20 years and about $40,000 to get my citizenship legally and I feel cheated when I see this."
By the numbers: Immigration and naturalization
"They need to make them do things the right way. Spend the thousands of dollars to file that paperwork properly. Make sure all the criteria is met. Put them through the ringer like they do anyone else who applies for Residence in the United States," CNN comenter Melissa Bickers said.
"First fix the border. Then make e-verify federal law, and enforced. After that is done, I will welcome the 11 million illegal immigrants," CNN commenter "David" said.
What's in Senate immigration plan?
"What I am asking for is that President Obama consider every category of immigrant as he moves forward with immigration reform. I have to say, it irks me a bit when I hear that illegal immigrants will not be deported when I have waited for months and spent thousands of dollars to do it 'the right way,' " said CNN iReporter Julie Richard, a Canadian who married an American but said she wasn't allowed back in the country after a visit home with the couple's infant daughter. The couple has had to spend seven months apart, she said, while sorting through immigration issues.
Immigration plan: A new era of bipartisanship or a political necessity?
"It is vital that the framework includes a path to citizenship, so that undocumented immigrants can come out of the shadows and into the light and have a chance to become Americans. It gives hope to millions of our fellow human beings," Archbishop José H. Gomez of Los Angeles, chairman of the U.S. Conference of Catholic Bishops' Committee on Migration.
iReport: Under deportation, above fear

Part of complete coverage on
Immigration

How should immigrants obtain citizenship? Share your thoughts, along with a photo of yourself.

The emerging immigration reform plan from a group of bipartisan senators is the product of a months-long process that began after this November's election.
updated 10:00 AM EST, Wed January 30, 2013

How much hope can I have in the president who has deported people at a higher rate than any other in the nation's history?
updated 7:23 AM EST, Wed January 30, 2013

The new U.S. push for immigration reform is drawing praise -- but some skepticism -- south of the border.
updated 10:19 AM EST, Wed January 30, 2013

Every day, millions of people like 16-year-old Celeste live their lives shouldering a huge emotional weight forged by fear, uncertainty and separation.
updated 11:28 AM EST, Tue January 29, 2013

An immigration proposal crafted for months in secret by a high-profile, bipartisan cadre of senators is both a rare moment of simpatico in politics and a matter of political practicality.
updated 10:14 AM EST, Wed January 30, 2013

The sudden momentum has sparked a torrent of discussion about this political and emotional issue. Here's a sampling of voices from across the spectrum of viewpoints.
updated 10:35 AM EST, Tue January 29, 2013

Eight senators say their plan will secure the border and provide a path to citizenship some undocumented immigrants already in the country. Critics disagree.
updated 8:55 AM EST, Tue January 29, 2013

Recent efforts, and possibly more to come, signal the largest movement in years aimed at overhauling the nation's immigration system.
updated 10:24 AM EST, Wed January 30, 2013

The prospects for immigration reform just got a lot brighter.
updated 9:48 AM EST, Mon January 28, 2013

Here is the framework of a bipartisan group of senators' immigration reform plan.
updated 9:21 AM EST, Mon January 28, 2013

From 2010: Complex and divisive, illegal immigration was one of the top issues of the 2010 midterm elections.
updated 12:27 PM EST, Mon January 28, 2013

Comprehensive immigration reform. Suddenly the phrase is on everyone's lips. As if by magic, everybody's for it after six years of ducking and using reform as a political wedge issue -- everybody wants to get it done.