Niagara Falls daredevil Wallenda skywalks over Florida highway
updated 12:53 PM EST, Tue January 29, 2013
STORY HIGHLIGHTS
NEW: Nik Wallenda was not wearing a safety tether, and no net was below him
NEW: Thousands watched the 600-foot-long high-wire walk in Sarasota, Florida
He garnered headlines last year by walking across Niagara Falls
Wallenda is the first person in recent history to cross over the actual falls
(CNN) -- Unsteady cables and stronger-than-expected winds added drama, but Nik Wallenda's high-wire walk above a Florida highway looked like a walk in the park Tuesday.
The 600-foot stroll was on a cable strung 180 feet above U.S. Highway 41 along the Sarasota, Florida, bay front. The 34-year-old, who hails from multiple generations of high-flying daredevils, was not wearing a safety tether, and there was no net below to catch him if he fell.
"Props to my great-grandfather Karl Wallenda, because I can almost guarantee you he would have stopped in the middle of this cable and have done a headstand," he said near the halfway point.
Daredevil completes walk across Niagara Falls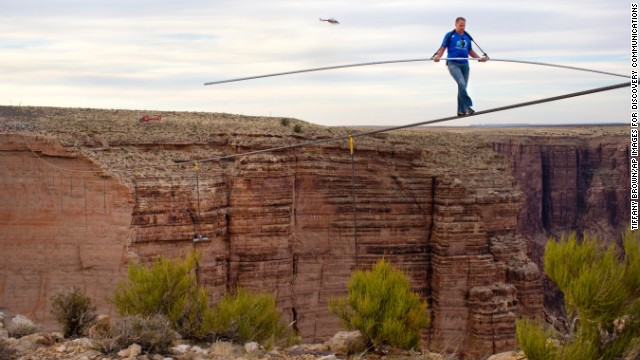 Nik Wallenda, 34, nears the completion of his quarter-mile walk near the Grand Canyon on Sunday, June 23, in Arizona. He crossed the Little Colorado River Gorge without the aid of a safety tether. He is a member of the famous Flying Wallendas, founded by his great-grandfather Karl in the 1920s, and also walked across Niagara Falls last year.
A promotional poster shows the original performers who came to America in 1928. Clockwise from top left are Karl Wallenda, Helen Wallenda, Joe Geiger and Herman Wallenda.
Karl Wallenda performs on a sway pole in Europe before the troupe's move to America in 1928.
The Wallendas perform the four-person pyramid, one of their signature acts. In 1948, the team created a seven-person pyramid.
The Wallendas practice an eight-person pyramid in 1947. This version was never performed in a show.
Karl Wallenda walks a tightrope between two corners of the Tower Hotel in London in 1976. Two years later, Wallenda died during a similar walk between two towers of the Condado Plaza Hotel in San Juan, Puerto Rico. He was 73.
A young Nik Wallenda watches his mother, Delilah, get ready for a show.
Nik Wallenda started performing with his family as a clown at age 2 and walking the wire at age 4.
Nik Wallenda and his sister, Lijana, practice walking the wire.
Nik Wallenda takes to the wire for the first time professionally at age 13.
Nik Wallenda attempts the "Wheel of Death" for the first time.
Nik Wallenda rehearses for his attempt to cross Niagara Falls on a wire in the parking lot of the Seneca Niagara Casino in Niagara Falls, New York.
Nik Wallenda walks the tightrope over Niagara Falls on June 15, 2012. The tense 1,800-foot journey took 25 minutes, reports say.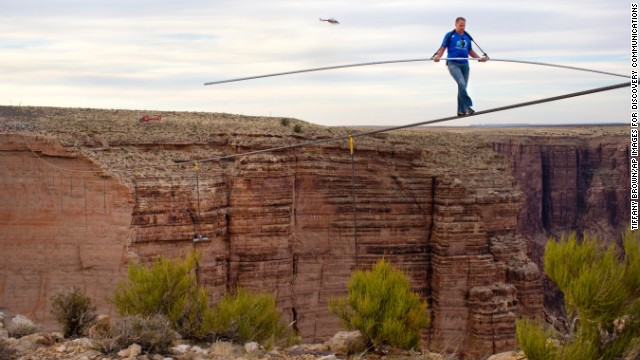 Photos: Wallenda family through the years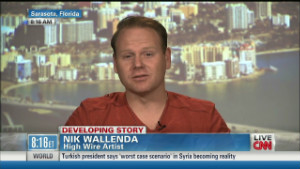 Wallenda on the thrill of the stunt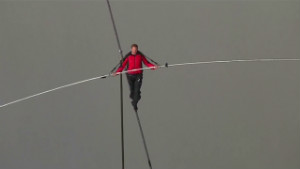 Man walks across Niagara Falls on rope
His great-grandfather Karl Wallenda died at 73, attempting to walk between two buildings in Puerto Rico in 1978.
Last June, Wallenda captured the nation's attention during his 25-minute agonizing amble above the roaring rapids of Niagara Falls. He carried his passport in his pocket for that historic walk from the United States to Canada, but this one was in his hometown.
"I'm risking my life on every single one of them, so there's no difference" the younger aerialist said as he walked. "My great-grandfather did many amazing walks around the world. The one that took his life was minuscule in comparison."
Thousands watched from 180 feet below and television cameras broadcast it live to the world, a stunt intended to promote Wallenda's performance with his wife and other family members at Circus Sarasota.
Since the permit allowed the highway to be closed for just an hour, Wallenda's crew had just 15 minutes to adjust the stabilizing cables. Wallenda complained at times that it was "really sloppy."
"Holy crap," he said. "Come on guys, it's horrible."
Despite the danger, he kept calm and joked with his father: "Who do I need to spank when I get down?"
Wallenda took the last step onto the roof of a condo building nine minutes after he took the first one.
CNN's Lateef Mungin contributed to this report.