STORY HIGHLIGHTS
NEW: "I saw people bleeding, fainting, running over other people," survivor says
Two club owners and two band members are held in the investigation
The blaze killed in the Brazilian city of Santa Maria killed 231
"I think we will get to the bottom of this investigation," police chief says
iReport: Are you there? Share your story.
(CNN) -- Police arrested four people Monday in connection with a nightclub fire that killed 231 people in southern Brazil, CNN affiliate BandNews reported.
Two are club owners and the other two members of the band that was performing, it said.
The detainees will be held initially for five days while authorities investigate Sunday's blaze in the Kiss nightclub in Santa Maria, according to Marcos Viana, a police official who spoke with state-run Agencia Brasil. The five-day period can be extended for five more days, the news agency said.
"We concluded that it was necessary to hold them prisoner temporarily, because we need their statements to help us clarify the incident," Viana said, according to Agencia Brasil.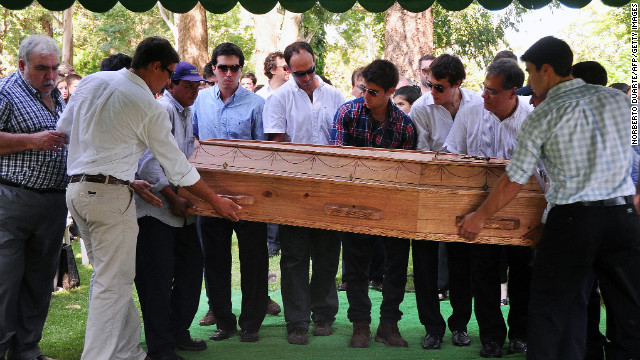 Relatives and friends of Paraguayan student Guido Britez, 21, who died in a fire at the Kiss nightclub in Brazil, carry his coffin during the funeral in Asuncion on Tuesday, January 29. More than 230 people died and more than 120 were injured early Sunday when a fire tore through the nightclub packed with university students in southern Brazil, police said.
Guido Britez's family attends the funeral on January 29.
Mauro Hoffman, co-owner of the Kiss nightclub, is taken into custody by police in Santa Maria, Brazil, on Monday, January 28.
Residents of Santa Maria, Brazil, hold a march on January 28 to honor the victims of the Kiss nightclub fire and demand justice for them.
Residents march along Rio Branco Avenue on January 28, demanding justice for and to honor the Kiss nightclub fire victims.
A violinist comforts another during the march on January 28.
Demonstrators carry candles through the streets in Santa Maria on January 28.
Soldiers carry the coffin of a victim of the nightclub blaze on January 28.
A priest celebrates Mass in a public square in the center of Santa Maria on January 28.
Mourners cry at the municipal cemetery on January 28.
The entrance to the Kiss nightclub is covered in soot on January 28.
Relatives and friends of one of the victims of the Kiss nightclub fire gather during the funeral at Santa Rita Cemetery in Santa Maria on January 28.
Firefighters stand at the burnt-out entrance of the Kiss nightclub on Sunday, January 27, in Santa Maria, Brazil.
Relatives wait to identify victims at the municipal gymnasium in Santa Maria on January 27.
Relatives of victims weep during a funeral in Santa Maria on January 27.
Relatives pray at the wake of a victim on January 27 in Santa Maria.
Relatives of a victim of a fire that broke out at the Kiss nightclub weep during the funeral in Santa Maria, Brazil, on Sunday, January 27.
A woman weeps on a coffin as relatives of the nightclub fire victims identify bodies.
People console each other during a collective wake for the victims of the nightclub fire.
A coffin decorated with a photograph and image of the Virgin Mary is surrounded by mourners.
Brazilian President Dilma Rousseff, right, consoles relatives of victims of the fire.
Emergency personnel gather outside the burned-out Kiss nightclub in Santa Maria, Brazil. The nightclub is popular with young people, drawing between 2,000 and 3,000 people a night on the weekends.
A firefighter, center, carries a victim away from the blaze.
Residents look on as bodies of victims are transferred from the site of the fire to a municipal sports center.
People cry after a getting news about the deadly fire.
Firefighters work to extinguish the blaze that broke early Sunday.
Victims were dragged out of the nightclub and received preliminary medical treatment on the ground.
Firefighters, onlookers and police gather outside the burned-out club.
A grieving woman talks on her cell phone after the fire.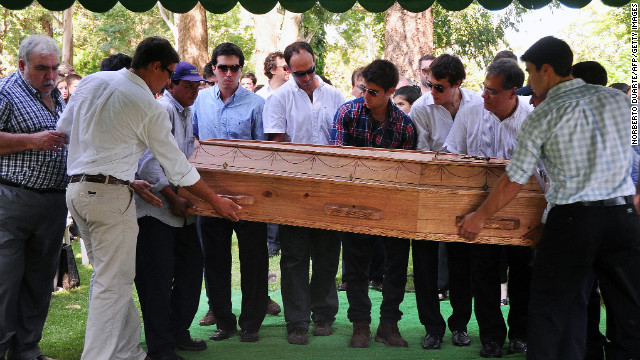 Hundreds dead in Brazil nightclub fire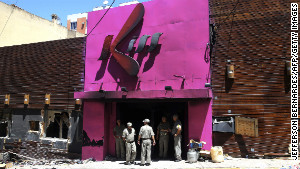 Brazil club fire echoes 2003 R.I. fire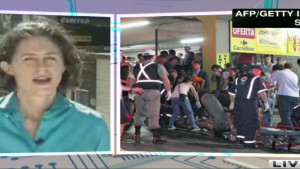 What caused the Brazil club fire?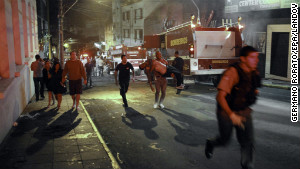 Brazilian reporter: People were running
Brazil nightclub fire: 'Like a war zone' with bodies piled
Police did not identify those arrested.
"We have much work ahead to clarify what happened and identify those responsible," Viana said, according to the news agency.
Civil police in Santa Maria have questioned 20 other people, it said.
The police chief in the province of Rio Grande do Sul said the investigation is to be divided into three parts: "The first line of inquiry has to do with the documentation: if the property was fit for operation and who the owners are. Are they real, formal owners? We will review all the documentation.
"The second stage of this investigation is expert analysis, which we will apply.
"And thirdly, important in itself, is the witness testimony. So, starting today, we will focus our efforts to the maximum in order to hear those people who were at the property at the time that it caught fire, at the business establishment. I think we'll get to the bottom of this investigation and, if possible, will identify those responsible by the time we complete this police investigation."
The governor of Rio Grande do Sul promised that investigators would have all the resources they need to find out who is responsible.
"From the executive office, they will not lack a penny, a document, an action or any other support, so that we can have an inquiry with depth and with the responsibility that it deserves," Gov. Tarso Genro said.
Photos: Hundreds dead in Brazil nightclub fire
More than 100 clubgoers were injured in the fire, which authorities say began about 2:30 a.m. Sunday during a band's pyrotechnic show.
Guitarist Rodrigo Lemos Martins of the Gurizada Fandangueira band told the newspaper Folha de São Paulo that the fire ignited one song after the band had used fireworks in the show. But he said it was not clear what may have caused the fire.
"There were many wires on the ceiling, and there could have been a short circuit," he said.
Many apparently died from smoke inhalation; others were trampled in the rush for the exits.
Mayara Peirera, a 21-year-old law student who was celebrating her birthday at the club, told CNN she escaped with a friend through a nearby door. When she turned to look back, "I saw people bleeding, fainting, running over other people. People desperate, screaming. And it was then I realized what was going on," Peirera said.
But two friends -- "almost sisters to me" -- didn't make it out, she said.
"I thank God because in one way or another, I got a birthday gift -- my life," she said. "I was born again, but I'm very sad and hurt because I lost my best friends. I can no longer cry, because I have already cried so much."
And Michele Pereira told Folha de São Paulo that her friend, 23-year-old Leandra Toniolo, was in the bathroom when the fire began.
How to protect yourself in a crowd
"I was on the opposite side, near the stage," Pereira said. "I would have had to go all the way across the arena -- against the mayhem -- to find her, and in the tumult, it was impossible," she said. "It was terrible, a scene from a horror film. ... There were fallen bodies throughout on the ground, many people who had fainted, many crying and trying to breathe with all that smoke."
By the time Toniolo's mother found her daughter's body, it had been placed with others in a truck, Pereira said.
The nightclub owners have pledged to cooperate with the investigation, according to a statement released by the law firm of Kummel & Kummel.
"We are open to all authorities and inspections," said the statement, obtained by Globo TV.
The club's license had expired in August and had not been renewed, a local fire official told Globo TV.
The owners, however, said the nightclub was properly permitted and had been inspected by the fire marshal.
Opinion: We haven't learned from past mistakes
The city's mayor, Cezar Schirmer, said the fire department "has always done a very strict surveillance on the homes of shows and dealt with all other issues that relate to security of these places."
On Monday, the first of Brazil's three days of mourning, flowers were left outside the club in tribute to the victims, and a flag outside the country's presidential palace flew at half-staff.
In Santa Maria, mourners lined up in a series of funeral processions, and coffins were lined up in a gymnasium that authorities had turned into a morgue.
By noon, 40 of 110 funerals planned for the day had been held at the city's municipal cemetery, its chief of staff told Band News.
At one funeral, air force troops fired rifles in tribute to a comrade who died in Sunday's fire.
At another, two teenage brothers, the only children in one family, were buried side by side.
Of the people who were hurt, 82 were still in area hospitals; 40 were taken four hours east to the city Porto Alegre, BandNews TV reported.
The governor of Rio de Janeiro sent 15 mechanical ventilators, Agencia Brasil reported.
Deadly blazes: Nightclub tragedies in recent history
CNN's Tom Watkins, Helena Cavendish deMoura, Shasta Darlington and Chelsea J. Carter contributed to this report.