STORY HIGHLIGHTS
Take a few minutes early to identify ways out of a public gathering
Fires can spread quickly so you might only have a few minutes to get out
Most people will try to escape through the door they came in
If smoke gets heavy, go straight until you hit wall and follow it
(CNN) -- The club is crowded. Folks are drinking, listening to music, having a good time. Then the fire alarm goes off.
Most people will probably ignore it, but know this: If there really is a fire, you don't have very long to get out.
"In most nightclub fires you only have a few minutes to find a way out," Glenn Corbett, an associate professor of fire sciences at John Jay College, said Sunday. "In Rhode Island, it was 90 seconds."
He's referring to the 2003 incident in which 100 people died when fire broke out at a small nightclub in West Warwick, Rhode Island. That time, some survivors escaped by breaking out windows, while others found additional doors besides the main entrance, he said.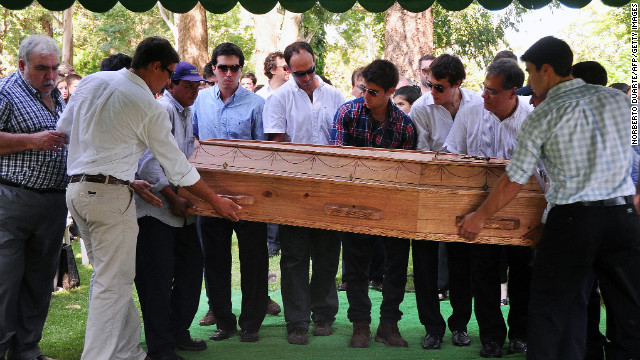 Relatives and friends of Paraguayan student Guido Britez, 21, who died in a fire at the Kiss nightclub in Brazil, carry his coffin during the funeral in Asuncion on Tuesday, January 29. More than 230 people died and more than 120 were injured early Sunday when a fire tore through the nightclub packed with university students in southern Brazil, police said.
Guido Britez's family attends the funeral on January 29.
Mauro Hoffman, co-owner of the Kiss nightclub, is taken into custody by police in Santa Maria, Brazil, on Monday, January 28.
Residents of Santa Maria, Brazil, hold a march on January 28 to honor the victims of the Kiss nightclub fire and demand justice for them.
Residents march along Rio Branco Avenue on January 28, demanding justice for and to honor the Kiss nightclub fire victims.
A violinist comforts another during the march on January 28.
Demonstrators carry candles through the streets in Santa Maria on January 28.
Soldiers carry the coffin of a victim of the nightclub blaze on January 28.
A priest celebrates Mass in a public square in the center of Santa Maria on January 28.
Mourners cry at the municipal cemetery on January 28.
The entrance to the Kiss nightclub is covered in soot on January 28.
Relatives and friends of one of the victims of the Kiss nightclub fire gather during the funeral at Santa Rita Cemetery in Santa Maria on January 28.
Firefighters stand at the burnt-out entrance of the Kiss nightclub on Sunday, January 27, in Santa Maria, Brazil.
Relatives wait to identify victims at the municipal gymnasium in Santa Maria on January 27.
Relatives of victims weep during a funeral in Santa Maria on January 27.
Relatives pray at the wake of a victim on January 27 in Santa Maria.
Relatives of a victim of a fire that broke out at the Kiss nightclub weep during the funeral in Santa Maria, Brazil, on Sunday, January 27.
A woman weeps on a coffin as relatives of the nightclub fire victims identify bodies.
People console each other during a collective wake for the victims of the nightclub fire.
A coffin decorated with a photograph and image of the Virgin Mary is surrounded by mourners.
Brazilian President Dilma Rousseff, right, consoles relatives of victims of the fire.
Emergency personnel gather outside the burned-out Kiss nightclub in Santa Maria, Brazil. The nightclub is popular with young people, drawing between 2,000 and 3,000 people a night on the weekends.
A firefighter, center, carries a victim away from the blaze.
Residents look on as bodies of victims are transferred from the site of the fire to a municipal sports center.
People cry after a getting news about the deadly fire.
Firefighters work to extinguish the blaze that broke early Sunday.
Victims were dragged out of the nightclub and received preliminary medical treatment on the ground.
Firefighters, onlookers and police gather outside the burned-out club.
A grieving woman talks on her cell phone after the fire.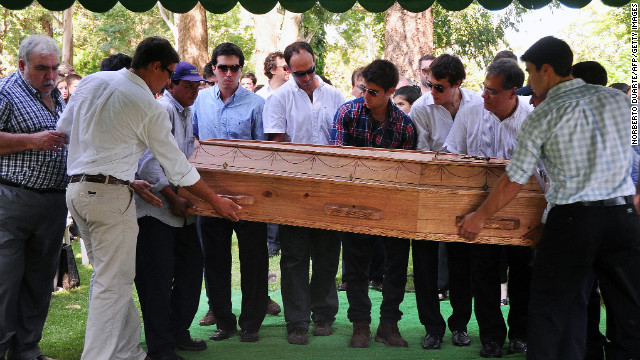 Hundreds dead in Brazil nightclub fire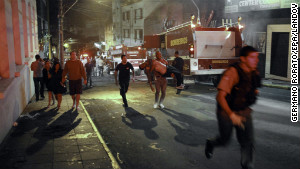 Brazilian reporter: People were running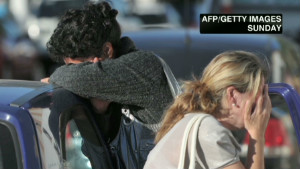 Chaos in Brazilian city after fire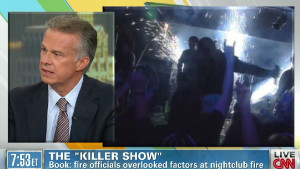 New book examines fatal nightclub fire
Deadly blazes: Nightclub tragedies in recent history
Every second really does matter in a crisis, said a division manger for building and life safety codes with the National Fire Protection Association.
"An extra 10 seconds is a lot of time," Robert Solomon said. "Your first thought should be to leave."
Fires in places where people publicly get together are rare but often deadly. According to the NFPA, there were almost 5,000 such fires from 2000 to 2004, with an average of one death and 52 injuries per incident. The number of fires is less than 1% of all structure fires reported by fire departments for that same five-year period.
But the organization said on its website: "Fires in assembly occupancies have shown to be some of the most deadly when the proper features, systems and construction materials were not present."
Corbett said two things are key to making it out of a fire or other dangerous situations alive -- preparation and quick reaction.
Here's what you should do when you get to a nightclub or any other public venue:
• Identify all the exits. In most fires, people try to get out the same way they came in. Go ahead and take a lap around the club and see where other doors are. Check out exits firsthand and see what kind of doors they have. Corbett said it may be difficult to get out a dead-bolt door, or some doors might be blocked by equipment or boxes. If you can, see if a door will stay open or can be propped open, Solomon said.
• Take a look up for sprinkler heads. After the Rhode Island fire, changes in fire codes focused on the need for fire suppression systems. If there isn't one, be wary. "The sprinkler is the best tool available to avoid disasters," Corbett said. Such systems are not always easy to see or identify, Solomon said.
• Is it too crowded? If it feels too crowded, then it is, and you should avoid it, Corbett said. He also said you can call the fire department, which some people might consider overreacting -- but the fire department will deal with hazards.
• Identify the staff members and figure out if there are enough of them for the size of the crowd, Solomon said. "See if you can get any feel or flavor for staffing," he said. "See what they are wearing." Each venue should have crowd managers, whose jobs are to take care of people in emergencies. "They should help shepherd people out."
Hundreds killed in Brazil nightclub fire
• Check to see if the staff is monitoring the entry points, Corbett said. Did the people at the door keep a count of everyone coming in? That's a good sign they have your safety in mind.
• If it appears the show involves indoor fireworks, Solomon said he would consider leaving. "There are safe ways to have indoor pyrotechnics but it certainly would make me raise my awareness."
If disaster does strike, it is vital to avoid hesitation.
• If a building alarm goes off, you need to stop what you are doing and get out. Don't worry about being able to get back in or the weather, the experts said.
• Tell everyone in your group which way to go, and remember, most people are going to head for the front door. The danger is that someone will fall and people will tumble over each other. "Then that's it," Corbett said. "That's the point of knowing the other ways out." Even if people are still moving it's likely that because of the mass of people, it will take more time to get out the main entrance.
• Exit signs are subject to code in the United States, Solomon said, and they are spelled out. In other countries, they may be a diagram of a person running, he said.
• Don't try to put out the fire, Solomon said. Get out and leave the emergency response to the crowd managers on staff. That applies even if a fire extinguisher is nearby. The staff should be trained to know where those are, and you need to head for an exit.
• If the smoke gets thick, you need to duck down to the clean air. If you can't see, head straight until you get to a wall and then follow it, Corbett said. Keep a hand up to find a window, he said. Break a window out if you have to escape that way. Solomon recognized that dropping down could be a tough decision because you don't want to put yourself in peril in the crowd rush.
• Once you are out, go to a prearranged meeting point for your group, like your car or a public transit stop.