Fear, fury over Hong Kong corporate privacy proposals
updated 11:43 PM EST, Sun January 27, 2013
STORY HIGHLIGHTS
Hong Kong government proposes limiting corporate information available to public
Would remove directors' address, full Hong Kong ID numbers from Company Registry
Journalists, financial firms use it to trace who is running a HK-registered company
Information about wealth of China's elite found by leading news outlets on database
Hong Kong (CNN) -- A change in corporate record-keeping in Hong Kong has turned into a flashpoint for the debate about freedom of information in the Chinese territory.
Many in the city take pride in what they say is a transparent and open financial system, in contrast to the situation across the border in Mainland China.
Now Hong Kong's government has proposed limiting the information that is available to the public about corporate directors "to enhance protection of the privacy of personal information."
The plan would remove directors' residential address and their full Hong Kong identification numbers from the Company Registry.
The information is regularly used by both investigative journalists and financial firms to help trace who is running a Hong Kong-registered company.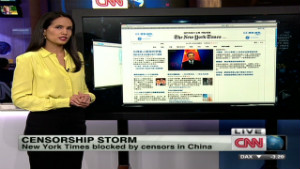 China censors NY Times after Wen story
A petition declaring "Secrecy Breeds Corruption" appeared in the pages of five Hong Kong newspapers Monday morning, followed by the signatures of more than 1,700 journalists, educators and students, who strongly oppose the change.
Information from the database was used in two high-profile stories last year that looked into the wealth of the families of China's ruling elite, which appeared in The New York Times and Bloomberg News. A number of stories on property scandals within Hong Kong also relied on information from the database.
The petition declared the change an "infringement of the public interest," which would have a "great impact on professional and citizen journalists' right to conduct investigative reporting."
It basically undermines our reputation for free markets, transparency and the rule of law.
David Webb, investor-activist
Members of the business community and investors have also voiced concerns about the proposed change. David Webb, a well-known investor activist and editor of Webb-Site.com, says the change would make it harder for investment banks and IPO sponsors to determine a person's real assets.
"It basically undermines our reputation for free markets, transparency and the rule of law," Webb said.
Issues like this one often flame fears in Hong Kong about the interference of the Chinese government in the city's affairs.
Hong Kong, a former British colony, is part of China but maintains freedom of the press, speech and no Internet controls.
Residents are often fiercely vocal in response to anything they see as infringement of these rights.
CNN's Tim Schwarz contributed to this report.

Part of complete coverage on
updated 2:47 AM EDT, Mon April 22, 2013

Twitter resumes -- or "twesumes" -- have been touted as the best way for social media-savvy types to snag a dream job.
updated 4:00 AM EDT, Wed April 17, 2013

We live in a three-speed economic world, according to the International Monetary Fund.
updated 12:27 PM EDT, Wed April 17, 2013

Women have long dominated the heated discussion around gender equality. But men need to too, says Facebook's Sheryl Sandberg.
updated 6:53 AM EDT, Fri April 19, 2013

Security threats from mobile malware are on the rise and nearly 95% of targets operate on the Android operating system, according to a new report from NQ Mobile.
updated 4:06 PM EDT, Mon April 15, 2013

Microsoft is working on a touch-enabled smartwatch, The Wall Street Journal says, reporting that the company asked Asian suppliers to ship components for the device.
updated 2:47 AM EDT, Fri April 19, 2013

Give your anxious, negative colleagues a chance, and they just might surprise you.
updated 6:46 AM EDT, Wed April 17, 2013

In Europe, high-speed rail has come to stand for ease and efficiency where journeys of four hours or less trump airplanes and the hassle of airport security.
updated 2:12 PM EDT, Fri April 19, 2013

Infographic: Singapore may be tiny but it is also one of East Asia's most powerful trading hubs.
updated 8:27 PM EDT, Sun April 21, 2013

In Hong Kong urban lore, an apartment where a violent death took place can often be bought for as much as 10-30 per cent off the market price.
updated 12:05 PM EDT, Tue April 16, 2013

With gold prices officially in a bear market, investors must ask themselves if this is the time to buy?