Victorious Vonn closes on World Cup record
updated 12:40 PM EST, Sat January 26, 2013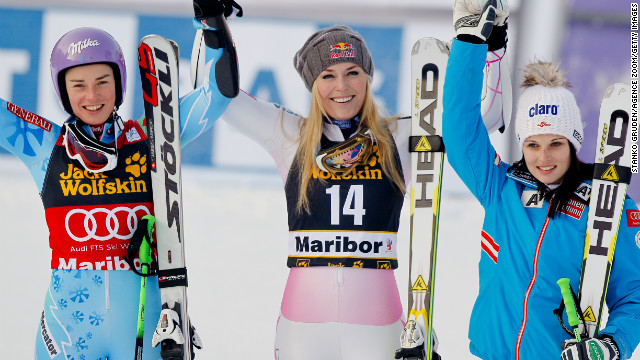 Lindsey Vonn (center) won her 59th World Cup race in Slovenia, heading off overall leader Tina Maze (left) and Austria's Anna Fenninger.
Vonn won her second race since returning to the circuit after a month out following stomach problems, moving closer to Annemarie Moser-Proll's record of 62.
Maze was unable to give her home fans a victory in Maribor, but she extended her overall lead to 748 points from Germany's Maria Hofl-Riesch
Italian skier Dominik Paris won the prestigious men's downhill at Kitzbuhel in Austria for his second World Cup victory after a dead-heat for first at Bormio in late 2012.
Vonn edges closer to World Cup record
Vonn edges closer to World Cup record
Vonn edges closer to World Cup record
Vonn edges closer to World Cup record
STORY HIGHLIGHTS
U.S. skier Lindsey Vonn wins 59th World Cup race of career in Slovenia on Saturday
Vonn upstages home hero Tina Maze to triumph in women's giant slalom at Maribor
Maze extends her overall lead to 748 points as she finishes second ahead of Anna Fenninger
Italian Dominik Paris wins prestigious men's downhill race at Kitzbuhel in Austria
(CNN) -- Lindsey Vonn might have surrendered her World Cup crown, the American skier is not giving her heir apparent Tina Maze a free run to glory.
Vonn upstaged the Slovenian on her home course at Maribor to claim the 59th World Cup win of her career in Saturday's giant slalom.
Maze, who has already sealed this season's giant slalom title, finished second to extend her overall lead to 748 points from Germany's Maria Hofl-Riesch, who was fourth behind Anna Fenninger of Austria.
"It was my first GS race since my comeback and I didn't know I would be able to win today," said Vonn, who took almost a month out after suffering stomach problems.
"Training went well this week and the conditions were perfect today for a good performance. I know I can ski well in Maribor, the slope suits me. It's just that I never managed to have two clean runs together."
Read: The conqueror of skiing's most feared slope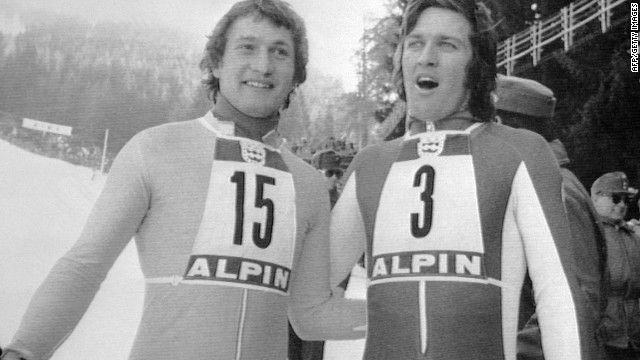 Franz Klammer (left) won gold in the 1976 Olympics in downhill with Bernhard Russi (right) in second place after a dramatic race in Innsbruck.
Klammer's all action downhill style made him a favorite with fans and a feared competitor on the World Cup circuit.
Klammer shows off his skills to the current day as he takes part in a charity race at Kitzbuhel last year.
The Streif, on the Hahnenkamm mountain in Kitzbuhel, is a combination of blind turns and varying gradients. It is downhill's most famous and feared slope.
Improvising, "letting go" and "not sticking to your line" are key if you want to be successful at skiing, said Klammer.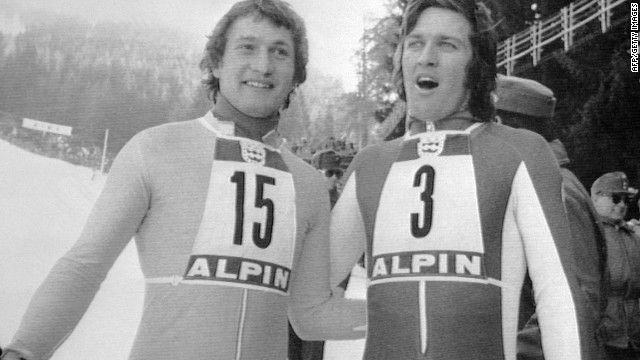 Master of the piste: Downhill ski legend Klammer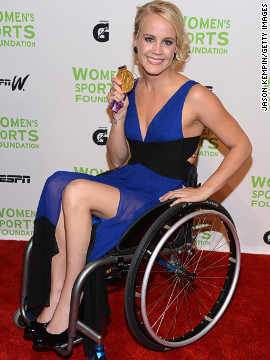 U.S. Paralympic swimmer Mallory Weggemann is determined the fifth anniversary of the accident that paralyzed her won't become a morbid or sad day. Aside from her swimming success -- the 23-year-old currently holds 15 world records -- she has set herself a series of challenges to overcome in that time.
One such challenge for the Minnesota-native was to get back on the slopes and learn to enjoy winter again, which she did with the help of a mono-ski at Stratton Mountain in Vermont. "Its been fun to be out there on the snow again and not be confined to four wheels," Weggemann told CNN.
Under the tutelage of ski instructor Rob Willis, Weggemann was flying down from the top of the mountain after only one day of training. He said: "Mallory is by far the best student I've ever had. She's the sort of person that if you put a barrier in front of her she'll go and smash it down."
Weggemann's first love is swimming and her crowning achievement was taking gold in the 50m freestyle at the 2012, Paralympics in London. She also won a bronze at the Games to add to her 13 World Championship golds, her 15 world records and 34 American records.
Despite her prowess on the slopes Weggemann is sticking to swimming for now, but she has her sights sets on more accomplishments, like scuba diving, and climbing Mount Kilimanjaro with her father.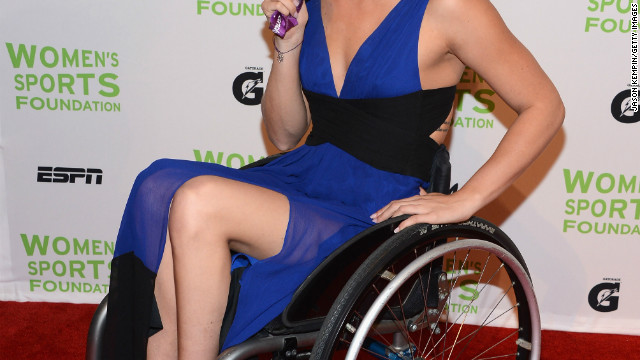 Rebuilding piste by piste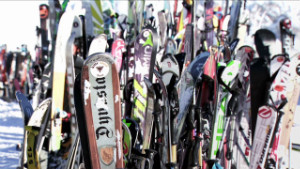 How a ski is made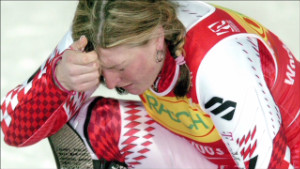 Ivica Kostelic hails sister's influence
She is now three wins behind Annemarie Moser-Proll's record of 62, having picked up just her third giant slalom victory and her first since she clinched a fourth World Cup title in March 2012.
"The timing for the world championships could not be more perfect. This is a highlight after a tough moment. It also convinced me I could do well in giant slalom and I will race in four events at the worlds," Vonn said, referring to the February 4-17 event in Schladming, Austria
Maze had led after the first run, but Vonn came from third to win by 0.08 seconds in front of 25,000 spectators.
"I was skiing to win but unfortunately I made a mistake on top and that wasn't sufficient to beat Lindsey," said the 29-year-old Maze, who will line up again in Sunday's slalom.
Read: Maze joins Vonn in skiing's elite class
"I am happy with today. It is an incredible feeling to race in front of so many people cheering for you! I could hear them from top to bottom. Of course it is not easy to race when everybody expects you to win. This adds a little bit of pressure. But there is another race tomorrow and I'm looking forward to it."
Meanwhile, Italian skier Dominik Paris celebrated his second victory this season after winning the prestigious downhill race at Kitzbuhel in Austria, one of the most feared runs on the men's circuit.
Paris topped his only previous World Cup win -- a dead heat tie for first with Hannes Reichelt in Bormio at the end of last year -- with a time of one minute 57.56 seconds.
"This is the best victory one could have in a winter. Bormio was my first and for sure it's special, but winning Kitzbuehel is something I wanted to do since I was about six years old so this is a dream come true," the 23-year-old said.
This time Reichelt (1:57.69) had to settle for third place behind Canada's Erik Guay (1:57.92).
Norway's Aksel Lund Svindal finished ninth to be 59 points behind leader Marcel Hirscher in the race for the overall title.