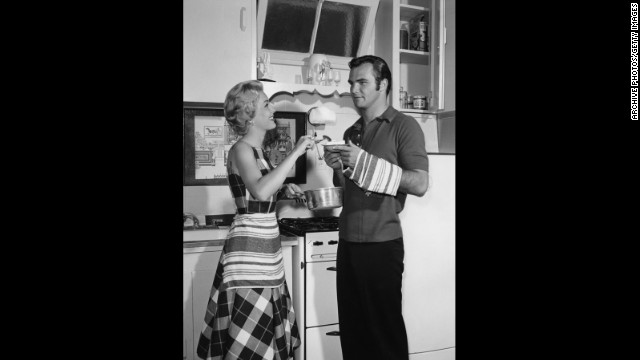 American actors Burt Reynolds and Lori Nelson circa 1959.
Reynolds smiles and leans on an automobile, wearing a hat and a polo shirt in 1960.
Reynolds stands bare-chested on a kitchen set in 1960.
The cast of "Gunsmoke" poses around a wagon in 1962. From left to right: James Arness, Milburn Stone, Amanda Blake, Ken Curtis and Burt Reynolds (seated).
Burt poses for a photo in 1965.
Reynolds poses on September 21, 1972.
Reynolds attends the premiere of "Live and Let Die" in 1973 with Michael Caine and his wife Shakira Caine.
Reynolds arrives at the London airport in 1973.
Reynolds sports football gear in a scene from the movie "The Longest Yard" in 1974.
Burt in 1975.
Reynolds arrives at the London Airport in 1976.
Reynolds appears in "Smokey and the Bandit" with Sally Field in 1977.
Reynolds on a movie set in 1980.
Loni Anderson attends the premiere of "City Heat" with Reynolds on December 5, 1984.
Charles Durning, left, Reynolds, center, and Michael Jeter, right, appear in the CBS television network series, "Evening Shade" in 1991.
Reynolds portrays a politician in the movie "Striptease" in 1996.
Russell Crowe and Reynolds star in "Mystery, Alaska" in 1999.
Jennifer Tilly, Richard Dreyfuss and Burt Reynolds star in "The Crew" in 2000.
Reynolds arrives with son Quinton at the First International World Stunt Awards on May, 20, 2001.
Adam Sandler, Reynolds and Chris Rock pose at the premiere of Paramount Pictures' remake of "The Longest Yard" on May 19, 2005, in Los Angeles, California.
Reynolds announces the 2007 Actors Guild Life Achievement Award for Charles Durning at the 14th annual Screen Actors Guild awards on January 27, 2008, in Los Angeles, California.
Reynolds accepts the Taurus Lifetime Achievement Award for an Action Movie Star onstage during the Seventh Annual Taurus World Stunt Awards at Paramount Pictures on May 20, 2007, in Los Angeles, California.
Burt Reynolds through the years
Burt Reynolds through the years
Burt Reynolds through the years
Burt Reynolds through the years
Burt Reynolds through the years
Burt Reynolds through the years
Burt Reynolds through the years
Burt Reynolds through the years
Burt Reynolds through the years
Burt Reynolds through the years
Burt Reynolds through the years
Burt Reynolds through the years
Burt Reynolds through the years
Burt Reynolds through the years
Burt Reynolds through the years
Burt Reynolds through the years
Burt Reynolds through the years
Burt Reynolds through the years
Burt Reynolds through the years
Burt Reynolds through the years
Burt Reynolds through the years
Photos: Burt Reynolds through the years