STORY HIGHLIGHTS
NEW: Tuareg separatist group blame "terrorists" for Timbuktu's problems
A French human rights group says it has confirmed a number of executions by Malian forces
Amnesty International and Human Rights Watch have also voiced concern
France and others are backing a Malian offensive against Islamist and Tuareg militants
Bamako, Mali (CNN) -- Mali's historic cultural center, Timbuktu, lacks electricity, water and phone service, because "terrorists" sabotaged the utilities there, a Paris-based spokesman for the ethnic Toureg separatist party MNLA said Thursday.
MNLA spokesman Moussa Ag Assarid said most of the "terrorists" fled Timbuktu for the desert after French planes on Tuesday bombed the militants' headquarters, which was built by former Libyan leader Moammar Gadhafi. However, Assarid warned, some militants remain in the fabled city.
Assarid's choice of the word "terrorists" highlights the ever-shifting alliances as Mali devolves into a wild frontier. MNLA used to be aligned with Ansar Dine, one of the main Islamist groups fighting to take over Mali. But after MNLA ousted the Malian army from Timbuktu last year, Ansar Dine and al Qaeda drove MNLA away.
The head of the United States' African Command, Gen. Carter Ham, spoke at Howard University in Washington on Thursday about the situation. He said his ultimate goal is helping a legitimate Malian government based in the capital of Bamako control the whole country.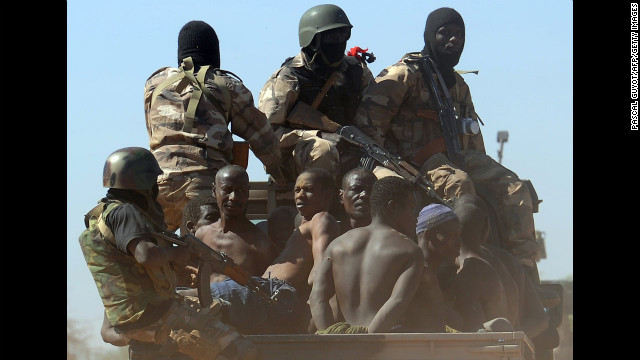 Malian soldiers transport in a pickup truck a dozen suspected Islamist rebels on Friday, February 8, after arresting them north of Gao. A suicide bomber blew himself up on February 8 near a group of Malian soldiers in the northern city, where Islamist rebels driven from the town have resorted to guerilla attacks.
Malians look at the charred motorcycle used by a suicide bomber before he blew himself up near a group of Malian soldiers on February 8. The act marked the first suicide attack in the embattled west African nation since the start of a French-led offensive to oust the Islamists from Mali's north, where they had controlled key towns for 10 months.
A convoy of French army vehicles head toward Gao on February 7. France is mulling over when to hand off its four-week-old intervention to U.N. peacekeepers.
A man searches through the ruins of a building destroyed by French airstrikes in Douentza, Mali, on Tuesday, February 5. The town was retaken by French and Malian troops in January.
A child holds up a machine gun round found in the ruins of a building destroyed by French airstrikes in Douentza, Mali, on February 5.
A child leads a donkey cart past a destroyed Malian army armored vehicle near Douentza, Mali, on February 5.
Malians welcome France's President Francois Hollande as he arrives in Timbuktu on Saturday, February 2. French-led troops are working to secure the area against Islamist militants.
A man sweeps the red carpet at Mali's Mopti airport on January 2 before the arrival of Hollande and Mali's interim President Dioncounda Traore.
French soldiers patrol next to the Djingareyber mosque, on January 31, in Timbuktu, Mali. The city was recaptured on January 28, by French-led forces in their offensive against Islamist rebels who have been occupying Mali's north since last April.
French air strikes destroyed this vehicle outside the northern Malian city of Gao.
Men play boules, a game that was forbidden under Islamist rule. on January Wednesday, 30, in Gao, Mali. Gao, once a key Islamist stronghold, was retaken on January 26 by French and Malian troops.
A Malian soldier tries to disperse looters in Timbuktu, Mali, on Tuesday, January 29. Malian and French forces have been battling Islamist militants to loosen their grip on the country. France was the colonial power in Mali until 1960.
People cheer along a road in Ansongo, a town near the northern Malian city of Gao, as troops from neighboring Niger enter the city.
A man waves a French flag as residents celebrate the arrival of Niger troops on January 29 in Ansongo.
Niger troops enter Ansongo on January 29.
Malian soldiers enter the historic city of Timbuktu on Monday, January 28.
French soldiers flying back from Timbuktu arrive at the French army base camp in Sevare on January 28.
A man prays in the recently liberated town of Douentza on January 28.
Wounded Malian soldiers rest after receiving medical care at the Polyclinique of Kati on Sunday, January 27.
Malian soldiers wait at a checkpoint near Sevare on January 27.
A French soldier walks through the bush in central Mali on January 27.
Malian soldiers wait at a checkpoint near Sevare on January 27.
A Malian soldier stands amid debris Saturday, January 26, in the key central town of Konna, which has been under French and Malian army control since last week. It was taken on January 11 by Islamist groups.
Malian soldiers walk past the bullet-riddled wall of a house in Konna on Saturday, January 26.
A Malian soldier looks at the wreckage of an Islamist rebel's armed pickup truck in Konna.
Ammunition lies on the ground in Konna.
Malian soldiers escort journalists in Konna.
Malian soldiers patrol a street of Diabaly on January 26.
Ali Ag Noh, right, stands with his family in front of his house on Friday, Janurary 25, in the village of Seribala, Mali, after his cousin and brother-in-law, Aboubakrim Ag Mohamed, and a cattle rancher, Samba Dicko, were shot dead on January 24, allegedly by the Malian Army. According to Noh, Mohamed, a Tuareg, and Dicko were shot in the head in Seribala after being accused by two Malian soldiers of being Islamists or aiding Islamists.
Members of the French army arrive at a base camp in Sevare, Mali, on January 25. French and Malian troops advanced on the key Islamist stronghold of Gao after recapturing the northern town of Hombori as the extremists bombed a strategic bridge to thwart a new front planned in the east.
Malian soldiers ride a motorcycle in a street of Merkala, on Thursday, January 24, 2013 as the first of the 6,000 troops pledged by African nations to support France started heading north.
A Malian soldier armed with a machine gun watches a herd of cattle crossing a bridge over the Niger River on January 24. Mali's military offensive against militants controlling the northern half of the country has gathered pace in the past two weeks, with backing from France and other international allies.
A French army convoy travels near Segou, in south-central Mali, is on its way to Diabaly on January 24.
A woman who fled northern Mali sits at a camp for internally displaced persons in Sevare on Wednesday, January 23. The EU announced 20 million euros of extra humanitarian aid to help Malians fleeing fighting, its second such donation in as many months.
A soldier rides on the back of a scooter outside Diabaly on January 23.
Malians walk past a destroyed truck mounted with a machine gun on Tuesday, January 22. The truck was used by militants and destroyed during airstrikes by the French air force.
Malian soldiers patrol Diabaly on January 22.
Malian soldiers walk past destroyed army barracks as they patrol in Diabaly on January 22, 2013.
A French soldier mans his post on January 22 near the city of Diabaly, Mali.
A French soldier stands guard in front of charred pickups used by Islamist rebels in Diabaly, Mali, on Monday, January 21. The Malian military says it has gained control of the town of Diabaly, a key advance in the battle against Islamist militants in the north.
A Malian soldier walks past a army building that was taken by the jihadists before being destroyed during aerial bombing in Diabaly on January 21.
A Malian soldier searches through debris after aerial bombing in the city of Diabaly on January 21.
A French soldier looks around after arriving in Diabaly on January 21.
French soldiers unload military equipment from an aircraft on January 21.
Malian youths look on as French soldiers drive through Niono on Sunday, January 20.
The French Army conducts operations in Mali on January 20.
A Malian soldier holds a machine gun on top of a jeep on the road back from the town of Mopti, Mali, on Saturday, January 19.
French soldiers of the 5th Combat Helicopter Regiment stand with their equipment in front of a helicopter on January 19 at an airbase near Bamako, Mali. French Defense Minister Jean-Yves Le Drian said on January 19 that France now had 2,000 troops on the ground in Mali as part of a drive against Islamist militants holding the north of the country.
French soldiers of the 5th Combat Helicopter Regiment relax on January 19 at the airbase near Bamako.
A French soldier from the helicopter regiment stands guard at the airbase on January 19.
Malian soldiers check the identity of passengers in a bus coming from Mopti on January 19.
French President Francois Hollande, left, speaks with soldiers who are due to leave for Mali, during a meeting in Tulle, France, on January 19.
Malian soldiers sit in a truck on their way to Niono, Mali, on Friday, January 18.
A Malian child looks out from a bus as Malian army soldiers check vehicles and passengers in the city of Niono on Friday, January 18. Malian troops, with help from France and a U.N.-mandated African force, are fighting al Qaeda-linked Islamist militants.
Malian soldiers man a checkpoint in Niono on January 18.
Togolese troops board a plane to Bamako, Mali, on Thursday, January 17, at the Lome airport in Togo. Troops from West African countries are heading to Mali as part of a U.N.-mandated African force to fight the insurgents.
Helmets belonging to soldiers of the Nigerian army are prepared to be sent to Mali at the Nigerian army peacekeeping center near Kaduna, Nigeria, on January 17.
Malian soldiers stand guard as Mali's President Dioncounda Traore speaks to French troops at an air base in Bamako, Mali, on Wednesday, January 16.
A Malian soldier adjusts his weapon as President Traore speaks to French troops at an air base in Bamako on January 16.
French army soldiers stand on armoured vehicles as they leave Bamako and start their deployment to the north of Mali as part of the Serval operation on Tuesday, January 15.
A French flag is hung on a van in Bamako as French troops start a deployment in the north of Mali on Wednesday.
French troops prepare their Sagaie armoured all terrain vehicles from the Licorne operation based in Abidjan, Ivory Coast, at the 101st military airbase near Bamako on Wednesday.
French troops from the Licorne operation based in Abidjan, Ivory Coast, arrive at the 101st military airbase near Bamako on Wednesday to reinforce the Serval operations, before their deployment in the north of Mali.
Malian police patrol in the capital of Bamako on Sunday, January 13.
Malian police patrol Bamako on Sunday.
A British army Boeing C-17 cargo plane from British Brize Norton base lands Sunday at the Evreux military base in France to take supplies to Bamako.
French soldiers prepare cargo for a British plane en route to Bamako on Sunday at the Evreux military base.
A French armored vehicle rolls onto a British army aircraft to be taken to Bamako on Sunday in Evreux.
Workers adjust chains on a vehicle load in the C-17 in Evreux on Sunday.
Internally displaced Malians from Timbuktu chat at a makeshift cafe in Bamako on Sunday.
French President Francois Hollande, right, speaks with members of Malian associations in France during a meeting at the Elysee Palace in Paris on Sunday.
Muslim men protest French military action in Mali outside the French Embassy in central London on Saturday, January 12. About 50 Muslim protesters gathered outside the embassy.
Protesters wave signs outside the French Embassy on Saturday in London.
The interim president of Mali, Dioncounda Traore, speaks after a ministerial Cabinet meeting in Bamako on Friday, January 11. Malian authorities declared a state of emergency throughout the country on Friday as the army launched a counteroffensive against Islamists who were pushing south.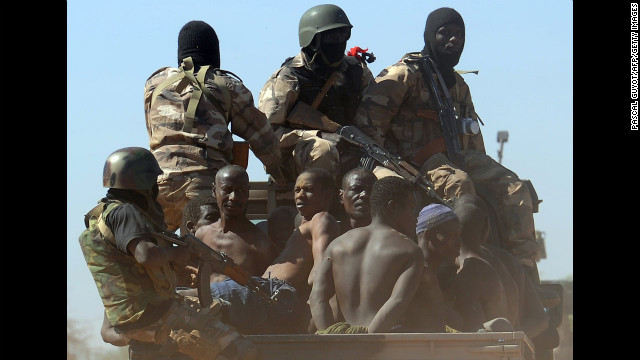 Photos: Fighting Islamists in Mali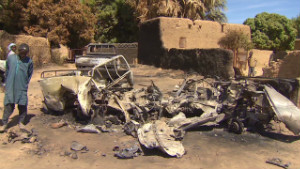 Mali forces push back Islamic militants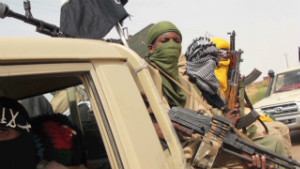 Is al Qaeda close to calling Mali home?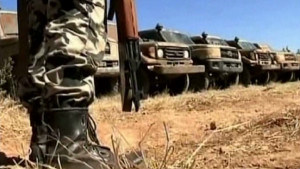 France beefs up troop number in Mali
U.S. has flown seven cargo missions to Mali
"Territorial integrity of Mali is nonnegotiable. No discussion of a separatist state or something like that. But, it also appears that Mali has asked for, and will need, some help to establish government control in the north," Ham said. "Realistically, we would all like to see the elimination of al Qaeda and others from northern Mali. Realistically, probably the best you can get is containment and disruption, so that al Qaeda is no longer able to control territory as they do today."
"This must be in fact and in perception an African-led endeavor that is done at the request of the Malian government, and I think that is well under way now," Ham added.
But recent allegations against Malian troops have some human rights observers questioning whether the Malian army has right on its side, or just might.
Malian soldiers have carried out a number of summary executions as they seek to drive back Islamist militants who have been advancing from the north, a human rights group claimed Thursday.
Mali's military offensive against the militants has gathered pace in the past two weeks, with backing from France and other international allies.
Refugees tell harrowing stories of life under the Islamist militants who hold northern Mali in an iron grip.
But the French-based International Federation for Human Rights said it was "very alarmed" by reports that Malian soldiers are themselves carrying out extrajudicial killings and abuses as they counterstrike.
FIDH claims the victims of these abuses have been anyone "accused of complicity with the jihadists or infiltrated elements, persons in possession of weapons, people who have no proof of their identity during military patrols or simply people targeted because of their belonging to certain ethnic groups."
The group said it had confirmed that Malian forces have carried out numerous executions in the key conflict area between the north and south, particularly in the towns of Sevare, Mopti and Niono.
"In Sevare, at least 11 individuals were executed in the military camp, near the bus station and near the hospital," the FIDH said. Reliable information indicates "close to 20 other executions in the same area where bodies are said to have been buried very hastily, in particular in the wells. In the Niono region, Malian soldiers killed two Malians of Tuareg origin."
The group says it has also been told of other summary executions in central Mali, and documents the pillaging of Tuareg homes by government soldiers.
What's behind instability in Mali?
A Mali military spokesman declined to comment on the record about the rights group's allegations.
The FIDH called for the immediate establishment of an independent investigation commission "to assess the scope of these abuses and sanction the perpetrators."
Although Malian and French politicians and military officials have repeatedly called for respect of international humanitarian law and human rights, the FIDH says it is concerned by the lack of scrutiny of these alleged violations.
"This series of grave abuses confirms the concerns that we have been expressing for several weeks," said the group's president, Souhayr Belhassent.
"These acts of revenge together with the extreme tensions that exists between the communities constitute an explosive cocktail leading us to fear that the worst could happen, especially in the context of the reconquering the North."
MNLA rebels who returned to Mali well-armed from fighting for the late Libyan leader Moammar Gadhafi staged a military coup last year against the Malian government.
Islamic extremists capitalized on the chaos, carving out a large haven in Mali's north and imposing a strict interpretation of Sharia law. The Islamists banned music, smoking, drinking and watching sports on television. They also destroyed historic tombs and shrines.
Fellow rights group Amnesty International also has voiced concern over the actions of Mali's army.
"Particularly troubling is that among the Malian forces -- as well as pro-government militia -- are individuals who enjoy impunity for egregious human rights violations," wrote Scott Edwards, managing director of Crisis Prevention and Response at Amnesty International USA last week.
Among other abuses, an Amnesty report last year accused the Malian army of "indiscriminately" bombing the civilian population in response to the rebellion by armed Tuareg groups.
More signs al Qaeda in Mali orchestrated Algeria attack
Corinne Dufka, who heads Human Rights Watch in West Africa, told CNN on Thursday that education could help stem the "worrying number of reprisal killings."
"[It] should be a wake-up call not only to the Malian army to nip this problem in the bud and investigate and hold those responsible, but also to Mali's international partners -- the French, the European Union, the African forces who are coming in -- to acknowledge the weaknesses and problems within the Malian security forces, and then, to properly accompany them, to urgently train them in international humanitarian law and to mentor them so there are no further abuses in the future," Dufka said.
A CNN crew in Mali has heard anecdotal reports of abuses. It has encountered widespread hatred of the Tuareg in Mali, with many in the population blaming them for bringing the current conflict into Mali.
The CNN crew has heard reports that the houses and possessions of Tuareg families have been destroyed by either citizens or Mali's military.
Many Tuareg are in hiding or keeping a low profile for fear of retribution from the public and military. Tuareg in refugee camps have repeatedly said they had to flee Mali because of violence against them.
France's involvement in Mali began the day after militants said January 10 that they had seized the city of Konna, east of Diabaly in central Mali, and were poised to advance south toward Bamako.
Those events stoked fear among global security experts that Mali could become a new hub for terrorism.
The FIDH is a multinational human rights body made up of 164 groups across the world, with delegations at the United Nations in Geneva, the European Union in Brussels and the International Criminal Court in The Hague.
CNN's Ingrid Formanek reported from Mali and Joseph Netto from Atlanta, Barbara Starr reported from Washington, and Laura Smith-Spark wrote in London. Mark Morgenstein updated in Atlanta.