Kenyan PM: We will not negotiate with terrorists
updated 1:20 PM EST, Fri January 25, 2013
STORY HIGHLIGHTS
Kenya will not negotiate with Al-Shabaab militants holding Kenyans hostage, says PM
Al-Shabaab has demanded Nairobi release Muslim terror suspects in return for Kenyan hostages
Kenyan PM Odinga says an international response is needed to tackle terrorism in Africa
Davos, Switzerland (CNN) -- Kenyan Prime Minister Raila Odinga says his country will not negotiate with al Qaeda-linked Somali militants who have threatened to kill Kenyan hostages unless Nairobi releases all Muslims charged with terrorism.
Speaking at the World Economic Forum in Davos, Odinga told CNN's John Defterios that his government's position was "very clear."
"We do not want to negotiate with terrorists," he said. "We expect them to surrender Kenyan citizens who they are holding hostage without any kind of conditions whatsoever."
Al-Shabaab, the Islamist terror organization which controls parts of neighboring Somalia and is being pursued by Kenyan and African Union forces, issued the demands on Wednesday when it released a video of two Kenyan hostages seized a year ago in a cross-border raid.
The group demanded that Nairobi release all Muslims held on terror charges, and secured the release of Muslims held in Uganda on similar charges.
Odinga said that terrorism was an "international affair," and that a collective response was required from the global community to tackle terror groups on the continent such as Al-Shabaab, Boko Haram in Nigeria and Islamists in northern Mali.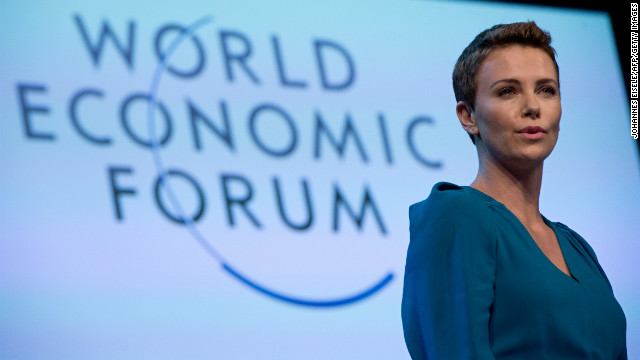 South African actress Charlize Theron picked up the 2013 World Economic Forum Crystal Award for her humanitarian work. The Oscar winner reportedly said: "There is such incredible brain trust in this room I feel I'm getting smarter by osmosis."
Microsoft co-founder turned global philanthropist Bill Gates was in town to promote the Global Fund against HIV/Aids, Tuberculosis and Malaria campaign.
IMF boss Christine Lagarde and Italy's outgoing Prime Minister Mario Monti having a presumably good chat during the forum.
A Davos meeting wouldn't be complete without a good protest. On the second to last day of the forum a Greenpeace activist dressed as a polar bear climbed the roof of a gas station to protest against global oil giant Shell.
Marissa Mayer, CEO of Yahoo!, is all smiles during her session at the World Economic Forum.
British Prime Minister David Cameron gives the thumbs up on during his talk at the annual World Economic Forum. Cameron said that Britain was not turning its back on Europe, after angering his EU partners by announcing plans for a referendum on membership.
German Chancellor Angela Merkel arrives for her session on January 24, 2013.
Former US secretary of state Henry Kissinger both spoke and attended sessions at the forum, as well as doing some obligatory finger pointing.
CNN's Richard Quest ran into London Mayor Boris Johnson on the streets of Davos.
Policemen stand guard on the roof of the congress center in Davos.
CNN's Chief Business Correspondent Ali Velshi endured both freezing temperatures and snow storms whilst reporting from Davos.
The CNN snowman chills out after a hard day at work.
The Swiss resort of Davos first hosted the World Economic Forum back in 1971 when a group of European business leaders met under the partronage of the European Commission and European industrial associations.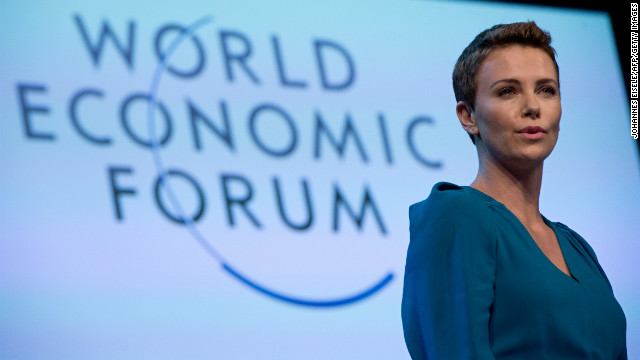 In pictures: Davos 2013
"The African Union must have a common stand and mobilize the African governments to provide the forces to face this international menace, working together with the United States and the European countries," he said.
Odinga, the leading candidate in Kenya's upcoming March presidential elections, told CNN he did not anticipate a repeat of the violence which wracked the country after the previous vote, which saw hundreds killed and damaged the economy.
He said the country had a new constitution, electoral commission and electoral laws and reformed the judiciary and security forces. "The situation right now is ... different from what it was five years ago."
He said his focus, if elected, would be on building the country's productivity, and diversifying an economy predicted by the IMF to grow 5.6% this year.

Part of complete coverage on
updated 8:08 AM EST, Wed January 23, 2013

Global policymakers, leading thinkers and key entrepreneurs are gathering in Davos. CNN brings you the latest news, views and musings live.
updated 1:19 PM EST, Fri January 25, 2013

Free trade, transparency and a crackdown on tax cheats will be at the heart of Britain's G8 presidency, Prime Minister David Cameron told the World Economic Forum in Davos.
updated 1:15 PM EST, Fri January 25, 2013

Walk the halls of Davos and you're bound to bump into celebrities, heads of state and even princes and princesses.
updated 6:55 AM EST, Fri January 25, 2013

The mayor of London says a controversial vote for the British people whether to stay in the European Union is all part of democracy.
updated 1:20 PM EST, Fri January 25, 2013

A top European Union official says there's no need for Britain to make threats to leave the union in order to reform its membership.
updated 1:20 PM EST, Fri January 25, 2013

Kenyan Prime Minister Raila Odinga says his country will not negotiate with al Qaeda-linked Somali militants who have threatened to kill Kenyan hostages unless Nairobi releases all Muslims charged with terrorism.
updated 7:05 AM EST, Sat January 26, 2013

LeWeb founder Loic Le Meur is looking to "digital hippies" as a potential theme for his next conference.
updated 9:59 AM EST, Mon January 28, 2013

The head of Airbus says the European aviation giant will take care to learn from its own mistakes -- and rival Boeing's -- ahead of the launch of its new widebody A350 aircraft.
updated 5:40 AM EST, Wed January 23, 2013

As extreme weather events cost the global economy billions each year, the "neglected" risk of climate change seems to be rising to the top of the agenda, Andrew Steer writes.
updated 8:42 AM EST, Wed January 23, 2013

Economic empowerment offers a win-win scenario for Saudi Arabia and its women, Mounira Jamjoon writes.
updated 6:54 AM EST, Wed January 23, 2013

The recession in Europe is entering its fifth year and unemployment doesn't look like it will be returning to normal levels anytime soon.
updated 8:24 AM EST, Tue January 22, 2013

What has been made clear by current events and financial upheavals since 2008 is that the global economy has become truly that -- global.
updated 9:58 AM EST, Mon January 21, 2013

On July 1, 2013 the 27-nation European Union will become 28. But is the Adriatic country ready to join Europe's elite club?